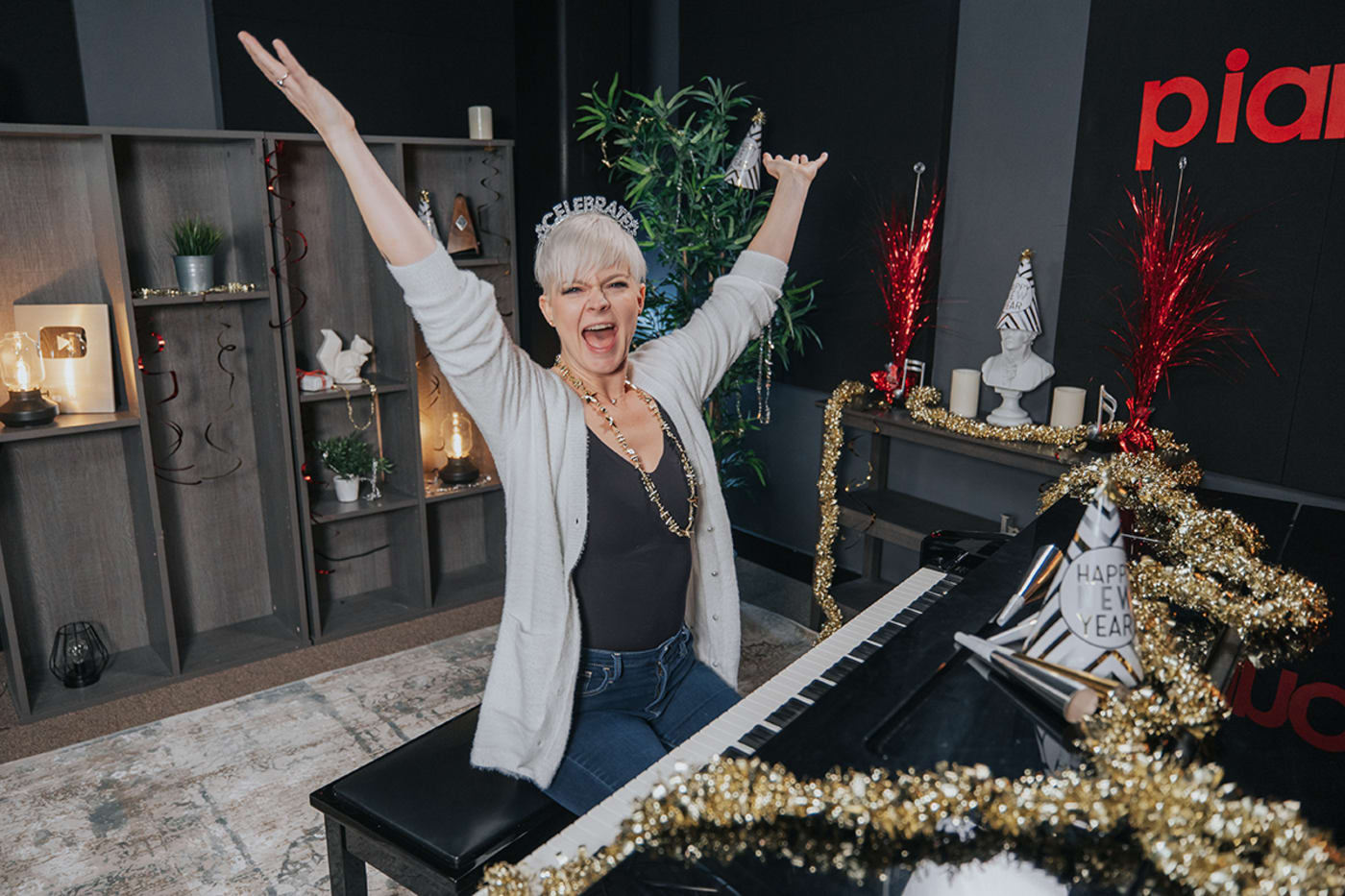 Happy New Year! It's January 1 and people all over the world are making goals for 2022. Sometimes, these goals get achieved. Sometimes, not so much. In fact, studies showed that 80% of people fail their resolutions by February and only 19% of people maintain their goals for two years.
As piano players ourselves, we want you to achieve your 2022 piano goals. So if you want to learn how to play piano in 2022, you've come to the right place!
Why New Year Resolutions Fail
Every year, people all over the world sign up for gym memberships, learn new recipes, or buy a stack of books to read only to completely forget it all by February.
New Year's resolutions are difficult to keep, and if you struggle with them, you're not alone. So why are they so challenging? There are several reasons:
Vague Goals
Having a goal to "get better at piano" is laudable, but it's also difficult to measure. And what does "better" mean anyway? Try being specific about what you want to accomplish.
Overly Strict
However, being too rigidly specific in your goal-setting can backfire. So, set parameters but don't be too strict. Try "I will learn between three and five songs by summer" rather than "I will learn five songs by June 1" or "I will get better this year."
Overly Challenging
It's okay to be ambitious, but shooting too high may set you up for disappointment if you run into unexpected roadblocks along the way. Be realistic about what you can achieve in a year.
Willpower
Self-control is not that simple, and willpower tends to deplete — the rate of which can depend on things outside our control such as socioeconomic status. And people who seem to have better self-control tend to actually like their tasks (ie. exercising, eating vegetables). They also structure their lives in a way that makes achieving easy, such as buying lots of healthy snacks and not keeping unhealthy food in the house.
One thing we like to remind piano players is remembering your "why." We'll go over other ways to achieve your goals next.
8 Ways to Achieve Your Piano Goals in 2022
The good news is there are many strategies to help you achieve your goals.
And you're not alone. We're piano people too, and we're constantly finding new ways to motivate ourselves. Here are some ideas:
#1. Expect difficulty ✅
No one said learning to play a musical instrument would be easy. Learn to expect challenges, because no matter how musically gifted you are, there will be hard days. Expecting difficulty preps you mentally and you'll feel less disappointment when there's a roadblock.
#2. Create a safe space 🛋️
Scientists have found that people who achieve their goals don't necessarily have superhuman willpower. Rather, they create a system that makes life easy for them, such as never having junk food in the house.
So, make practicing piano as easy for you as possible. Create a cozy space. Make it convenient. Make it comfortable. Not only will a good practice space encourage you to spend time in it, it can also help you get out of your comfort zone. For example, investing in a high-quality, comfortable set of headphones can encourage you to practice improvising because you're in total privacy.
#3. Set SMART goals 🧠
This means goals that are:
#4. Assemble your toolkit 🛠️
While you can definitely accomplish learning piano with just your brain, hands, and a piano, knowing your resources will help you in times of challenge. Here are some tools you might be interested in:
Scheduling tools: We recommend the Pianote Practice Planner, but you can use any scheduling tool, whether it's a paper-bound agenda or an app.
Community: Other people can keep you accountable and answer troubleshooting questions. The Pianote members' forum is incredibly supportive, but you can find community in places like Pianostreet or r/piano as well.
Shortcuts and cheatsheets: There's no shame in using cheat-sheets! In fact, we've packaged them neatly into the Pianote Chords Poster and the Pianote Scales Poster. You can also find free chord

inversion

diagrams here.
A step-by-step method: Following an established method takes the guesswork out of what you should learn next. You can pair a step-by-step method with song tutorials to personalize your experience.
🎹 LEARN PIANO IN 10 STEPS: The Pianote Method is designed to take you from never having touched a piano before to performing. As a member, you'll also gain access to a rich song library to learn your favorite hits. To learn more about what Members get, take a look at Pianote behind the scenes.
#5. Check in with yourself after practicing 📝
This is perhaps my favorite trick of Lisa's. After a practice session is the perfect time to check in because we often feel the best about music after a practice session. This is a good time to remind yourself why you play — to feel this good!
#6. Remember your "why" 💭
Finally, it all comes down to remembering why you want to play piano in the first place. To continue a childhood activity? To perform for someone you love? To play that favorite song of yours that features piano?
If it helps, write down your why and paste it on the wall in front of your piano.
#7. Change your perception of what practice is 👀
It's natural to think of practice in a negative light: it's homework, it's a chore, it's something unpleasant that you unfortunately have to do in order to get good. But framing practice like this can demotivate you.
Instead, reframe your idea of what practice is. According to Victoria Theodore, our classical piano coach, practice is not a rote, boring activity but an opportunity to connect with music.
🎹 EMBODIED PRACTICE: Victoria practiced for hours on end as a teenager, not because adults forced her to but because she loved it. Read Victoria's philosophy on practice here.
#8. Ask others to keep you accountable 🧑‍🤝‍🧑
Other people can keep an eye on you and help you reach your goals. According to fitness experts, accountability partners should be a good balance of support and tough love. Check in with your accountability partner(s) regularly — better yet, create a system. It also helps if there is someone just a little ahead of you in their journey.
Partners and friends aren't always good accountability partners because they may tempt you to just hang out. What's ideal is finding an accountability partner specifically for your goal. To find your special someone(s), search online piano communities or join our highly motivated and supportive community at Pianote.
Lessons to Inspire You ✨
We hope these tips help you reach your 2022 piano goals! If you're still in need of inspiration, here are some of our favorite lessons about motivation and practice:
Happy practicing!
🎹 Make This Your Year of Getting Good at Piano 🔥
Get free lessons, tips, and piano news delivered to your inbox every week. Subscribe to The Note!