This lesson will help you warmup your fingers, increase your finger strength, improve your accuracy and speed, and develop finger independence. In short, it's the ultimate piano exercise!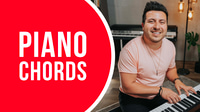 If scales are the alphabet, piano chords are the "words" of music. And once you know some basic chords, you'll be able to play hundreds of songs!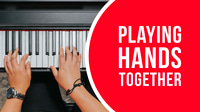 Now you're making music. You'll learn to play chords with your right hand while your left hand plays bass notes to make your playing sound beautiful. You'll be playing a song here!