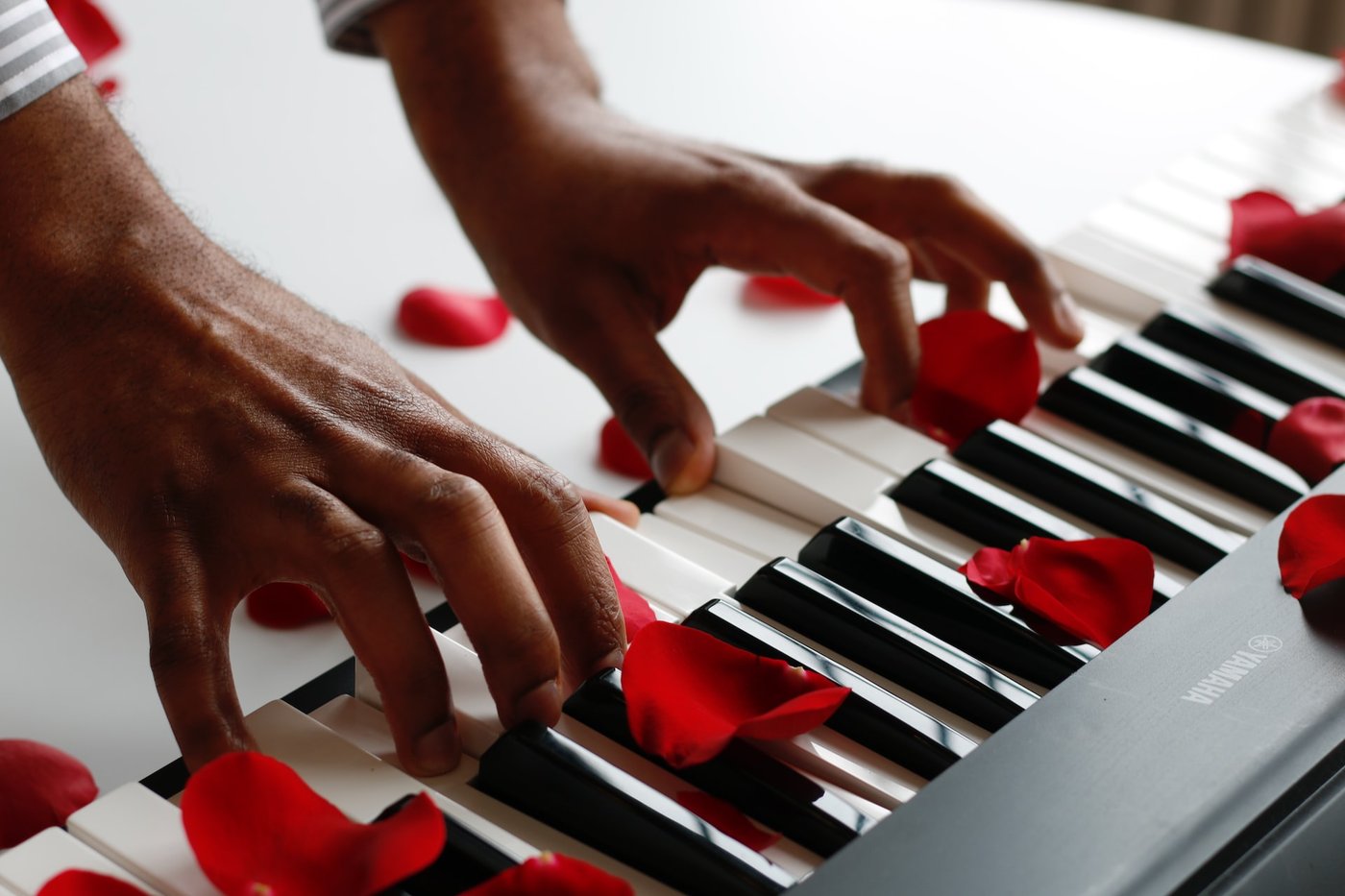 Guess what makes an excellent Valentine's Day gift? Performing piano love songs and melodies for someone you care about!
The piano is one of the most romantic instruments ever. Countless people have fallen in love (and gotten others to fall for them) over an emotional Chopin piece or romantic love ballad.
Here are some song tutorials and creative piano ideas you can use this Valentine's Day:
Table of Contents
🎹 Never Miss a Song Tutorial
Love our tutorials? Your favorite song might be next! Subscribe to our newsletter for piano news, exclusive interviews, new tutorials, interesting articles, and more delivered to your inbox every week. Unsubscribe at any time.
"Photograph" by Ed Sheeran
In a long-distance relationship? Then "Photograph" is the perfect piano love song to record yourself playing and send to your person. Written on tour with Snow Patrol, this love song was a hit in 2014 and remains one of Ed Sheeran's most beloved tracks.
"Photograph" is in E major and uses the chords E, B, C#m, and A. E major has four sharps and is a popular key for guitarists, so it's a good key to learn if you intend to jam with a band. The piano intro is simple and iconic, and you can add your own rhythms and flairs to the song to make it more personal.
FULL TUTORIAL
"Halo" by Beyoncé
Guess what? We have a tutorial on how to play "Halo" by a pianist who toured with Beyoncé herself.
The song is in A major, which means there are three sharps, and is built on a I-ii-vi-IV chord progression. If you're more advanced, you can play second inversions of the chords which will make your performance more similar to the original. And for an even more authentic performance, break up the chords and you get the opening piano theme! Victoria will also show you exactly how she plays the ornaments.
FULL TUTORIAL
"Married Life" by Michael Giacchino (Theme from Up)
It's the soundtrack to one of the most touching movie montages. Everyone cries at the beginning sequence of Up, and for good reason: composer Michael Giacchino won an Academy Award for his work in the Pixar movie.
The song is built on a 1-2-3, 1-2-3 waltz rhythm. There's a middle section that may look complicated because of the many accidentals, but this is just a simple chromatic scale. Kevin Castro runs through all the sections of this lovely song here.
FULL TUTORIAL
"Für Elise" by Ludwig van Beethoven
If you want to serenade someone and impress them, "Für Elise" is the perfect piece. It's perhaps the most famous piano love song of all time, and nearly everyone in the world will recognize it. It's also not too difficult—this is a fair piece to attempt if you're a beginner-intermediate to intermediate pianist.
If you want to learn this legendary piece, we've created what we think is the most comprehensive "Für Elise" tutorial on the internet. Check it out!
The Best Für Elise Tutorial on the Internet
🎹 WHO WAS ELISE? The identity of Beethoven's "Elise" has stumped music historians for decades. There are several theories, and one scholar even argues that Elise may not have existed at all. However, this doesn't take away the romanticism of the piece's yearning melody and emotionally charged climax.
"Shallow" by Lady Gaga and Bradley Cooper (From A Star Is Born)
If you're a passionate vocalist, "Shallow" is the romantic song to belt out and play. And while it isn't the easiest song for beginners, with pop songs you have the option of simplifying a performance with shell chords and simple rhythms. But if you want to play the song in its entirety—including the melody in your right hand—we have a tutorial for you here.
Try not to skip the intro! It might be a little challenging for beginners, but we promise, it's worth it! We also have tips on how to play and sing at the same time.
FULL TUTORIAL
3 (Easy) Romantic Piano Songs
In this pack of tutorials, you'll learn to play three classics:
"The Rose" by Bette Midler
"Can't Help Falling in Love" by Elvis Presley
"A Thousand Years" by Christina Perri 
We've arranged all the songs into C major in Lisa's tutorial, which means you don't have to worry about flats and sharps! These songs are pretty simple for the most part, and if you're still new to chords, you can play many of them with simple shell chords (fifths) and they'll still sound beautiful.
3 EASY ROMANTIC PIANO SONGS
"Clair de lune" by Claude Debussy
While "Clair de lune" isn't exactly a love song, it's one of piano's most iconic pieces of all time and will surely impress anyone you perform it for!
Now, the unabridged version of "Clair de lune" is quite complex (five flats—eek!). But we've created a simplified version with free sheet music here. It's in C major and retains much of the melody and mood of the original.
Remember: good piano playing isn't always about fast runs and big chords. Simply playing with expression can take a performance from okay to incredible!
TUTORIAL & SHEET MUSIC
"River Flows in You" by Yiruma
This is one of the most popular piano songs right now. If you've seen public pianos, chances are someone at some point sat down to play "River Flows In You."
While "River Flows In You" isn't the easiest song for beginners, it should be accessible for most beginner-intermediate to intermediate piano players. The hand independence required for this song can be challenging, so START SLOW. It's also okay to use your ears instead of exact counting. Do what works for you!
We created a thorough, 20-minute tutorial on how to master this piece. Check it out here.
FULL TUTORIAL
Create your own piano love songs!
What's more romantic than creating your own unique serenade? 
With this simple improvisation template, you don't need to know theory or even much about playing piano to have fun. However, this tutorial does introduce you to helpful songwriting techniques like the 1-5-6-4 pop progression.
Remember: boredom is your best friend! When you get a pattern down pat and start to get bored, that's when the fun begins. Experiment with different rhythms, octaves, moods, and more.
We hope these romantic piano tutorials give you inspiration for Valentine's Day!
FULL LESSON