In Marc Cohn's classic "Walking in Memphis," the piano is the star. It's the first and last thing you hear, and that playful, opening figure on the piano is iconic.
When it comes to playing, the rhythm in "Walking in Memphis" isn't the easiest. But once you get it, the unique off-set rhythm in this song can get addictive!
Watch this tutorial to learn how to play "Walking in Memphis" on piano. Want sheet music? Join Pianote as a Member to download the complete sheet music for this and for more of your favorite songs. Learn more here.
JOIN PIANOTE
"Walking in Memphis" Piano Tutorial
Opening Riff
The opening riff contains four open chords: F5, G5, C5, and A5. Play these chords without thirds.
One way you can play this section is by splitting the action between your left and right hands so that you're playing a fifth in each hand.
Now, here's where it gets fun: the rhythm.
The rhythm in the piano in "Walking in Memphis" can be described as…unexpected. It's so catchy because it often lands outside the downbeat.
You'll notice that, in the first measure, we start with a three note figure that lands on the downbeat. But this three-note figure only appears once! From then on, we land on an anticipatory beat.
Put on my blue suede shoes

And I boarded the plane

Touched down in the land of the Delta Blues

In the middle of the pouring rain…
When you practice this riff, try counting out loud and really accent that first note. Marc really punches it in.
Playing this rhythm may feel odd at first (it's not the most intuitive) but that's totally normal. And playing along with the track can help lock it in.
Never Miss a Tutorial 📫
Sign up for free tutorials, lessons, tips, exclusive interviews, and more delivered to your inbox every week. Unsubscribe any time.
Verse and Chorus
The piano accompaniment to the verse is the same as the opening riff, but played an octave lower.
For the chorus, play solid chords but land on the anticipatory beat. Just like we did in the verse.
You can arrange your chords any way you like. Brett plays an open 1-5-1 chord in his left hand and a triad in his right.
Transition to Verse 2
The dreamy transition to verse 2 is thanks to a new floaty pattern.
Halfway through the verse, our pattern goes to our right hand. The left hand then plays a syncopated bass line.
🎹 Did you know? "Walking in Memphis" wasn't a success right away. In the. U.S., it spent 23 weeks in the Hot 100 and reached #13.
Bridge
Meet some new chords in the bridge section, like C7sus4.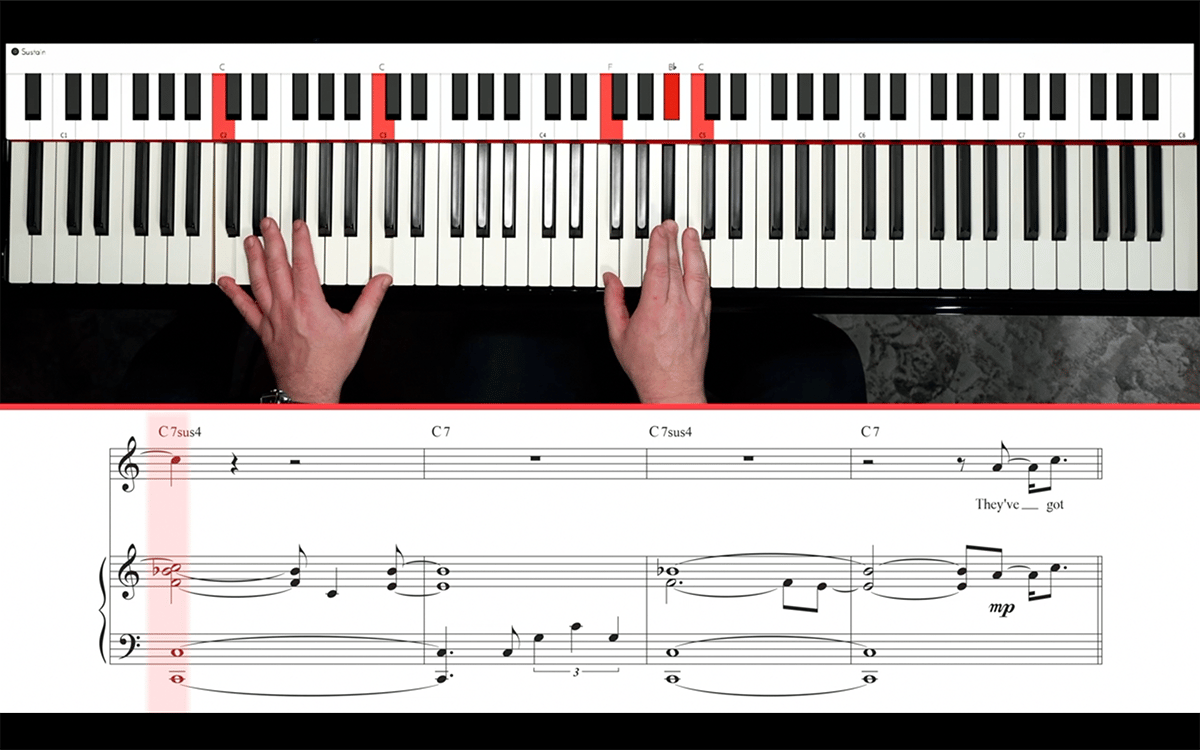 There's also a fun little bluesy section. You'll shuffle from F7 to Bb and back to F7 again. Add a little slide from the G# for some extra fun.
Then walk up from F7 to F#dim to G7.
Near the end, we'll play the verse 2 pattern on our right hand with the accented rhythm of the verse in our left hand.
This'll for sure keep you on your fingers 😉
Shortly after, we'll return to our dreamy opening riff, slowly walking through Memphis until we finally land in an open C chord.
Get the sheet music as a Pianote Member
Like this tutorial? Join us as a Member and you'll get:
The full 26-minute version of this video tutorial
Practice-along-feature
Complete sheet music download
Lead sheet download
TRY PIANOTE FREE FOR 7 DAYS