Whether you grew up in the 80s or just love a good dose of nostalgia, you'll probably recognize many of these riffs!
In this post, we're counting down the top 10 iconic keyboard riffs of the 80s and featuring the instruments that made them famous: synths! And while many of the original keyboards used for these riffs are no longer available for sale, enthusiasts may find them second-hand.
And as you can see, it's possible to recreate the sound of the original riffs using instruments available to us.
See how many of these riffs you can recognize!
#10. "Axel F" – Harold Faltermeyer (from Beverly Hills Cop)
Original Keyboard: Roland Jupiter-8
Our Keyboard: Roland Jupiter-X (0-00-10 preset)
Let's start with the iconic theme song from the 1984 movie Beverly Hills Cop. "Axel F" by Harold Faltermeyer originally used a Roland Jupiter-8, which was produced between 1981 and 1984 and has been named one of Roland's best analog synths of all time, featuring eight-voice polyphony. For our remake, we'll be using the newer Jupiter-X model.
#9. "Home Sweet Home" – Mötley Crüe
Original Keyboard: Yamaha CP-70
Next, we'll play the opening riff to "Home Sweet Home" by Mötley Crüe. Drummer Tommy Lee plays these iconic measures on a Yamaha CP-70 in the track's music video. Now discontinued, the CP-70 was designed to imitate an acoustic piano in a compact, portable, and amplified package. It uses acoustic-style frame action and frame construction together with electric guitar style pick-ups.
#8. "Runaway" – Bon Jovi
Original Keyboard: Oberheim OB-Xa
Our Keyboard: Roland Jupiter-X + Oberheimer Xpander
The keyboard part that opens this track was recorded by session musician Roy Bittan, who was later replaced by David Bryan. Originally, this riff was played on an Oberheim OB-Xa, which has been discontinued, but we've recreated the sound reasonably well by combining a Roland Jupiter-X and Oberheimer Xpander. The Xpander doesn't include a keyboard interface, but it's been lauded as one of the most flexible non-modular analog synths.
🎹 Riffs & Fills ✨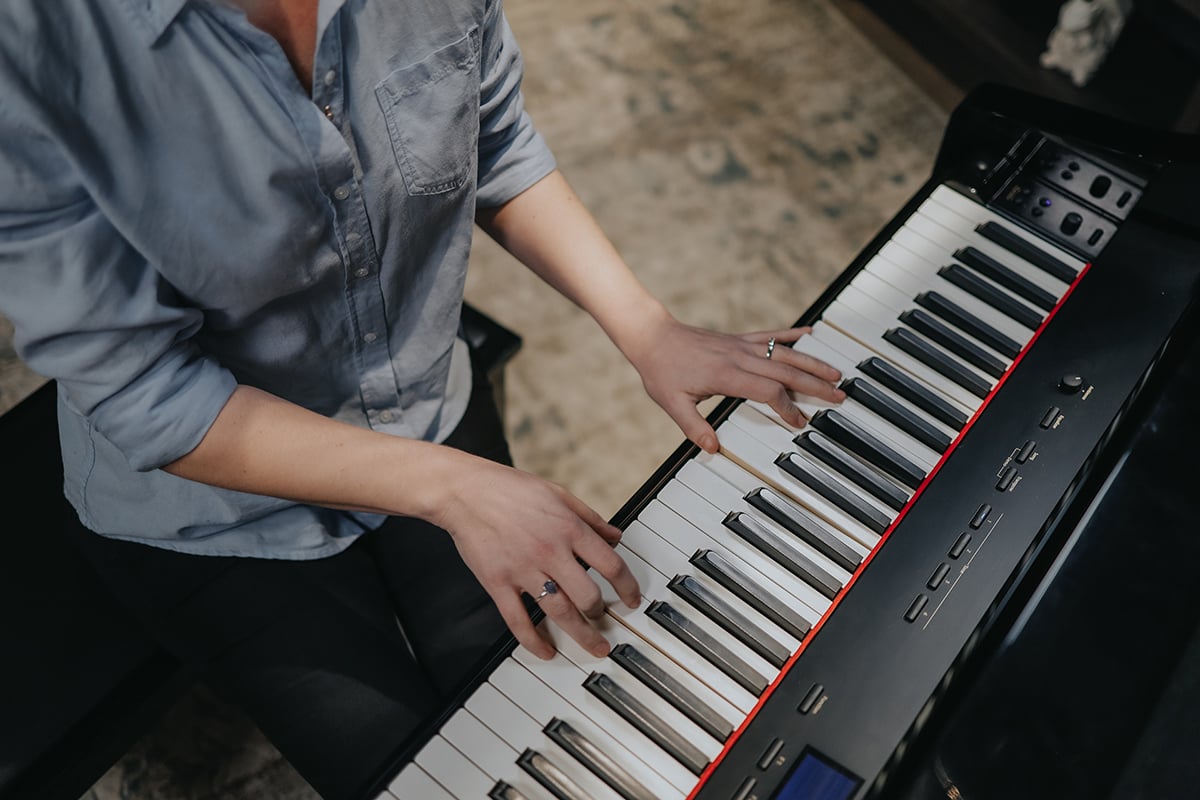 Riffs and fills are what take a piano player from good to great. Take your playing to the next level with Riffs and Fills. Free with your Pianote membership.
CHECK IT OUT
#7. "Sweet Dreams (Are Made of This)" – Eurhythmics
Original Keyboard(s): Uncertain, but the gear may have included an Oberheim OB-X, Roland JUNO-6, Roland SH-09, and Roland CSQ-100
Our Keyboard: Roland JUNO-106
One of the most iconic songs of the 1980s was performed by Annie Lennox and Dave Stewart, a couple at the time, and was written after they had a big fight. The catchiness of the "Sweet Dreams" riff can be attributed to the way it's composed, the top note reaching higher and higher before resolving back to the beginning of the riff. We'll play this riff on the JUNO-106, which recreates the sound and vibe quite well.
#6. "Right Here Waiting" – Richard Marx
Our Keyboard: Yamaha CP-70
Now let's switch the mood over to a classic, wistful 80s ballad. Richard Marx reportedly wrote "Right Here Waiting" in 20 minutes for his wife, whom he missed dearly while on tour. We'll play this opener on the CP-70, but the melody's shimmering quality will sound beautiful on any acoustic or acoustic-sounding piano.
#5. "The Final Countdown" – Europe
Original Keyboard: Roland JX-8P
Just in time to narrow down our top 5, let's switch gears again into the world of hard rock. This is the heroic riff from Europe's "The Final Countdown," which rocketed up to #1 in the charts of 26 countries! And while the keyboard part was played by Mic Michaeli, the riff itself was actually written by Joey Tempest, the lead singer of Europe five years before the song was recorded! We'll hear the sound of this legendary riff on the Roland JX-8P.
#4. "Thriller" – Michael Jackson
Original Keyboard: Mini Moog
We can't talk about 80s hits without Michael Jackson! The left hand part to this riff, rich with syncopations, is funk at its best and matches the bass perfectly. Greg Phillinganes plays the Mini Moog on this track, a legendary synth that, thanks to its compact size, is considered the first synth for musicians! Its creator, Robert Moog, is a pioneer of electronic music, having invented the original Moog synthesizer in 1964.
#3. "Jump" – Van Halen 🥉
Original Keyboard: Oberheim OB-Xa
Our Keyboard: Roland JUNO-X + Oberheim Xpander
Van Halen's most successful single stands out from their other work by being entirely based on a synth line. It was recorded on an Oberheim OB-Xa but since that model is no longer available, we'll be playing this riff on a Roland Juno-X linked to an Oberheim Xpander to see how it sounds.
#2. "Take On Me" – a-ha 🥈
Original Keyboard: Roland JUNO-60
Our Keyboard: Roland JUNO-106
"Take On Me" is famous now, especially for its unique music video, but two previous versions were complete flops. Only the third version became the hit we know and love today. Here, we'll play "Take On Me" on the Roland JUNO-106, but the original song was created with the Roland JUNO-60.
And now for our number one 80s keyboard riff…
#1. "Don't Stop Believin'" – Journey 🥇
Our Keyboard: Roland V-Piano Grand
"Don't Stop Believin'" was written by Jonathan Cain, Journey's keyboardist, who was thinking of quitting the music business. But every time he called home, his father would tell him, "Don't stop believin'," which eventually became the chorus and title of Journey's seminal, karaoke-worthy song.
---
We hope you enjoyed these iconic keyboard riffs! The piano is a truly versatile instrument — even more so when it's hooked up to a few electronics. And knowing your keyboard well can definitely translate into synth skills.
For more synth action, check out our vlog with Mr. Tuna, and let us know which 80s riff is your favorite on our YouTube video.