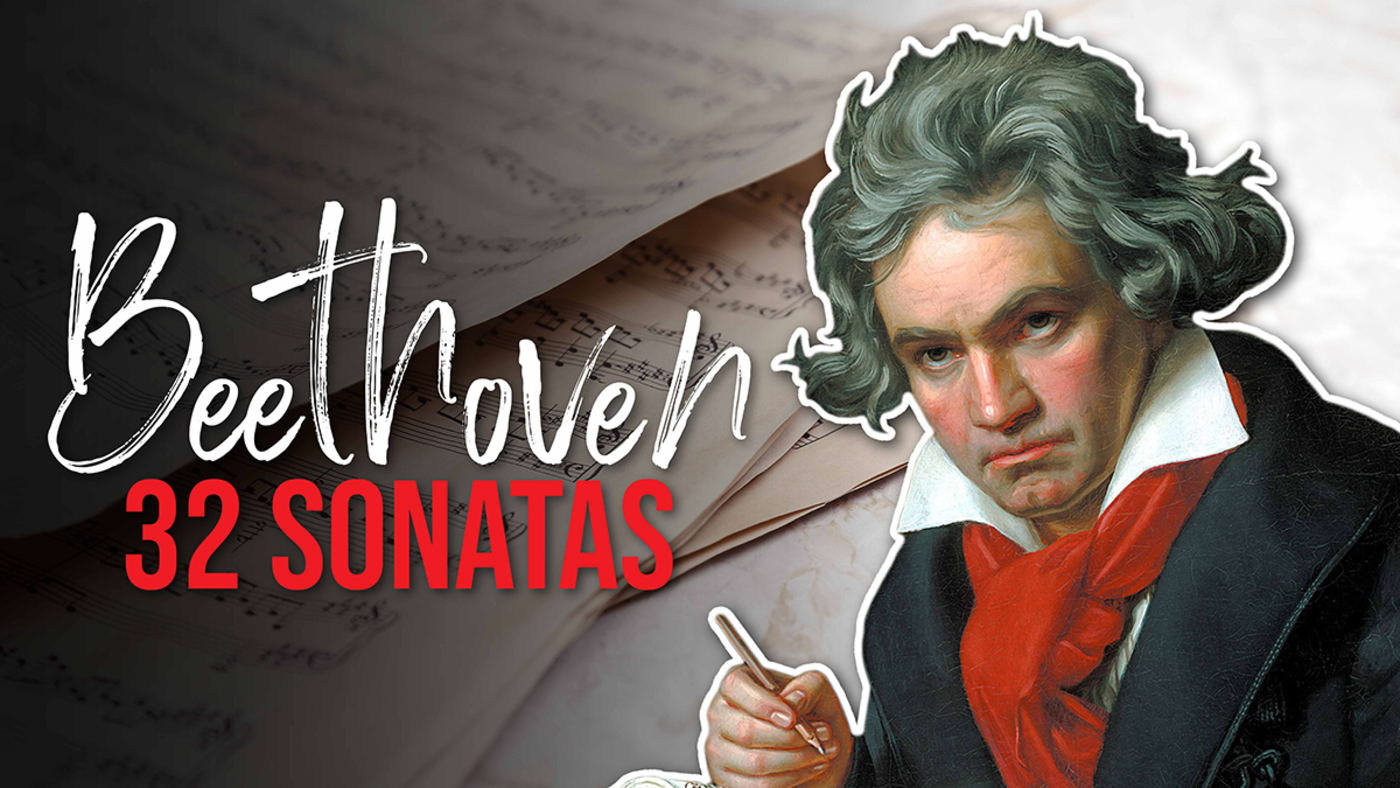 Beethoven composed some of the best piano sonatas ever written. His 32 sonatas are a cornerstone of piano music, and even if you don't get around to playing all of them, every pianist should understand their importance.
After all, Beethoven is one of history's greatest musicians. Chances are, you've heard of him since you were a child. And his influence extends to the music we enjoy today, including rock, pop, jazz and more.
Today (December 17) is Beethoven's baptism day. So let's take a look at some of the best Beethoven piano sonatas and what makes them legendary.
But first, let's explore what a sonata is.
What is a sonata?
A sonata is a multi-movement musical work, usually for a solo instrument. "Sonata" comes from the Italian sonare ("to sound"). This type of composition has been around in some shape or form since the 1500s, but it really crystallized in the 18th century, and it's especially associated with Haydn and Beethoven.
The movements of a sonata use keys that are related to one another and there are conventions for tempo and structure.
Typically, at least one movement is in sonata-allegro form, a structure with three major parts with these conventions:
In the exposition, the sonata states two themes with a transition between them. The first theme is written in the home key and, if it's major, the second theme is in the dominant key. If it's minor, the second theme happens in the relative minor. The exposition ends with a section called the codetta.
Next, the themes undergo transformation in the development section. This includes modulations, sequencing, variation, and other forms of exploration.
Finally, we hear the themes restated in the recapitulation section, ending in a coda.
Now, Beethoven didn't invent the sonata, but he did revolutionize the form.
🎹 Get a Head Start on Classical Piano ✨
Love classical music but not sure where to start? Head over to Classical Piano Quick Start, four free lessons designed for beginners taught by Victoria Theodore. Victoria is a classically trained pianist with degrees from Oberlin College and Stanford University, and has played with Beyoncé and Stevie Wonder. Start your classical journey with Victoria today!
GET 4 FREE CLASSICAL LESSONS
The Best of Beethoven Piano Sonatas
Beethoven famously wrote 32 sonatas over the course of his career. These sonatas are nicknamed the "New Testament" of piano music to highlight their importance. (Bach's 48 preludes and fugues are considered the "Old Testament.")
You can trace the evolution of Beethoven's sonata style as you move from Sonata No. 1 to Sonata No. 32. The composer's earlier works were influenced by his teacher Franz Haydn and are more conventional. But his later sonatas are more experimental, influenced by another mentor: Johann Georg Albrechtsberger. Some of Beethoven's later sonatas even have fugue-like sections.
In this article, we'll explore some of Beethoven's most well-known sonatas: "Pathétique," "Moonlight," "Waldstein," "Appassionata," and "Hammerklavier."
Piano Sonata No. 8 in C Minor, "Pathétique" (O. 13, No. 8)
Historians organize Beethoven's career into the Early, Middle, and Late periods. "Pathétique" comes from the Early period, while Classical conventions were still very much in vogue. As such, "Pathétique" follows these conventions quite faithfully.
Most of Beethoven's sonatas weren't named by the composer himself, but he may have named this one "Pathétique." Or, it may have been his publisher's doing (we're not sure). The full subtitle to this work is "Grande donate pathétique."
C Minor is a particularly moody key, and Beethoven would use it again in Symphony No. 5 (the famous "duh-duh-duh dum" symphony). He may have also been influenced by Mozart's Piano Sonata No. 14, which was also in C Minor.
For Beethoven, the sonata form is not a scheme that can be used in caprice one day and abandoned the next. This form dominates everything he imagines and composes; it is the very mark on his creation and the form of his thought – an inherent form, a natural one.

Edwin Fischer, conductor and composer
Piano Sonata No. 14 in C-Sharp Minor, "Moonlight" (Op. 27, No. 2)
"Moonlight" is perhaps the most famous of Beethoven's sonatas. It was another Ludwig — Ludwig Rellstab, a music critic — who likened the slow, dramatic arpeggios of the first movement to flickering moonlight. Rellstab's nickname for the piece has stuck ever since, but originally, both sonatas in Beethoven's Op. 27 bore the subtitle "quasi una fantasia" ("in the style of a fantasia.")
"Moonlight" breaks sonata conventions with a slow, first movement. Typically, sonatas open with a faster, more upbeat movement, but the adagio sostenuto is iconic…and it's not that difficult to play! In fact, if you are an intermediate-level pianist, you can probably handle it. Check out our tutorial for free sheet music and a head start.
After the first movement, the mood flips into a cheerful, short allegretto second movement before ending on the explosive presto agitato. That final movement is legendary and is sure to impress. Like the first movement, its theme is based on arpeggios, but played in a way that requires an expert level of dexterity.
Piano Sonata No. 21 in C Major, "Waldstein" (Op. 53)
Ferdinand Ernst Gabriel, the Count von Waldstein, was a friend and patron of Beethoven. He once wrote to the composer: "With the help of unceasing diligence, you will receive the spirit of Mozart from the hands of Haydn."
Compared to the previous 20 sonatas, "Waldstein" is more technically challenging. Interestingly, all three movements start pianissimo (very soft) and the sonata has been described as having an "orchestral texture." The stylish runs and flairs that open up the first movement foreshadow the technical prowess to come, and the second movement is based on a Rhenish song.
At the time of writing the "Waldstein," Beethoven had just received a piano from the Parisian piano-maker Érard. This piano may have affected the unusual pedal markings of this sonata.
I shall seize fate by the throat; it shall certainly never wholly overcome me.

Beethoven: Letter to Franz Wegeler about his growing deafness
Piano Sonata No. 23 in F Minor, "Appassionata" (Op. 57)
Beethoven considered "Appassionata" his greatest sonata of all. The title "Appassionata" itself was coined by a publisher 30 years after the sonata's original release.
This sonata is full of surprises: sudden dynamic shifts, dramatic pauses, and quick trills keep the listener engaged. This is a challenging piece, but it's also very visual. Carl Czerny, a student of Beethoven's, suggests imagining a stormy night at sea with a person crying for help in the distance. "Then such a picture will give the pianist a guide to the correct playing of this great tonal painting."
Interestingly, this sonata was dedicated to Franz von Brunsvik, who was more of a cellist than a pianist, though he came from a family of piano players.
Piano Sonata No. 29 in B-Flat Major, "Hammerklavier" (Op. 106)
The title of this sonata conjures up a ferocious image of hammers pounding on a keyboard, and its opening chords further portray this visual. But "hammerklavier" is simply the German word for "piano." Beethoven wrote this sonata in the midst of a deep depression, when he was suffering creatively. Then, the English piano-maker Broadwood shipped him a brand new piano — its largest and strongest — and this re-ignited in Beethoven a new desire to compose.
The L.A. Philharmonic Orchestra describes this sonata as "thrilling for the audience and treacherous for the pianist." Like "Appassionata," this sonata has dramatic shifts in dynamics and mood. The first movement is majestic and triumphant, the second playful, and the third tragic. But the fourth and final movement (yes, this sonata has four movements!) is more experimental and fugue-like.
Music is a higher revelation than all wisdom and philosophy.

Beethoven: reported in a letter from Bettina von Arnim to Goethe
Listening to Sonatas
Sonatas can have a barrier to entry, but knowing a few contextual facts can help you appreciate them. Pick a sonata that catches your ear, then dive into its history and its structure. Watch a dynamic performance by your favorite pianist, and don't feel obligated to listen to all movements at once. Take your time.
Then, when you're ready, try playing one of Beethoven's best piano sonatas one day.
Sources & Further Reading