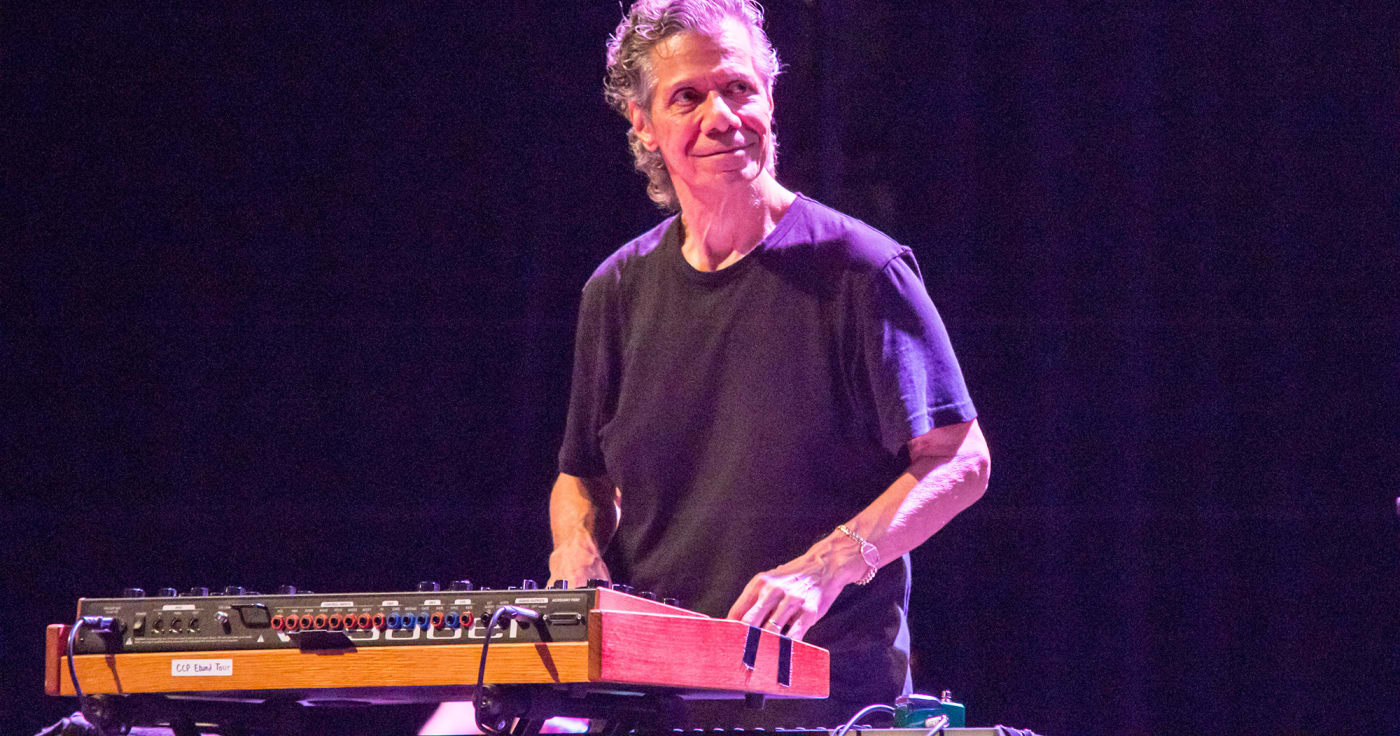 Chick Corea (1941-2021) was an innovative jazz artist and pianist whose prolific career spanned more than five decades. Known for his collaborations with jazz giants and eclectic instrumentalists alike, Chick fully embraced the joy of playing music with other humans and founded numerous ensembles. With an ever-present smile, he also emphasized "fun," above all else, as what drove him to create. Keep reading to learn about Chick Corea's life, music, and creative philosophy.
Biography
Armando Anthony Corea was born on June 12, 1941 in Chelsea, Massachusetts. He got his nickname "Chick" from an aunt who pinched his cheeks.
Chick's father was a jazz trumpet player. His band hung out in the family home all the time while his mother made frittatas for the guests. Raised in this environment, Chick wanted to be just like his father and his friends because they were so "relaxed."
Chick started playing piano at the age of four and drums at age eight. At first, his father taught him piano, but eventually, the elder Corea thought it proper that his son receive instruction from a professional teacher. So, when Chick was eight years old, he began studying with an Italian classical pianist named Salvatore Sullo. And while Sullo didn't know much about jazz, Chick credits him for providing a solid foundation in piano.
Later, as a young man, Corea received a scholarship to study at Columbia University. But, distracted by the jazz clubs of New York City, he only lasted a month in university.
There was one performance that Chick would recall with particular veneration: seeing Miles Davis on stage for the first time. When the quintet started playing "Autumn Leaves," "that was it," said Chick. And he never went back to school.
🏆 Key Achievements
Fourth most nominated Grammy artist of all time (65 nominations), with 23 Grammys won
American Eagle Award for distinguished service to American music (2018)
BBC Lifetime Achievement Award (2008)
National Endowment for the Arts (NEA) Jazz Master (2006)
DownBeat Hall of Famer
Influences and Style
With a smile accompanying him everywhere, Chick Corea's style was distinctly playful. As musician Dom Famularo once remarked in an interview: "Happiness . . . That to me is what you embody. There's a happiness to your music that is so obvious and so evident . . . happiness, happiness, happiness!"
Perhaps this joy came from his time playing with Miles Davis who, when asked how they would rehearse, encouraged Chick to just "play what you hear." This was very "freeing" to Chick and influenced how he worked. When he gave musicians sheet music, he always told them to instil their own creativity into the notes, to make the music their own.
Improvising Is Human Nature
"Improvising is living."
In this masterclass, Chick likens improvising to talking. "What I'm doing now is improvising. I have a thought in my head and I'm trying to get it out using the cumbersome medium of the English language."
Chick was one of those master improvisors that made playing look like magic. In his masterclass, he breaks down the art of improv as a series of decisions.
First, decide on a passage you want to improvise upon. Then, decide on what changes to make. Chick recommends using a melody you know very well (and hopefully like), such as "Happy Birthday." Then, "build it slowly," he says, with "gradient steps," branching out as you feel more comfortable. Try varying and mixing different melodic elements and rhythms.
Genre Is Irrelevant
According to Chick, the concept of genre is not just limiting, but a "total barrier" to creation.
Although he was often described as a jazz fusion artist, Chick never embraced the label. To him, borrowing and combining different styles was a very natural part of the music-making process.
Genres can also be "red herrings" when you're discussing art forms, Chick said. After all, what does "I like jazz" even mean? It's more helpful to say "I like the way Kenny G. plays."
A style is not something you learn so much as something that you synthesize. Musicians don't care if a given composition is jazz, pop, or classical music. All they care about is whether it is good music – whether it is challenging and exciting.

Chick Corea in The New York Times, 1983
Music Is About People
Chick Corea had a humanist philosophy when it came to creating and listening to music. "Without an audience, there's no music, really," he said. "Music and art is to be shared. To me, it's a social activity."
While the sounds of instruments do matter, at the end of the day, Corea valued the chemistry he had with other artists more. "It's always the musician, not the instrument."
Chick collaborated with many artists over his career across a wide array of musical styles, including a vibraphonist and a banjo player. Groups he was involved with include the Circle, Return to Forever, and the Chick Corea Elektric Band among others.
What making music for people does, I've observed, is it stimulates what's natural in all of us. It's [a] native sense, in every person. You don't have to be a professional [or] anything—all you need to do is be a living human being, and open to the play of imagination.

Chick Corea in JazzTimes
Notable Projects
Bitches Brew
Spearheaded by Miles Davis in collaboration with a plethora of supporting artists, Bitches Brew is one of jazz's seminal albums. This record is nearly two hours of free-wheeling, tumbling improvisation with an army of varying instruments.
Chick Corea contributed keyboards to the album early in his career and continued to muse about it warmly in the decades that followed. Bitches Brew is a challenging album to listen to, but it represents the limits of jazz fusion — if such limits even exist.
Return to Forever and the Rhodes Piano
Chick Corea was often associated with an electric keyboard instrument called the Rhodes piano. He started playing it when Miles Davis "demanded" it.
Later, the Rhodes piano sound — haunting, organ-like, and iconic — would feature heavily in the album Return to Forever.
Return to Forever is perhaps Chick's most well-known album. It is also the debut album of his fusion band of the same name. True to Chick's philosophy, it is essentially genre-less. With Latin influences and a dreamy sound, this experimental record with only four tracks challenged jazz conventions and will no doubt go on to become a timeless classic.
Legacy
Chick Corea passed away from a rare form of cancer in February 2021 at the age of 79.
He is remembered for being prolific, inventive, technically skilled, and a charismatic bandleader and composer. He also just…really loved what he did.
It is my hope that those who have an inkling to play, write, perform or otherwise, do so. If not for yourself then for the rest of us. It's not only that the world needs more artists, it's also just a lot of fun.

Chick Corea's last post on Facebook
---
Cover Image: Ice Boy Tell, CC BY-SA 4.0, via Wikimedia Commons