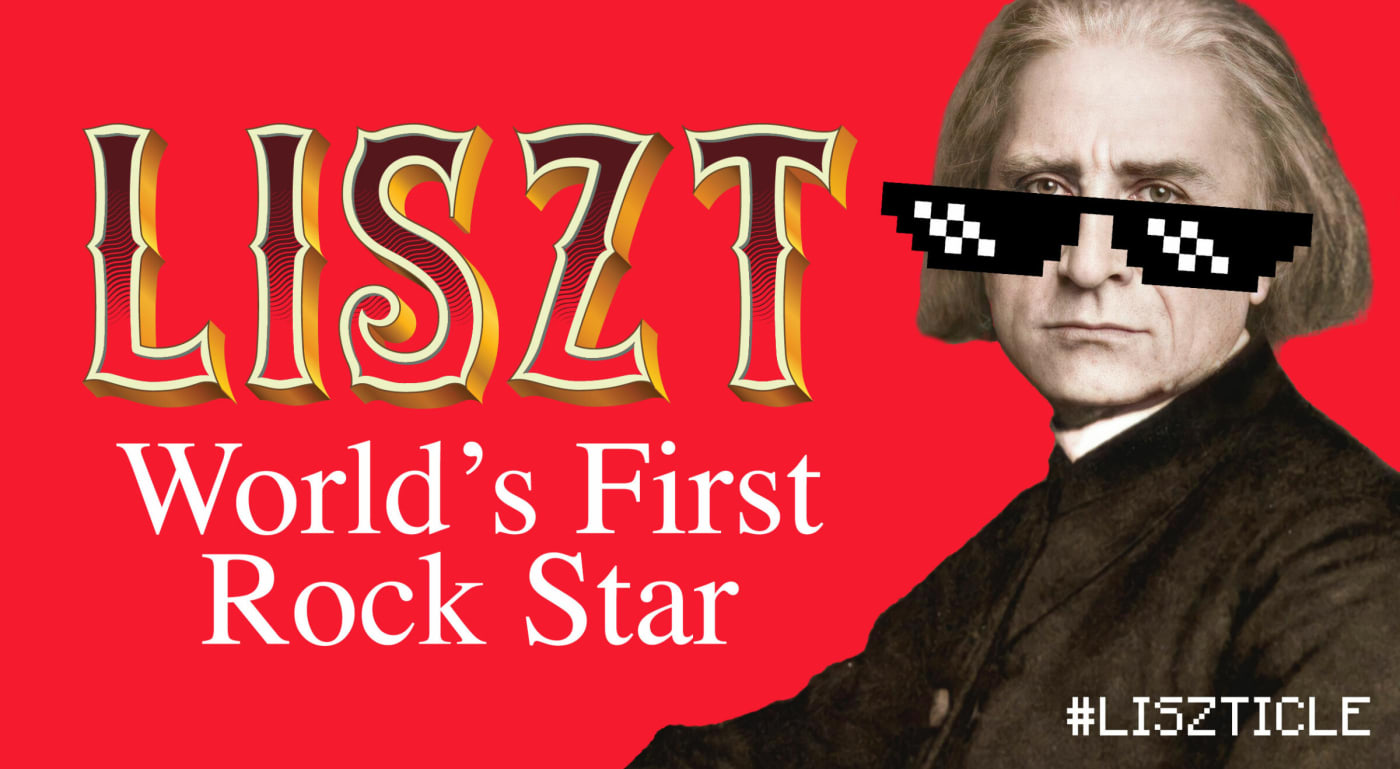 Few composers represent the piano like Franz Liszt. Often called the first musical superstar, Liszt dazzled audiences with his virtuosic performances and made his fans swoon. But he was also an idealist who believed in using his celebrity platform for moral good, and he gave much of his earnings to charity. This Liszticle is published on Liszt's birthday: October 22, 1811.
#1. Franz Liszt is most famous for being the world's first rockstar.
More than a hundred years before Beatlemania, there was (in the words of poet Heinrich Heine) "Lisztomania." And Liszt himself invented the word "recital."
Franz Liszt was perhaps the world's first music celebrity. Fans flocked to his shows and women went so far as to collect his cigarette butts in their cleavages.
Between 1838 and 1848, Liszt performed over 1000 concerts and changed what it meant to be an artist. With a distinct hairstyle that remained throughout his career, he performed with flair and flourish. He angled the piano so that the audience could see his face and hands. He even played on multiple pianos during the same performance, with each piano facing a different part of the audience.
Unfortunately, his celebrity status and popularity among women destroyed his first long-term relationship, and the virtuoso left performing at age 35.
---
Liszt once threw away an old cigar stump in the street under the watchful eyes of an infatuated lady-in-waiting, who reverently picked the offensive weed out of the gutter, had it encased in a locket and surrounded with the monogram "F.L." in diamonds, and went about her courtly duties unaware of the sickly odour it gave forth.
Alan Walker, Franz Liszt: The Virtuoso Years
(via Wikipedia)
---
#2. "La campanella" is one of Liszt's most difficult pieces.
And it's one of piano's most challenging pieces. Ever.
But "La campanella" ("The Little Bell") is not an entirely original work. It's based on a theme from Violin Concerto No. 2 in B Minor by Niccolò Paganini, a violin virtuoso. It's a technically demanding piece, with big, right hand jumps over intervals larger than an octave.
The repeating high notes imitate the sound of a delicate bell. And while playful, it's a piece that requires the highest calibre of speed, endurance, and dexterity to faithfully perform that playfulness. Take a look at the performance above and pay attention to the quick right-hand jumps.
🎹 Get a Head Start on Classical Piano ✨
Love classical music but not sure where to start? Head over to Classical Piano Quick Start, four free lessons designed for beginners taught by Victoria Theodore. Victoria is a classically trained pianist with degrees from Oberlin College and Stanford University, and has played with Beyoncé and Stevie Wonder. Start your classical journey with Victoria today!
GET 4 FREE CLASSICAL LESSONS
#3. Liszt spoke no Hungarian, but drew inspiration from Hungarian folk songs and the improvisatory music style of the Romani people.
Liszt was born to a German-speaking family in Raiding, a town near the contested border between Hungary and Austria. Throughout his life, Liszt travelled throughout Europe and spent considerable time in the musical capitals of the world such as Weimar, Germany and Paris, France. Unfortunately, the Paris Conservatory rejected Franz Liszt as a student because he was not French.
Liszt didn't speak Hungarian, but he was exposed to lots of Hungarian folk music growing up. This style of music informed his own composition style, as did the musical traditions of the nomadic and often marginalized Romani (formerly "Gypsy") people.
Liszt wrote Des Bohémiens et de leur musique en Hongrie (translated as "The Gipsy in Music"), a treatise on the musical traditions of Romani people. The treatise was controversial at the time because most people considered Romani music inferior to, say, the elite music of European conservatories. Today, however, some music scholars consider the treatise as an early form of ethnocultural musicology and ahead of its time.
🎹 WHAT IS THE EASIEST FRANZ LISZT SONG? Liszt is famous for writing very difficult piano music, but playing Liszt isn't restricted to the pros. Liszt's Consolations and other short piano pieces are accessible introductions to his work. Here is a list of works curated by music publisher Henle rated easy, medium, and difficult.
#4. Liszt believed that artists serve a larger purpose to the public and donated much of his revenue to charity.
After the death of his father, Liszt wandered Parisian salons and soaked up the radical political ideas of the day, hanging out with the likes of Hector Berlioz, Frédéric Chopin, and George Sand. He developed an interest in social justice—reflected in compositions like Arbeiterchor ("Workers' Chorus"). Later in life, Liszt taught free masterclasses to the next generation of piano masters.
As a young man, Liszt was a Saint-Simonist (follower of the philosopher Claude Henri de Rouvroy). Saint-Simonianism championed women's autonomy and the redistribution of wealth.
Liszt got rich performing, but he donated a large portion of his earnings to charity. For example, he performed benefit concerts for the Hungarian victims of the Danube flood. This was a win-win in that it furthered his celebrity status, making him beloved among his fans. He was perhaps the first artist to gain—and make use of—a public platform.
#5. Did Liszt have big hands?
While we couldn't find a reliable source to corroborate the exact size of Liszt's hands, they have been described as "long and narrow" with fingers that "were notable for their low-lying mass of connective tissue." Paintings of Liszt performing also show his hands as long and spidery. Because his repertoire is so demanding of both flexibility and strength, Liszt's hands were probably not small!
#6. Liszt improvised his music. He also wrote over 700 compositions but only one opera.
Many of Liszt's compositions are transcriptions and arrangements of the great composers that came before him, such as Ludwig van Beethoven and Franz Schubert. Admirers of Liszt describe his composition style as "orchestral" because he transcribed the full spectrum of an orchestra's colors to the piano's 88 keys.
He also improvised, which is uncommon among today's Classical pianists. Yet in Liszt's day, improvising was a championed skill, and Liszt was mentored to do so by one of his early instructors, composer Carl Czerny. He was also influenced by the spontaneous performance styles of Romani musicians and his composition style has been described as "improvisatory."
#7. Liszt combined other art forms and music, which was unusual at the time.
Franz Liszt and his contemporary Richard Wagner irked their more conservative peers by adapting music to poetry. Traditionalists of the day like Johannes Brahms wanted to keep music "pure." And the Classical composers (like Mozart and Hadyn) famously titled their pieces after numbers (ie. "Symphony No. 5") to avoid associating music with other forms of art.
Many believe Liszt invented the symphonic poem, a genre which would later find popularity among post-Romantic composers like Claude Debussy. A symphonic poem adapts a non-musical piece of art (such as a poem or a painting) into a musical work.
#8. Liszt suffered personal tragedies and became Abbé Liszt later in life.
Despite his professional success, Liszt's life wasn't easy. His romantic relationships were tumultuous and his later adulthood would be filled with tragedy. His only son Daniel died at 19 and his daughter Blandine died shortly after. He maintained a rocky relationship with his one remaining child, Cosima. She began a relationship with his friend Richard Wagner, much to his discomfort.
Perhaps these tragedies drove Liszt towards a more spiritual life. In 1865, Liszt received four minor orders in and he later adopted the title "Abbé" Liszt. He also focused more on religious music such as writing oratorios, which are similar to operas but without the costumes and theatre.
Liszt's later music had less of a dramatic flair, and his late works have been characterized as more experimental and subdued. Liszt performed for the last time on July 19 and died on July 31 in 1886. He was 74 years old.
Sources & Further Reading: