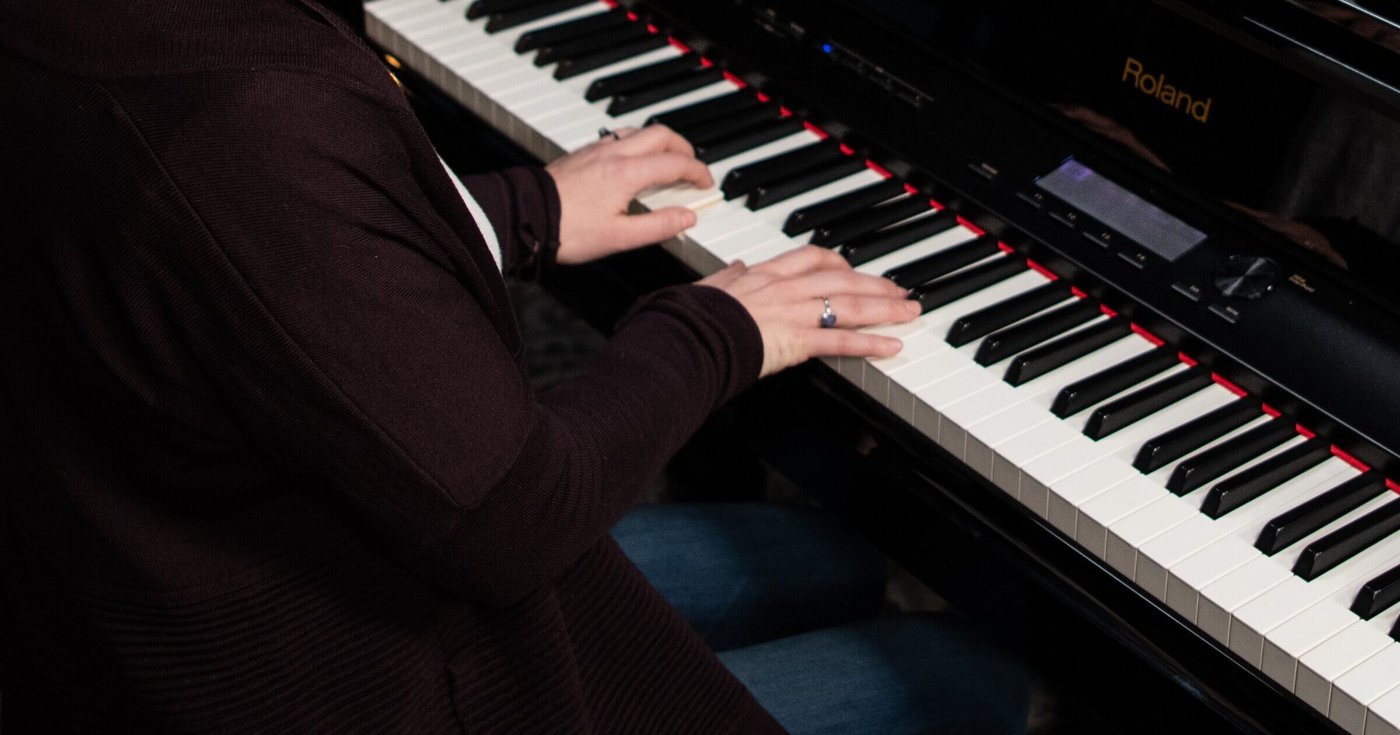 Gospel piano songs aren't just beautiful, they're spiritually rewarding for many people. Learning how to play gospel music will also train your ear, teach you chords and chord theory, and challenge you to get creative.
Here's a list of the top 10 gospel piano songs you should know if you want to get into this genre. We've also included some resources at the end, such as how to find sheet music and how to make your arrangement sound more gospel-y.
JUMP TO: HOW TO PLAY GOSPEL PIANO SONGS
Master Gospel Piano With Erskine Hawkins 🎹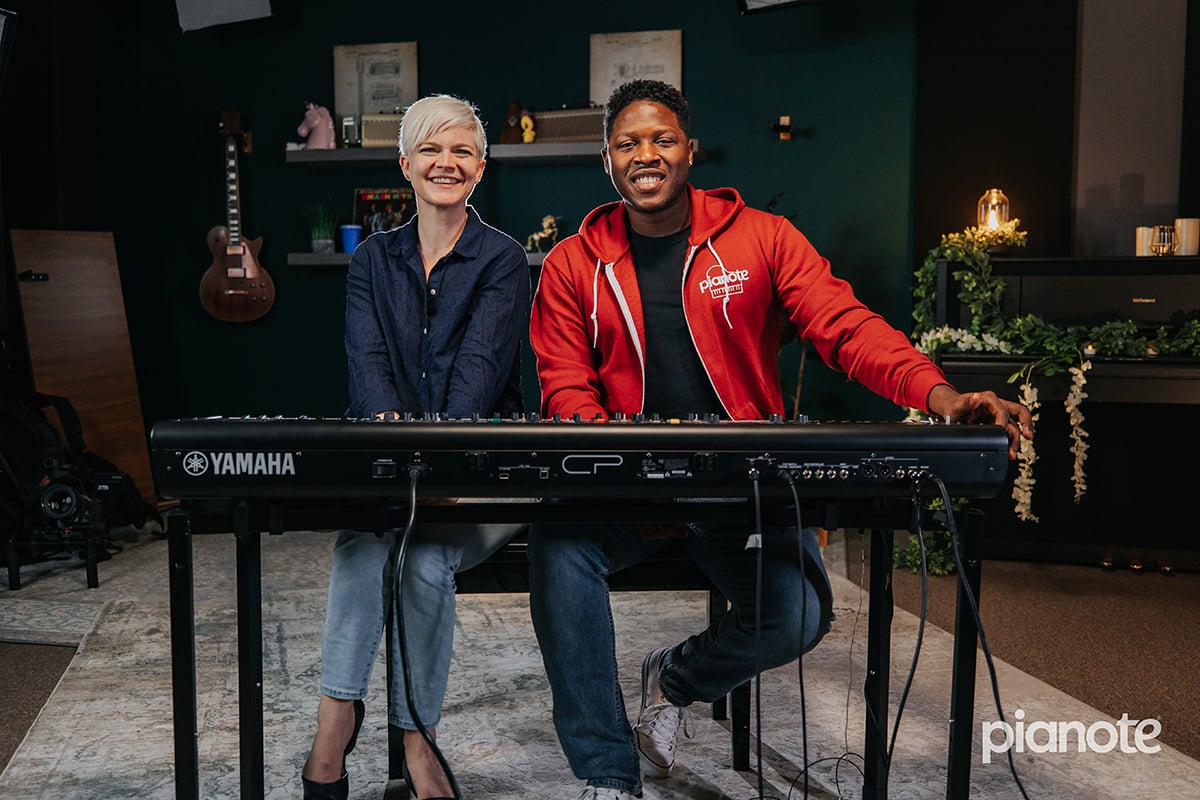 Erskine Hawkins has played with Rihanna, Eminem, and Zendaya among other gigs, but his favorite thing to play is gospel music! Get access to Erskine's full course on gospel piano by becoming a Pianote member.
JOIN PIANOTE
#1. Amazing Grace
The soaring melody of "Amazing Grace" is truly amazing at conveying the song's spiritual deliverance. This melody was originally called "New Britain," but its authorship is disputed. The lyrics to "Amazing Grace" were written much earlier by John Newton in 1772, who was a slaver turned abolitionist. "Amazing Grace" became widely popular after William Walker included it in his popular songbook Southern Harmony.
#2. This Little Light of Mine
This is a cute song with a big reputation. While it's often associated with children, and no one's certain who wrote it, "This Little Light of Mine" has become an anthemic protest song. It had a strong presence during the 1960s Civil Rights movement, and was more recently used by counter-protesters during the Unite the Right rally in Charlottesville, Virginia.
#3. Nobody Knows the Trouble I've Seen
Many gospel songs have their roots in the slavery era, and many enslaved people related with the plight of Hebrew slaves in the Old Testament. Freedom is often referenced in gospel songs, most obviously in "Nobody Knows the Trouble I've Seen" (first published in 1867 and then made famous by Louis Armstrong), "Swing Low, Sweet Chariot," and "Go Down Moses (Let My People Go)."
#4. I'll Fly Away
Albert Edward Brumley wrote "I'll Fly Away" in 1932 and since then, it's become one of the most recorded gospel songs ever, performed by everyone from Johnny Cash to Kanye West. It was also featured in the film O Brother, Where Art Thou? There's even an I'll Fly Away Foundation dedicated to engage children through music in honor of Brumley.
#5. Swing Low, Sweet Chariot
Another iconic gospel melody, "Swing Low, Sweet Chariot" was first thought up by Wallace Willis, a freedman who was working at a Choctaw County school in Oklahoma. A minister overheard his words and melody, wrote it down, and sent it to the Jubilee Singers of Fisk University, who would make the song widely known through their American tours.
#6. Go Down Moses (Let My People Go)
"Go Down Moses" first appeared in print in 1861, in an abolitionist newspaper called The National Anti-Slavery Standard under the title "The Contrabands' Freedom Hymn." By then, it had been sung for years. This song has obvious connotations: enslaved people related with the enslaved Israelites in Egypt, and they saw their own anti-slavery leaders in Moses.
#7. Oh Happy Day
"Oh Happy Day" was an 18th century hymn made popular by Grammy-winning Edwin Hawkins. It debuted in 1968 and became the first gospel song to cross over into the mainstream charts. The Edwin Hawkins Singers then won a Grammy in 1970 for best soul gospel performance. "Oh Happy Day" is also a memorable number sung by a young Ryan Toby in Sister Act 2.
#8. Sometimes I Feel Like a Motherless Child
Another classic made famous by the Fisk Jubilee Singers, "Sometimes I Feel Like a Motherless Child" first appeared in Old Plantation Hymns by William Barton. The song expresses the despair experienced by many during the slavery era, where sometimes children were separated from their mothers. Indeed, gospel music is a testament to music's ability to comfort and uplift people experiencing remarkable hardship.
#9. He's Got the Whole World In His Hands
You may have noticed that we often don't know who — or what group of people — first wrote many gospel songs. "He's Got the Whole World In His Hands" is one of these songs with a murky origin, but its first appearance is likely in Edward Boatner's Spirituals Triumphant Old and New. Its simple, repetitive nature makes this a Sunday School favorite.
#10. When the Saints Go Marching In
Louis Armstrong popularized "When the Saints Go Marching In" as we know it today. He played a livelier version of the song, which traditionally accompanied funerals. There is also an older hymn called "When the Saints Are Marching In," but it sounds completely different!
How to Play Gospel Piano Songs – Theory, Sheet Music, Chords, etc.
Gospel music requires some musical background, so we recommend that you comfortably identify as an intermediate level piano player before you start.
Gospel Piano Sheet Music
However, if you just want to play tunes and have fun, the good news is that there are tons of beginner-friendly gospel arrangements out there. And if you want to get fancy, all you need is a lead sheet to create your own arrangement. Here are some places to get sheet music, lead sheets, and chord charts for free or at an affordable price:
Getting That Sweet Gospel Sound
When you're ready to take your gospel playing a step further, it's time to learn chord transitions, reharmonizing, riffs and fills, and other techniques. Here are some free lessons to get you started:
For those who want a more structured approach, consider joining Pianote as a member and enrolling in Erskine Hawkin's Gospel Piano course. He's got an 11-part course in the Members Area that takes you through chord voicings, root movements, fingering technique, and more.
JOIN PIANOTE