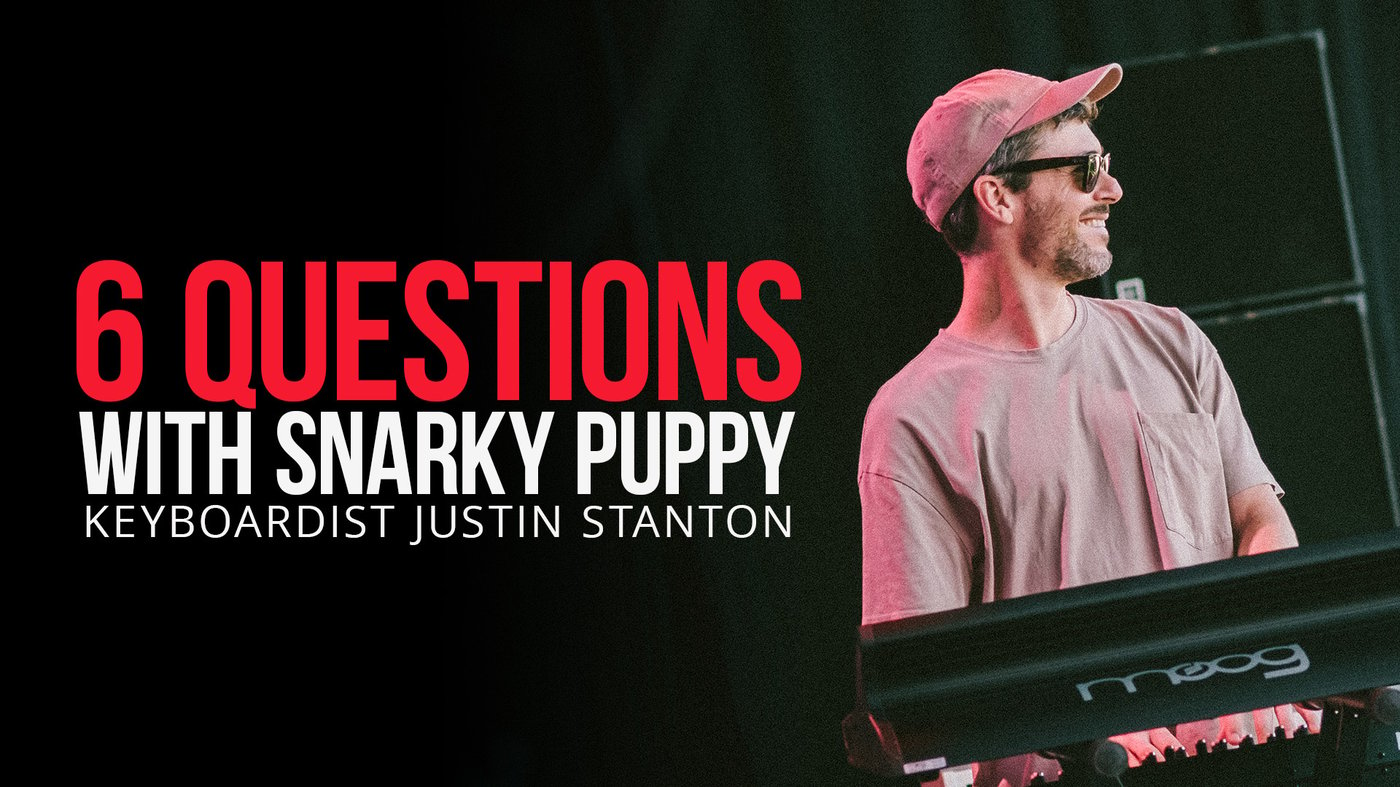 Snarky Puppy is one of today's most respected musical collectives. The jazz fusion/rock/world/funk band has won five GRAMMYs and has as many as 25 rotating members. One of them is Justin Stanton — a keyboardist, trumpet player, and composer who's been performing and recording with Snarky Puppy since 2006. We caught up with Justin while he was on tour in Vancouver to learn more about what it's like to play with one of contemporary music's most influential and iconic bands.
Here are 6 facts and 6 questions with Justin Stanton of Snarky Puppy.
Never Miss an Interview 🎙️
Get exclusive access to world-class pianists and what makes them tick. Subscribe to The Note today.
6 FACTS ABOUT JUSTIN STANTON
1. Justin Stanton joined Snarky Puppy in 2006 when he was a college student at the University of North Texas.
Snarky Puppy was formed by bassist and main composer Michael League in 2004, who rounded up a bunch of college friends in the University of North Texas Jazz Studies program.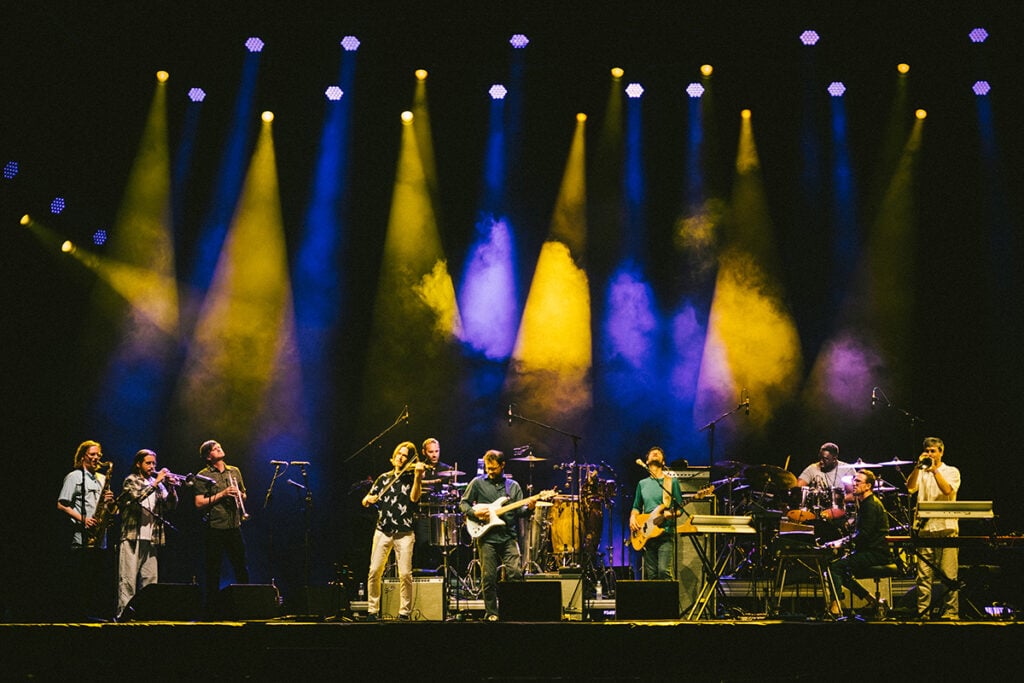 2. He's won multiple GRAMMYs.
Snarky Puppy was nominated and won the following categories:
Best Contemporary Instrumental Album (2023) for Empire Central
Best Contemporary Instrumental Album (2021) for Live at The Royal Albert Hall
Best Contemporary Instrumental Album (2016) for Culcha Vulcha
Best Contemporary Instrumental Album (2015) for Sylva
Best R&B Performance (2013) for "Something"
Justin was involved in Sylva, Culcha Vulcha, Live at the Royal Albert Hall, and Empire Central.
Justin Stanton is a multi-instrumentalist. A master of synths, he's also sponsored by Sequential.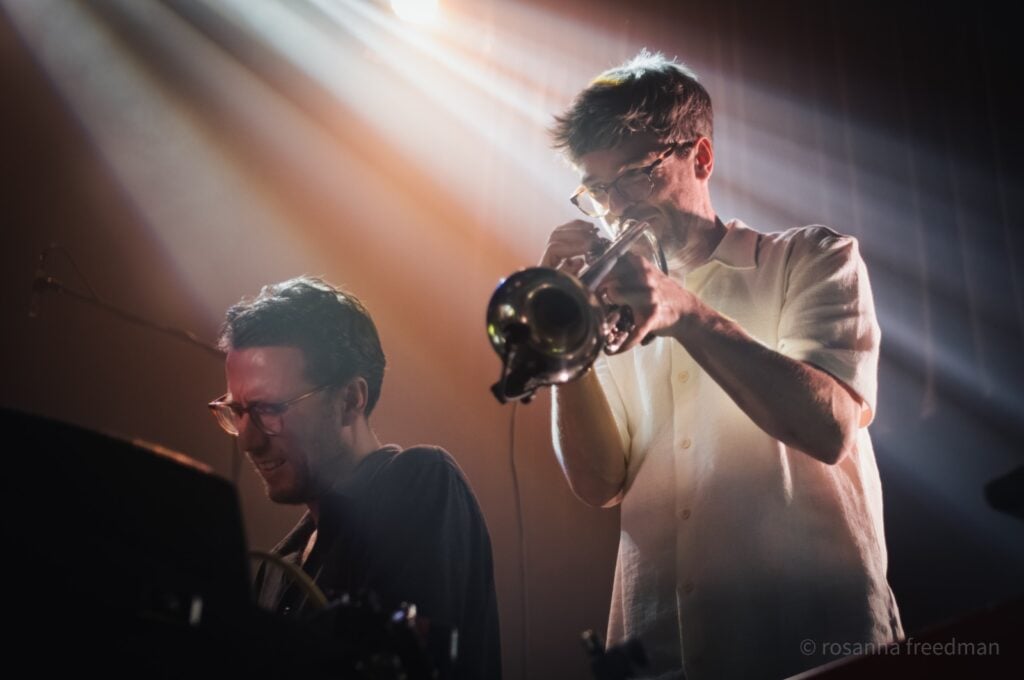 4. He's figured out how to overcome musical insecurity.
Despite Justin's obvious skill and talent, he's no stranger to self-doubt. In an interview with Nugs.net, he shares that was initially unsure whether he was qualified enough to join Snarky Puppy. But he eventually figured out how to overcome it:
There were a lot of growing pains along the way overcoming insecurities about my musical worth. Rather than comparing myself to my fellow musicians against the yardstick of what made them great, I had to find within myself what was unique about what I had to offer and develop that.

Justin Stanton
5. His pandemic album Flor Peeters: 35 Miniatures adapts organ works by the Belgian composer to vintage and modern synthesizers.
During the coronavirus pandemic, Justin was quarantined in Lisbon, Portugal with his partner and two cats. He stayed busy, however, arranging 35 miniatures for his sophomore album. The album celebrates Flor Peeters, a 20th-century Belgian composer, organist, and teacher. Listen to the first Miniature here.
6. He's not the only keyboardist in Snarky Puppy.
Other keyboardists in the band include Bill Laurance, Bobby Sparks II, and Shaun Martin. And yes, they sometimes play together all at once!
6 QUESTIONS WITH JUSTIN STANTON
We caught up with Justin Stanton while he was in Vancouver. Here's a short, lightly edited interview!
1. If you could give a beginner or an aspiring piano player any advice, what would that advice be?
I think it's important for any young musician to start listening to music as soon as possible.
When I was a kid, it was all about, "Here's your music book." And that stuff is really important: it's good to have a method to organize your progression of study. But you don't have in your head what you want to sound like.
We have to remember that music is an aural art form and if we don't have the sound in our head that we want to achieve, it's going to be very hard to get the results that we want.
So, I think it's important to listen early and listen often.
2. Rapid fire questions!
Favorite instrument for performing? Piano.
Describe your musical style in one word? Dynamic.
Is a hotdog a sandwich? No
Pineapples on pizza? No.
Chocolate or vanilla ice cream? Vanilla.
Beatles or Rolling Stone? Beatles.
Vinyl or streaming? I guess I should say vinyl, right? But if I'm being honest, I'm usually streaming…
Dream jam session partner? I think it would have been great to play with Cannonball Adderley. The energy would have been pretty top-notch.
3. Tell us about your gear!
I guess the meat and potatoes of the setup is the Fender Rhodes. That's been a hallmark of the band for as long as we've been playing and either it's the real analog form or a Nord form.
The next is the Sequential Prophet 6. This is the back line of the keyboard—the presets were already so good and loaded in. I just put some tape on here, labeled them, and tweaked them a little bit. So, I have a buzzy lead that I use for "What About Me?", and then some more lead sounds, maybe some more paddy kind of stuff. And then I tweak those as we go along depending on what's going on with the filter: make them brighter or darker.
And then here we have a Mini Moog. I use this primarily for bass stuff and a little bit for lead stuff as well. I'll use it again on "What About Me?" This doesn't have any presets so it's all on the fly. I also have this hooked up to an analog delay pedal, which gives it a little sauce.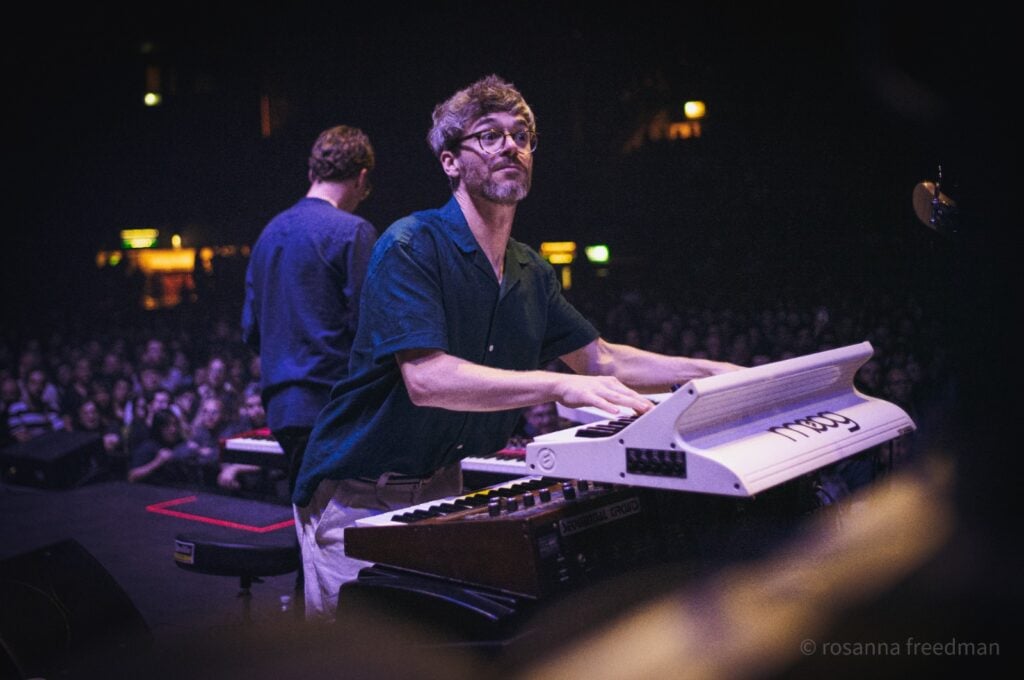 And then finally we have the Nord. Tonight, I have a Stage 3 and I use this primarily for its electric grand that emulates the classic Yamaha CP 70. It kinda sounds like a grand piano, but it's got this other quality to it too. Like a clavinet. There's also a compressor here to make it really punchy and then some delays dialed up if I want to get washy, like maybe a ring modulator if we want to get real weird with stuff. Noisy kind of stuff. And then with an amp simulator, you can get a little drive on it.
So that's basically everything. And again, it depends on who's here on keyboards, depends on what's going on. But right now it's me and Bobby Sparks. He's got quite a setup too. He's got the model D, which is the same one I have here, and then a B3, and then finally the clavinet. So he's like our resident Jimi Hendrix. It's been a kind of metamorphosis over the years, figuring out what works and what doesn't. And it's a mixture of analog vintage instruments and newer stuff.
4. Do you have any crazy stories about being on the road or performing shows?
Yes, but I can't tell you any of them! I mean, yeah, there are crazy stories all the time that happen every day. I'm trying to think of something recently…
We were in South America recently, in the city, and we're fortunate to have a great crew that helps us get set up. They get the ball rolling for us and then we just show up and basically do our thing. It's awesome and they work super hard. They're great people and we're blessed to have them.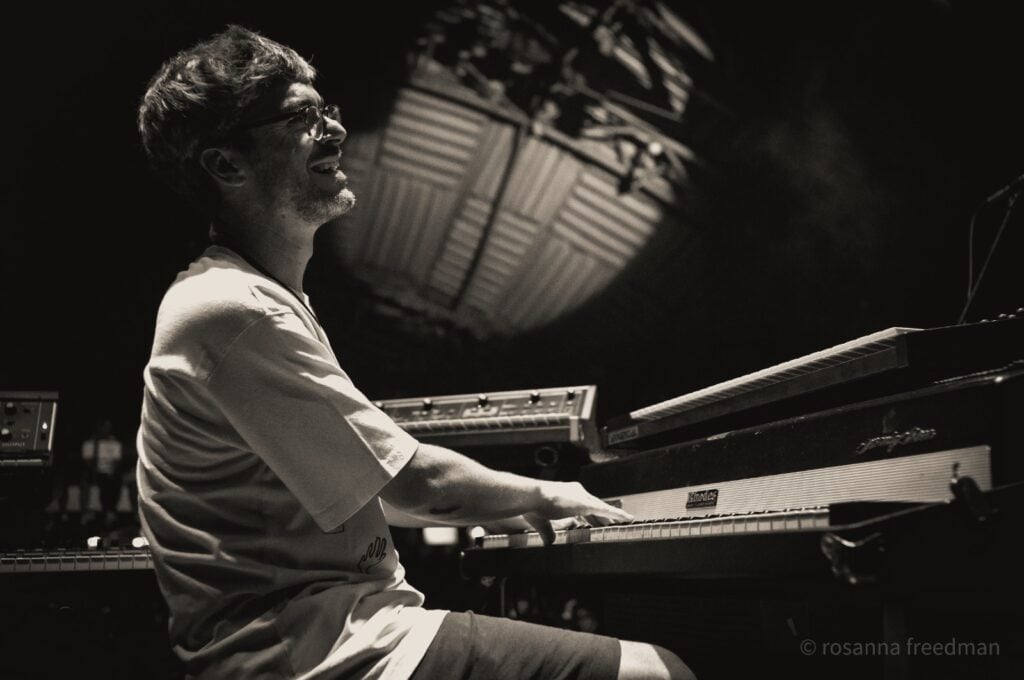 Not every gig is the same. Sometimes, you show up and things are a little tougher than other times. Especially for the crew.
So we showed up and the tour manager was like, "Just so you know, we've already saved your life tonight."
There was a weird power thing on stage and they were trying to plug in the keyboard. They took the grounding plug out of the cable so it gets rid of the ground hum. But it essentially makes the board live and if anything bad were to happen, if you touch the keyboard, you would be electrocuted.
I was like, "Thanks guys. Really appreciate that."
Have you ever forgotten riffs or anything while you've been on stage?
There's a sort of damage control that comes with every tour depending on who's here and what parts need to be covered. My role switches quite a bit. So, yes. It especially happens at the beginning of the tour. And then as the tour goes on, you sort of settle in. But, yeah, some riffs have been forgotten.
So how do you memorize these super-long songs?
When the band made the switch from learning songs by sheet music versus learning songs by ear, it instantly switched. It takes a little bit longer to learn the song because you're learning by ear and you're not just sight reading, but the way your mind internalizes the music is much stronger and once it's there, it's never gone.
So, I'm joking about the riffs being forgotten. It's usually just a momentary lapse. I don't really have to think about what notes to play anymore. It's all there.
5. What's the best piece of advice you've been given?
I don't know about the best, but I have a good piece of advice and it's from a mentor that I had in Texas named Bernard Wright, to whom this last album was dedicated to actually.
He played on the last record as a guest on a song called "Take It." And tragically, a month and a half after, he passed away very suddenly. And he was an incredible mentor to everybody in the band, as a group and individually. He was a real god of music, but he's someone that not everyone knows about. A sort of best-kept secret. He has these amazing solo records. Great improviser too. So effortless and melodic.
Anyway, he used to say, "I only play at 70% of what I can do." And what he's trying to say, I think, is that if you are trying too hard, you're not able to clear your mind and flow. Along the same lines, I think it's this idea of getting out of the way of yourself to let yourself create music.
I'm reading a book called The Inner Game of Tennis. I play a lot of tennis—a lot of us play tennis on the road—and there are so many parallels between tennis and music.
6. Rapid fire questions part two!
Earliest musical memory? Right before I joined junior high band, when I started playing instruments—trumpet and piano—I went to go see my junior high band director and play with an amazing jazz trombonist named Rick Simerly. And I remember going to hear him and that was my first experience playing or hearing jazz music live. And it was amazing.
Favorite key signature to write in? I don't have a favorite to play. I think I like flat keys just because from also playing trumpet. We horn players tend to prefer flat keys rather than sharp keys so I gravitate there.
Dream venue to perform in? A few years ago we played Royal Albert Hall. That was pretty special. But there are a lot of smaller venues too. When we first started touring with Snarky Puppy, we used to play this place in Hattiesburg Mississippi called the Thirsty Hippo. It was probably as big as this piano, the whole bar. Those rooms are so fun. I have so many great memories there. Those are just as fun as the huge venues that we get to play now.
What's your favorite air instrument to play? I would have to say air bass. Because you got the bass face!
Photographs courtesy of Justin Stanton.
Master the Piano YOUR Way 🔥
As a Pianote+ Member, you'll get access to our 10-step Method, song library, and growing community of piano players just like you. Plus: get coached by world-class pianists and learn whenever you want, wherever you want, and whatever you want.
TRY PIANOTE FOR 7 DAYS