Who better to teach you how to play "Lose Yourself" by Eminem on the piano than a pianist who has toured with Eminem himself?
Pianote is excited to welcome Erskine Hawkins! In addition to touring with Eminem and Rihanna, Erskine has worked as the music director for Chrisette Michele and Zendaya. He was also the first African-American to complete the University of North Texas' Jazz Piano program. These days, he lives his biggest passion: contributing music full-time to his church community.
Here's how Erskine plays "Lose Yourself" on the piano.
How to Play "Lose Yourself" on Piano
Introduction
The piano intro is based on just a handful of chords:
Dm – C – Bbmaj7
It may be helpful to practice these chords hands separate first before putting them together.
As we near the end of the intro, we'll add a few more chords in:
Gm – Em7b5 (Em half-diminished) – A
What is a half-diminished chord? The Em half-diminished chord can also be written as Em7b5. So, you can think of half-diminished chords as regular minor 7th chords with an added flat 5. That is, they contain a minor 7th interval and a diminished 5th interval. Meanwhile, a full diminished chord like Edim7 contains a diminished 7th and a diminished 5th.
You can learn more about different types of 7th chords here.
🎹💡 DID YOU KNOW? "Lose Yourself" won the Academy Award for Best Original Song in 2003 from its appearance in the critically acclaimed film 8 Mile. This made "Lose Yourself" the first rap song to win an Oscar. However, Eminem was not present at the 2003 Academy Awards ceremony. Yet 17 years later, he performed the song at the 2020 ceremony.
Opening Riff
The iconic opening riff is most recognizable on drums and guitar, but we daresay it sounds pretty cool on the piano too…
To add some depth, Erskine suggests playing an even lower D under the riff. This adds a deeper shade of darkness.
By itself, the riff does a good job of building anticipation. But you can use some gracenotes to add even more character.
🎹 HOW TO GET GIGS AND DO WHAT YOU LOVE: If you want to play in the big leagues like Erskine Hawkins, we've got tips from the expert: ask lots of questions, put yourself out there, and have a solid repertoire prepared. "Be good at your craft when you get your shot," says Erskine. "You know, you might only get one." Read our full interview with Erskine here.
Chorus
The chorus uses chords we know already: Dm, Bb, C, G, Gm etc.
On the chord chart, we do notate some of these as slash chords. A slash chord means you play the chord to the left of the slash with your right hand and the note to the right of the slash with your left. The slash chords in "Lose Yourself" just describe the running D bass throughout the song.
Learn Gospel Piano With Erskine Hawkins
Feel inspired by this lesson? There's more! Erskine Hawkins is delivering a gospel piano course at Pianote, which you can access as a member.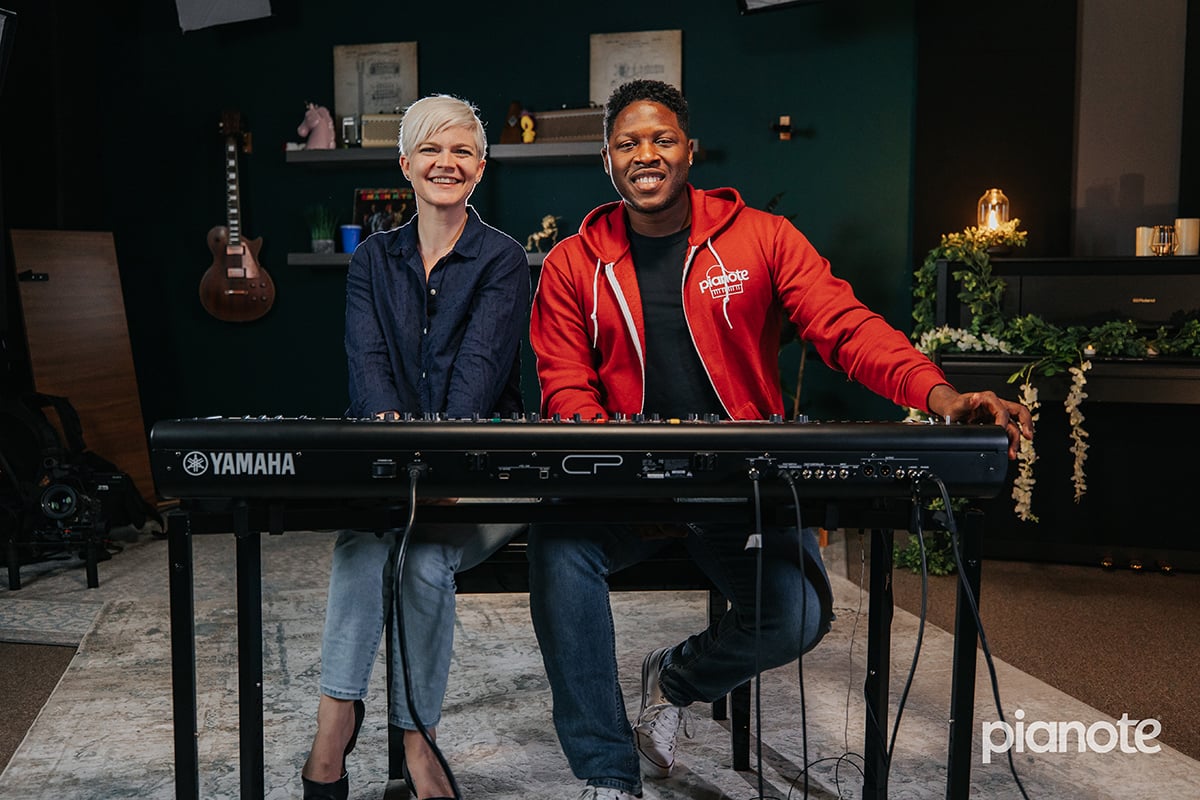 In fact, if you join us in April 2022, you can connect with Erskine directly because he's our featured Coach this month! You can find our upcoming roster of coaches here.
Not sure whether you're ready for Pianote? Try a 7-day free trial.
TRY PIANOTE