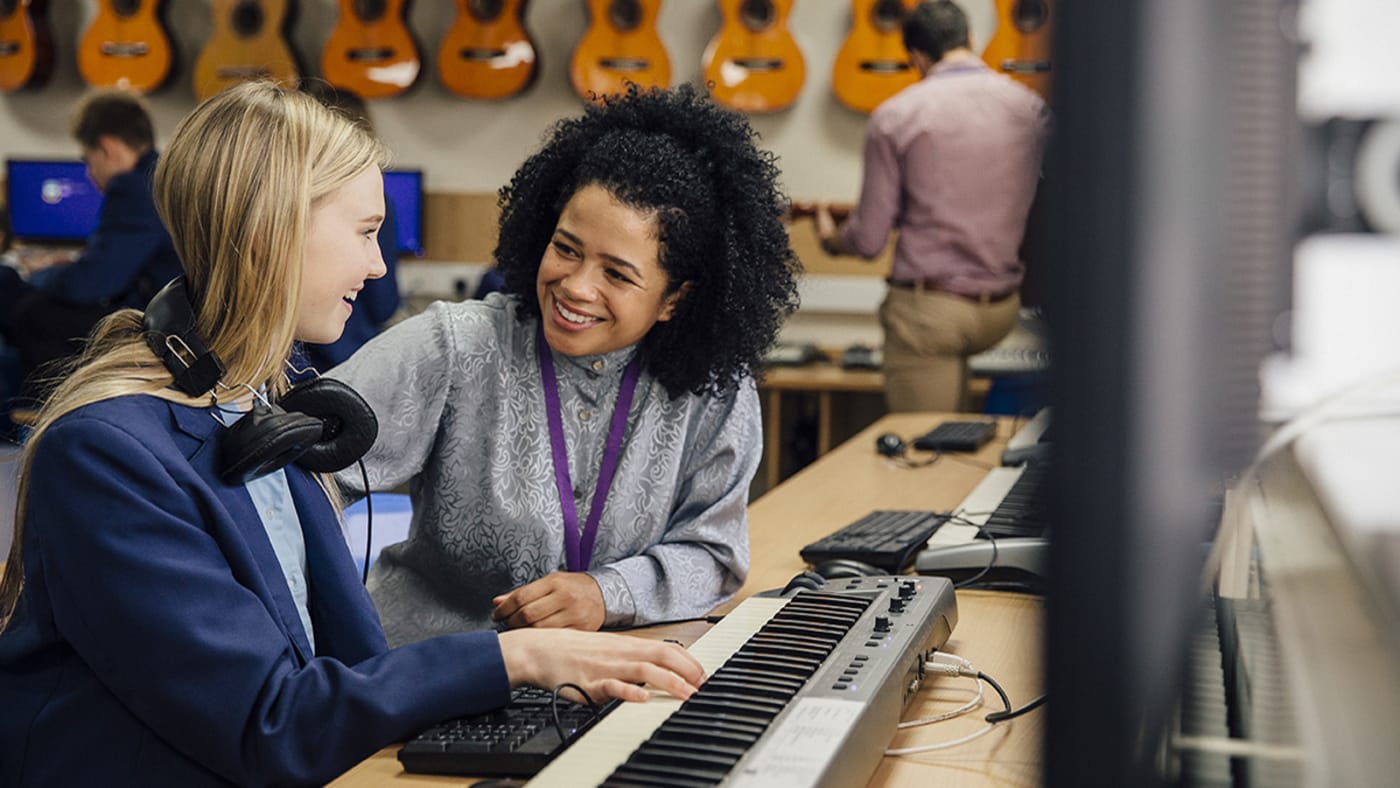 Music education offers many benefits for the growth, well-being, and character of young people, including youth who face barriers. But not everyone has access to quality music education. Piano lessons, school music programs, and musical instruments are expensive things that many communities can't afford.
Learn how music education makes a positive impact on young people and how you can help bring more musical access to youth.
FACT: Music Is Associated with Higher IQ and Higher Grades
Psychologist Dr. E. Glenn Schellenberg published a study in which one group of six-year-olds were given voice or piano lessons while another group waited a year to start music lessons. The experimental group enjoyed a significantly larger increase in IQ than the control group.
Schellenberg followed this up with another study in which he surveyed the IQ, grades, and music lesson involvement of more kids. He found that six years of music lessons was associated with an increase of 7.5 IQ points.
The psychologist also studied college freshmen and discovered that those who played music as children had a small but notable advantage in IQ, memory, perceptual organization, and better high school grades. This association remained strong even when controlled for gender, income, and parental education levels.
Source: American Psychological Association
FACT: Music Can Aid Language Development in Early Childhood
In a longitudinal study in Puerto Rico, one group of three- and four-year-old children were given music classes three times a week while a control group did not. The researchers continually tested the children's language development, and while both groups improved, the children who received music instruction did significantly better.
Source: Procedia – Social and Behavioral Sciences
FACT: Music Can Support Youth Social-Emotional Development
Studies have found a positive association between music learning and the social and emotional growth of young people:
Piano lessons can improve self-esteem
Children involved with music groups score higher in "social capital," such as communicating more with parents and teachers
Music programs in schools can help marginalized youth by providing a safe space, boosting self-esteem, fostering leadership, and more
Source: National Association for Music Education
FACT: Music Education Is Expensive and Not Everyone Can Afford it
MusiCounts, an organization that supports music programs in Canadian schools, notes that 65% of the schools that benefit from their funding have an annual budget of less than $500 for music.
Consider that learning how to play a musical instrument is not cheap. For example:
An entry-level digital piano or keyboard can cost $500-1000
In-person piano lessons for children can cost $20-50 per hour per week, which can add up to thousands of dollars per year
Beginner recorders can cost less than $10 each, but this can quickly add up for a classroom of 20-30 students
Unfortunately, music programs aren't always top priority. Funding cuts for these much-needed and impactful programs are not uncommon. This includes funding for programs aimed at vulnerable youth who, without after-school safe spaces, may be more likely to participate in riskier activities.
FACT: You Can Help!
But the good news is we can all chip in to make music more accessible to kids who deserve it!
In fact, we have a very exciting opportunity for you…
Between now and October 10, if you donate to MusiCounts, Musora Media (Pianote, Drumeo, Singeo, Guitareo) will match donations up to $50,000. You'll also get tons of Pianote bonuses! It's a win-win 🙂
Think about it: if every subscriber to Pianote's YouTube channel donated just $2, we can raise more than $1.8 million for music education! (Plus our donation match of $50,000!)
So what are you waiting for? Invest in the next generation of musicians and donate today.
💝 GIVE THE GIFT OF MUSIC TODAY