Dynamic pianist Sangah Noona has built an audience (affectionately named Sangah Force) through livestreams, lounge gigs, and YouTube covers.
She's also a style guru. Sangah's course on Pianote, Expanding Your Musical Style, encourages students to go beyond their comfort zone. She covers classical, jazz, pop, funk, and more. And she can transform a piece like "Für Elise" into a kaleidoscope of styles, moods, and eras.
If we can summarize Sangah's music philosophy, it's to "play outside the box." Listen to Lisa and Sangah discuss the difference between practice and play, lounge pianists and jazz pianists in Episode #25 of the Pianote Podcast.
Never Miss an Interview 🎙️
Get exclusive access to world-class pianists and what makes them tick. Subscribe to The Note today.
How Sangah Fell in Love With Piano
Sangah started playing piano at the age of five and quickly "fell in love" with it. Since then, "I couldn't stop, still cannot stop," she says. Her first paid gig was at a relative's wedding when she was 12 years old, and she's been involved with music ministry since age 10.
After graduating from Dongduk Women's University with a major in jazz piano, Sangah enjoyed a successful music career in South Korea. She performed for concert bands, broadcast bands, hotel lounges, and even a live morning show. She has since relocated to the United States and has been performing as a guest pianist at the Ritz Carlton in Tysons, Virginia since 2014.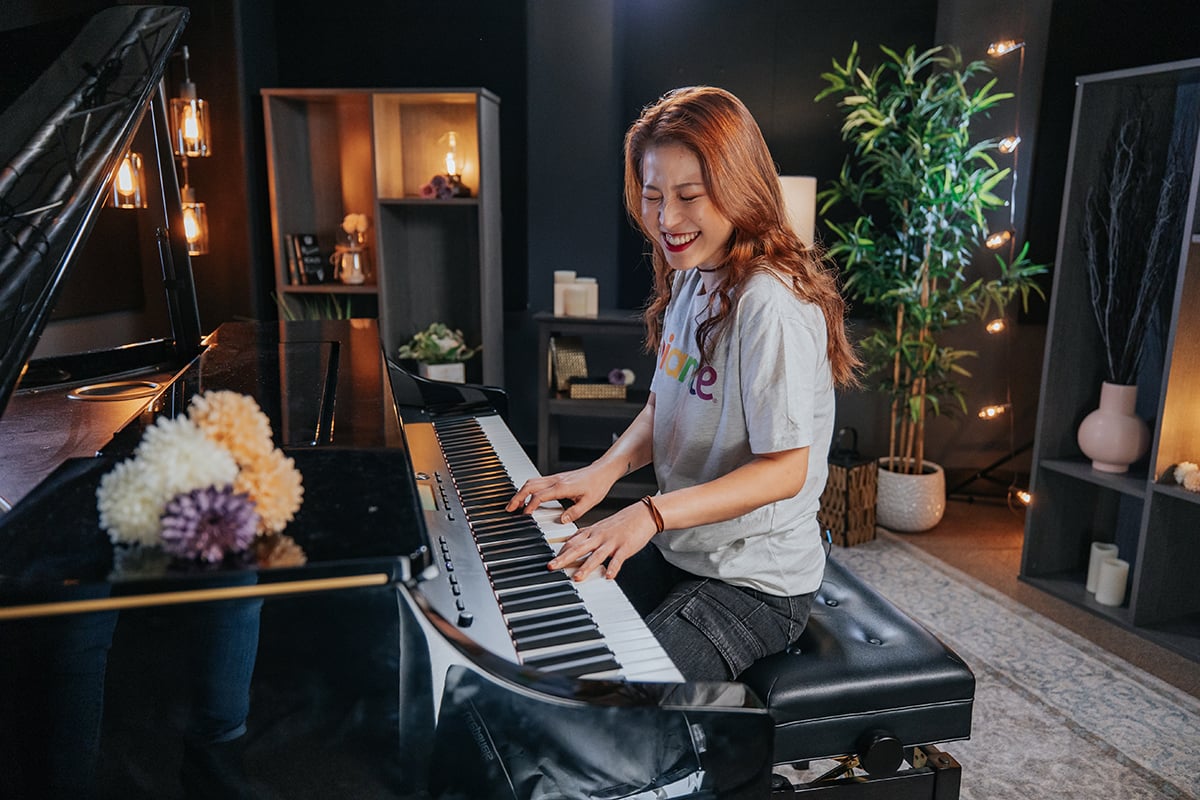 Practice vs. Play
Today, Sangah Noona admits that she doesn't practice all that much. But that doesn't mean she doesn't play—she plays a lot! "I'm just lazy," Sangah says, "but I still love playing piano!" So what's the difference between practicing and playing? For Sangah, practicing is more intentional. It's about pausing at weak spots, investigating problems, polishing them, and then repeating the process.
---
Expand Your Musical Style
In Expanding Your Musical Style, Sangah will show you how to transform a piece into funk, tango, bossa nova, and more. Increase your versatility and push your creativity with this course available with your Pianote Membership. Not a Member yet? Test out the platform with a week-long free trial. Or check out Sangah's fun teaching style in lessons like 3 Ways to Sound Jazzy on the Piano.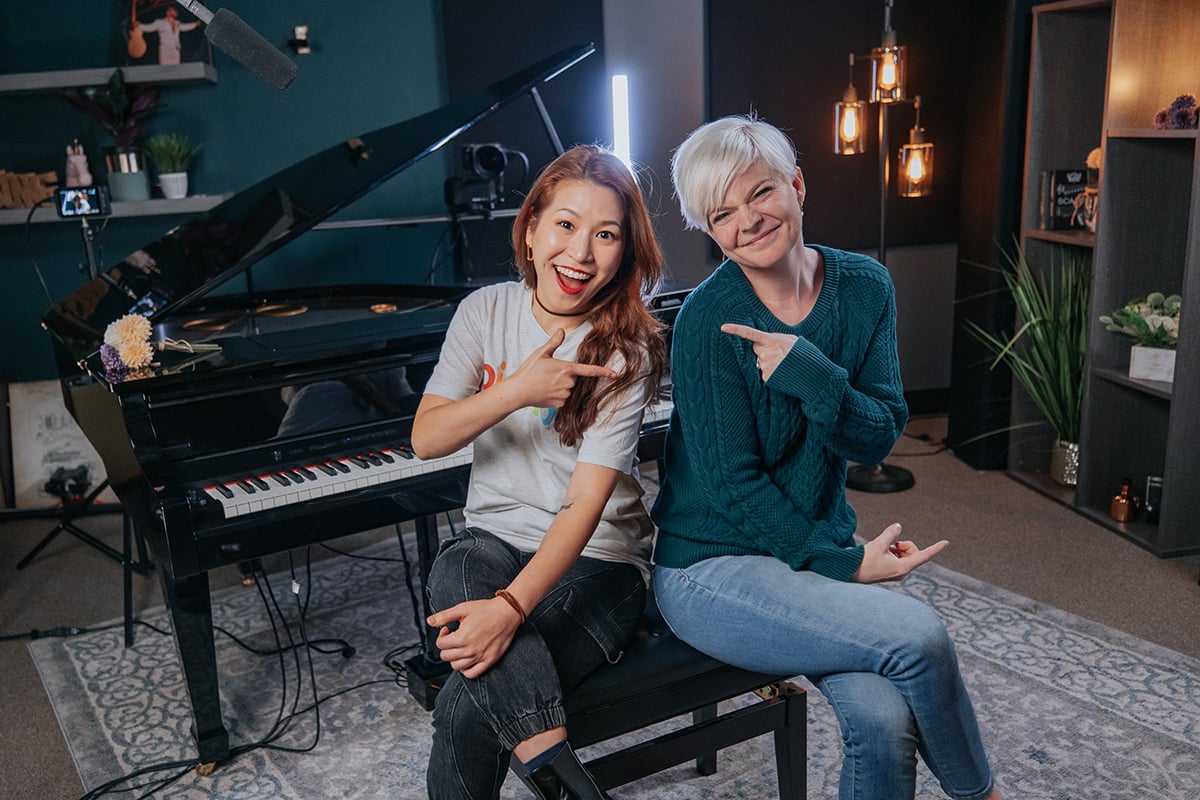 TRY PIANOTE FOR 7 DAYS
---
Playing piano, on the other hand, is more of an in-the-moment thing for Sangah. "Music is time art, so it's only about that moment," she says. "Yesterday was different, today's different, and tomorrow will be different. So I try to live the moment and feel the moment." This applies to all types of music, even classical music where the notes on sheet music don't change.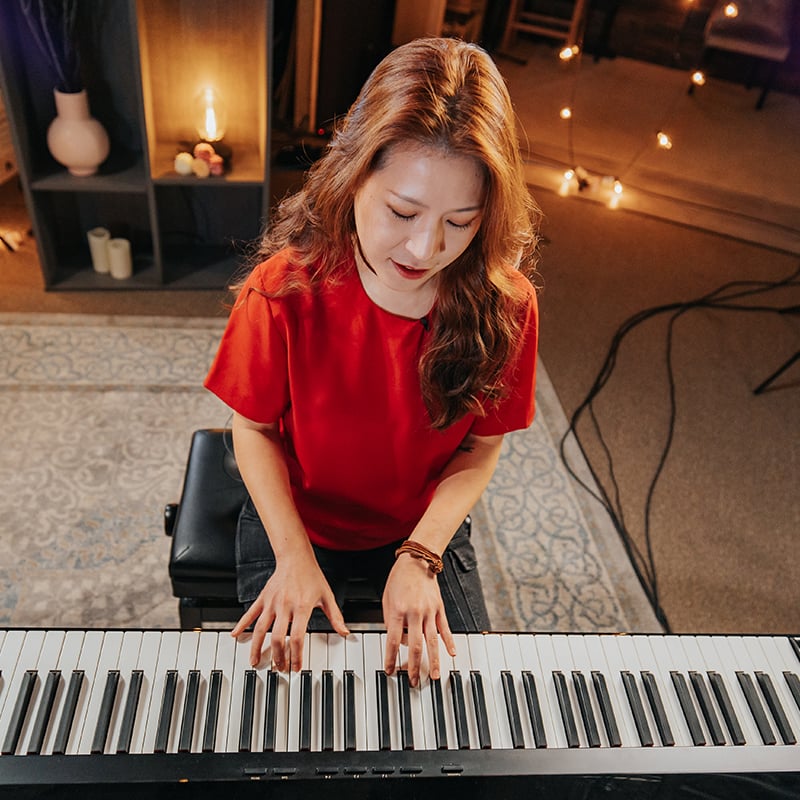 A Palette of Styles
Sangah's philosophy of playing music in the moment translates well to her particular area of expertise: knowing how to play in many different styles. In fact, Sangah doesn't even know what style she'll play in until she sits down at the piano bench.
One way Sangah maintains variety is by listening to a wide range of music. She doesn't listen to just piano music—she's a fan of rock and heavy metal as well. On YouTube, she plays jazz standards, bossa nova, the Beatles, worship songs, and even re-imaginings of classical pieces. For her college audition, Sangah arranged and performed a piano cover of Metallica's "Master of Puppets."
Lounge Pianist vs. Jazz Pianist
Sangah Noona states in many of her videos that she's not a jazz pianist. She identifies as a lounge pianist instead. Yet many of her performances sound "jazzy." So what's the difference between lounge and jazz piano?
The difference lies in the nature of the job. In a lounge, there is no audience, only guests who are there to eat and drink; their main purpose isn't to attend a concert. But in a jazz gig, audience members intentionally buy a ticket to watch someone play.
Get out of the box. Open your mind.

Sangah Noona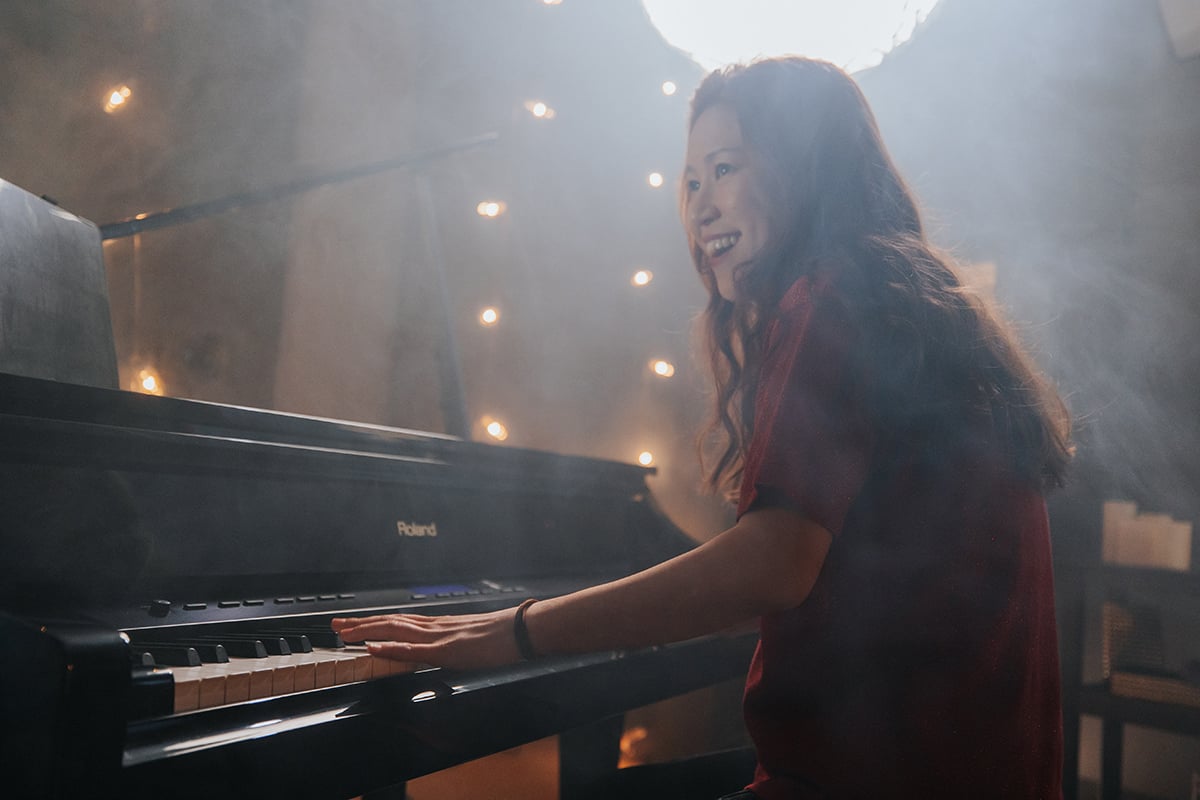 There are some advantages to being a lounge pianist with "no audience." You have more freedom to experiment, says Sangah. So in a way, you can be more musically daring and take more risks. When asked whether she gets nervous, Sangah answers, "Absolutely not!" After all, lounge guests aren't there to watch piano, so she feels very little anxiety playing background music in this environment.
Sangah Force!
Today, Sangah's lounge extends to the internet. She regularly uploads YouTube videos and livestream concerts to her fans, a group that calls themselves "Sangah Force." Sangah started YouTubing in 2011. She began posting seriously on the platform around 2017/18 and quickly discovered that this was a space where she could play piano until it was no longer possible.
Other Stuff
On Piano Sound
Sangah's piano sound often gets compliments. But the sound of a recorded acoustic piano has more to do with the equalizer and the listener's speakers than the piano itself. You can't hear how an acoustic piano really sounds unless you're in the room. More than sound, Sangah looks for instruments that speak to her. "It [my piano] tells a lot and [is] very supportive," she says. "This piano talks and sings as I want to sing."
Advice for Beginners
Sangah warns against binge-watching too many video tutorials. Free tutorials on the internet are an awesome resource, but if you spend all your time watching videos instead of playing, you won't improve. Sangah's advice is to stick with one resource (like Pianote!) and spend more time playing, less time watching. Hours of video watched don't make a pianist.
On Aviation
Completely unrelated to music, but Sangah is also a licensed pilot! After completing E.S.L. (English as a Second Language) courses when she first came to the U.S., Sangah wanted to learn something new. She browsed the catalogue and "aviation" was the first thing that caught her eye, alphabetically. Today, she is certified by the FAA.
For more music with Sangah Noona, check out her YouTube channel. Better yet, get yourself a free Pianote trial and learn how to play in different styles with Sangah's course!
Related Lessons
Master the Piano YOUR Way 🔥
As a Pianote Member, you'll get access to our 10-step Method, song library, and growing community of piano players just like you. Plus: get coached by world-class pianists and learn whenever you want, wherever you want, and whatever you want.
TRY PIANOTE FOR 7 DAYS