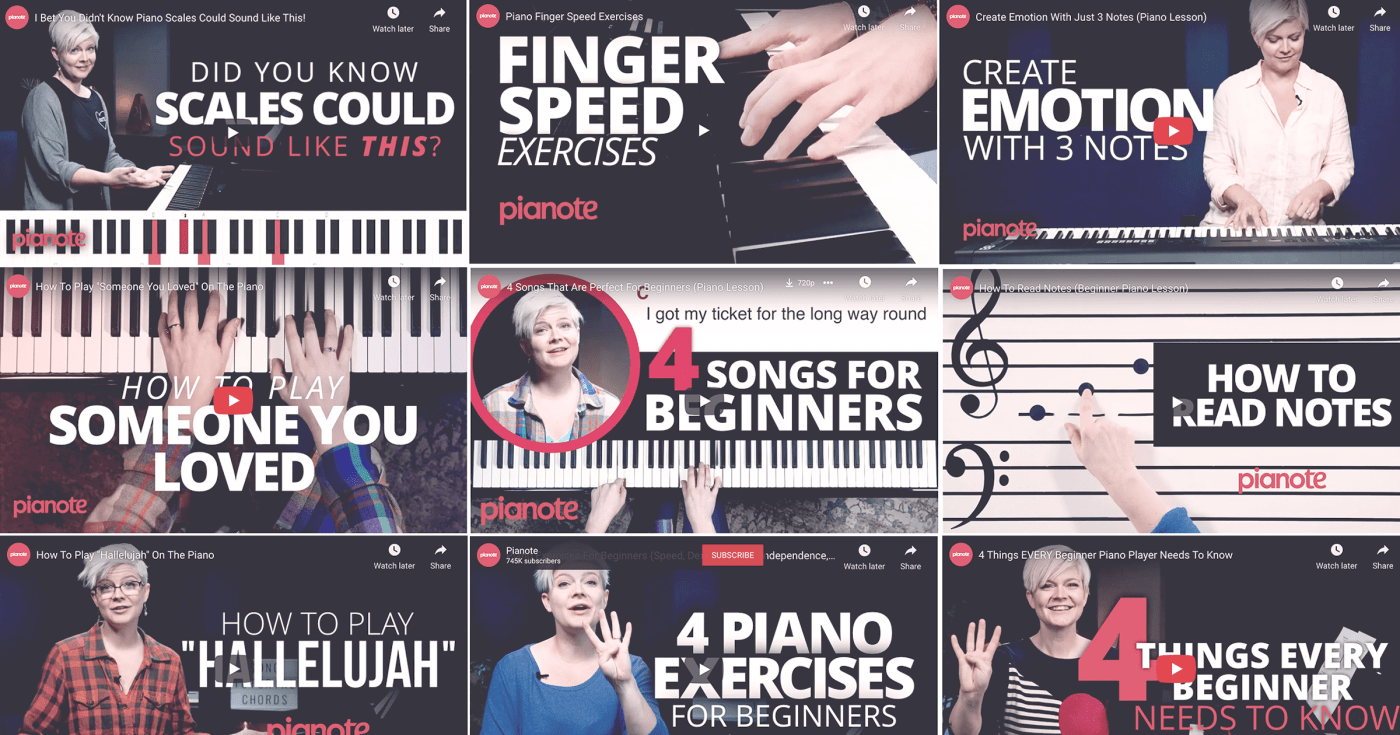 In our era of video tutorials and online DIY, finding a good resource in the giant haystack that is the internet can be overwhelming. One way to find resources is to ask other piano learners what works.
You told us, and we got the data! Here's a run-down of our top 10 YouTube piano tutorials in 2020 as determined by viewers like you.
#10. How to Play "Hallelujah" on the Piano

This tutorial is fantastic for both beginners and more advanced pianists. Beginners can learn a simple version of "Hallelujah" that captures the essence of this iconic song. Meanwhile, advanced pianists can learn how to create a fuller, more unique cover.
"Hallelujah" happens to be very beginner-friendly. Just playing the basic chords broken will sound very similar to the original recording.
My favorite thing about Lisa's tutorial is her improvisation demonstration at the end. Improvising sounds—and looks!—magical, but when Lisa breaks it down, it's less mysterious. Indeed, anyone can improvise with practice.
#9. Piano Exercises for Beginners (Speed, Dexterity, Hand Independence, Control)

Good technique goes a long away, especially for beginners. But practicing technique can be a drag.
Here are four quick exercises that, while challenging, shouldn't be boring. Lisa will show you the easiest version of these exercises. Then, she'll show you how to push yourself with a few challenging alterations. You'll learn contrary motion, incorporate dynamics, and a fun little exercise we call The Claw.
#8. How to Play "Perfect" on the Piano (Ed Sheeran)

Ed Sheeran's "Perfect" is beautiful and romantic with a lovely triple metre. And there are only four chords!
In this tutorial, Lisa will walk you through everything you need to play both the melody and accompaniment. She'll also give you tips on how to build on the provided lead sheet to make your performance—at the wedding chapel, at home on Valentine's Day, or wherever—perfectly yours.
#7. 4 Things a Beginner Piano Player Should Practice

If you've just started your piano journey, it can be helpful to watch someone who is going through the same experience. In this video, Lisa walks beginner pianist Kaitlyn through some basic skills:
Keyboard geography.
Five-finger scale.
"The Claw."
Keyboard familiarity.
By watching Kaitlyn, you'll also see common problems you might relate with. (Does "my fingers don't want to co-operate with my brain" sound familiar?) And we'll show you how to troubleshoot them.
#6. I Bet You Didn't Know Piano Scales Could Sound Like This!
"Scales are like vegetables…" – Lisa.
Scales might be boring and their benefits aren't immediately obvious, but you should still do them because they develop important skills.
To make scales less boring, Lisa will show you some fun exercises to incorporate into your practice routine.
For example, if you pair your scale practice with chords, they'll sound less monotonous and more like a song. Understanding how diatonic chords work with the key you're playing will also develop your musical creativity and improvisation skills. A double win!
#5. Piano Finger Speed Exercises

"How do I play fast?" is a common question we get. The answer? Start slow.
In this video, Jordan will show you a number of speed exercises you can do to take your playing to the next level. They're all beginner-friendly: the five-finger scale, the thumb tuck, the blues scale, and the arpeggio.
These skills are the building blocks to epic piano-playing down the road, so dedicate a few minutes each session to finger speed exercises.
#4. Create Emotion with Just 3 Notes

Take your moody improvisations to the next level. With just three notes and a simple progression, Lisa teaches you how to create emotional, atmospheric, and beautiful music in this video.
After you get the basic concept down, try different rhythms and experiment with different octaves. Each register creates a different mood. Then, mix up the order of notes and find a melody that expresses you.
Make sure you check out our sequel: creating emotion with four notes.
#3. How to Play "Someone You Loved" on the Piano

"Someone You Loved" by Lewis Capaldi was one of our top requests, so it's no surprise this tutorial made it to the top 3.
What I love about this lesson is the many different ways you can play this song using the same few ingredients. Lisa shows you how easy it is to adjust the mood, color, and texture by varying rhythm and chord shapes. Use octaves and lower registers to increase intensity, or fewer notes and higher registers for a more delicate feel.
#2. 4 Songs that are Perfect for Beginners

Beginners can play songs! In fact, it's part of Lisa's philosophy that beginner pianists leave their first lesson having played their first song.
Here are four simple songs that will get you playing and having fun from day one:
"Cups" by Anna Kendrick from Pitch Perfect is a fun one to sing along to, and we'll show you how guitar chord charts work so you can get singing right away.
"Hello" by Adele is a majestic number, and it only has four chords. Lisa will show you how to play simplified "cheater" fifths that fit well with this song.
"Just the Way You Are" by Bruno Mars is another well-known banger. We'll show you how to use rhythm to create an upbeat feel.
Finally, Lewis Capaldi's "Someone You Love" is another "four-chord wonder" that will get you stoked on day one.
#1. How to Read Notes (Beginner Piano Lesson)

Learning how to read notes is like learning another language. It's a super useful skill and that's probably why it's our number one video to date.
Lisa will show you how to read the grand staff in this short lesson. She'll run over basic theory, but she'll also tell you tips and tricks to help you sight read faster. For example, did you know that you don't have to read every single note to make sense of sheet music? Instead, pay attention to the skips, steps, and the direction of notes.
Once you've watched this video, make sure to head to our 2021 sequel which is even more comprehensive.
We hope these top 10 YouTube piano tutorials give you hours of fun. Subscribe for more free content in 2021.
Happy playing!