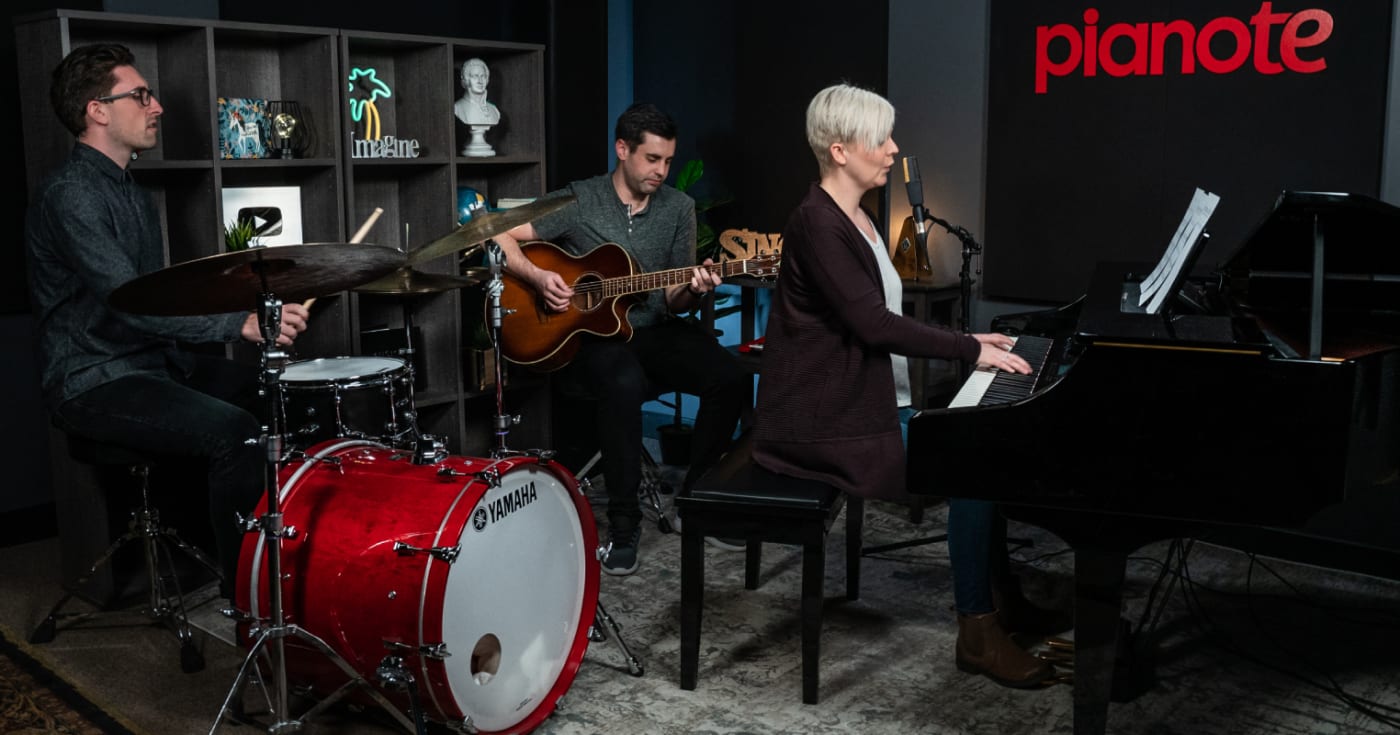 Easy piano songs to make you the life of the party
Many beginner pianists get stuck playing easy but no-fun songs, like those from a nursery rhyme book.
But at Pianote, we believe the fun should start from day one. After all, most of us didn't start playing piano to play "Mary Had a Little Lamb" but to play The Beatles, our favorite musical numbers, and radio hits.
The truth is, you don't need advanced skills to play good songs. So instead of giving you baby songs, here are ten popular songs that are easy and rewarding to play.
Get ready to show off at your next party!
10. "1234" by Feist
Download the music here
Starting our list of 10 easy piano songs is "1234" by Feist. It's so cheery and fun that, quoting Lisa, "You can't practice this and then be in a bad mood!"
We have a detailed video tutorial available for free that will get you sounding impressive and confident. You'll also learn a lot about chord theory and reading lead sheets.
Ever wondered what a 7th chord is? Or what D/C# on a lead sheet means? Find out here.
This song has the ability to put a smile on anyone's face. It's happy and easygoing, and not too fast (or too slow).
It works perfectly as a simple arrangement, but does leave room for fancier improv on top of its basic structure.
9. "Happy Birthday"
Download the music here
Every birthday needs a round of "Happy Birthday" to embarrass the birthday-ee.
Make it an even grander occasion by volunteering as the accompanist for the next birthday you attend.
This simple sheet music tutorial will teach you both the melodic line of the song and left-hand accompaniment.
And most of the melody can be played in one comfortable hand position with one simple cross-over movement.
🎹 Play REAL Songs…The Ones You Love 🎵
The best way to learn music is by playing, not reading. Start off on a good note with our 500 Songs in 5 Days course pack. Free with your Pianote membership.
START PLAYING SONGS TODAY
8. "The Scientist" by Coldplay
Download the music here
Coldplay's classic, "The Scientist," is majestic yet deceptively simple.
There are only really four main chords, and you can get away with playing the entire song just by mastering the intro.
Our tutorial will introduce you to the four main chords (Dm7, Bb, F, and Fsus2) and their chord shapes. Lisa will also introduce you to inversion chord shapes and what suspended (Fsus2) chords are.
The left-hand sounds beautiful with just simple quarter notes, but once you're more comfortable, it's not difficult to play eighth notes in your left hand with the root note.
All in all, this song is a great opportunity to learn some chord theory basics while playing a fulfilling song.
7. "Cups (When I'm Gone)" by Anna Kendrick
Download the chord chart here
Part of our "4 Easy Songs" tutorial, this little number from the Pitch Perfect film series is a fun song for small parties, rainy days in, and other cozy social settings.
Lisa's tutorial is perfect for absolute beginners. It'll teach you what chord shells, chords, and chord charts are.
The song is completely in C major, so you'll only have to worry about white keys and the four basic chords: C, F, G, and Am.
Now grab some cups, a friend who can duet with you, and have a blast!
6. "Just the Way You Are" by Bruno Mars
Download the chord chart here
Bruno Mars' early hit is an extremely rewarding must-play.
It's catchy, has a positive message, and performing it will surely impress your crush.
What's more, there are only three chords to worry about — C, G, and Em — and they can all be played on white keys. Learn about them here.
5. "A Thousand Years" by Christina Perri
Download the music here
For a change of pace, try this romantic classic in 6/8 time, which you can find in our "3 (Easy) Romantic Piano Songs" tutorial.
Here, you'll learn what slash chords are and how to vibe with triple time.
While this song may sound complex, it's actually quite simple.
If you're interested in going further with this song, you can check out our more detailed tutorial in the members-only area.
Find out more about a Pianote membership here.
4. "Hello" by Adele
Download the chord chart here
If you prefer melodic drama over upbeat peppiness, you'll be happy to find Adele's "Hello" also in our "4 Easy Piano Songs That Are Perfect for Beginners" video.
This is a majestic number, but it only requires four chords and, imbued with emotion and intrigue, is very fun to perform.
There is a key change but it's not too difficult to master.
3. "Can't Help Falling in Love" by Elvis Presley
Download the lead sheet here
Elvis Presley's classic love song sounds awesome even though all the chords are in root position, so this easy piano song is perfect if you're new to chords and chord shapes.
In our tutorial, Lisa explains how to interpret and play all these chord shapes perfectly.
This song is also fun to sing along, so get ready to impress your Valentine.
2. "Let It Be" by The Beatles
Download the chord chart here
Another instant conversation-starter, "Let It Be" is also in C major so you don't have to worry about sharps and flats. But this song has the added benefit of introducing you to all the important C Major chords in a fun way.
In our tutorial, Jordan walks you through the fundamentals of music theory, chords, and chord inversions.
He also teaches you how to recognize numerical values for chords.
This is a neat skill to have because it allows you to play the song in different keys (transpose), making it easier to sing along no matter your vocal range.
There is a transition in this song that is a little tougher to master, but it's relatively short and with a little practice, beginners should be able to master it.
1. "Imagine" by John Lennon
Download the music here
And topping the list of our 10 easy piano songs is John Lennon's "Imagine".
It's a classic and an instant conversation starter. It's also not meant to be played fast, so beginners will sound great even when they're practicing slowly.
This song is also entirely in C major, which means you don't have to worry about black keys.
The C major root triad, which makes up most of this song, is a very comfortable beginner chord to play. But it's also not boring.
You'll be using C as an anchor note while playing the "Imagine" motif, which will definitely get your hands moving across the keyboard.
Our tutorial will get you comfortable with C major as a key, playing triads, and reading sheet music. Check it out here.
Enjoy These Easy Piano Songs
As you can see, great-sounding pop songs are not exclusive to the realm of advanced pianists!
In fact, we encourage beginners to play complete songs from day one. It'll get you hooked on playing piano and encourage you to keep progressing.
And these 10 easy piano songs are a great place to start!
After all, the whole point of playing the piano is to have fun and sound good.