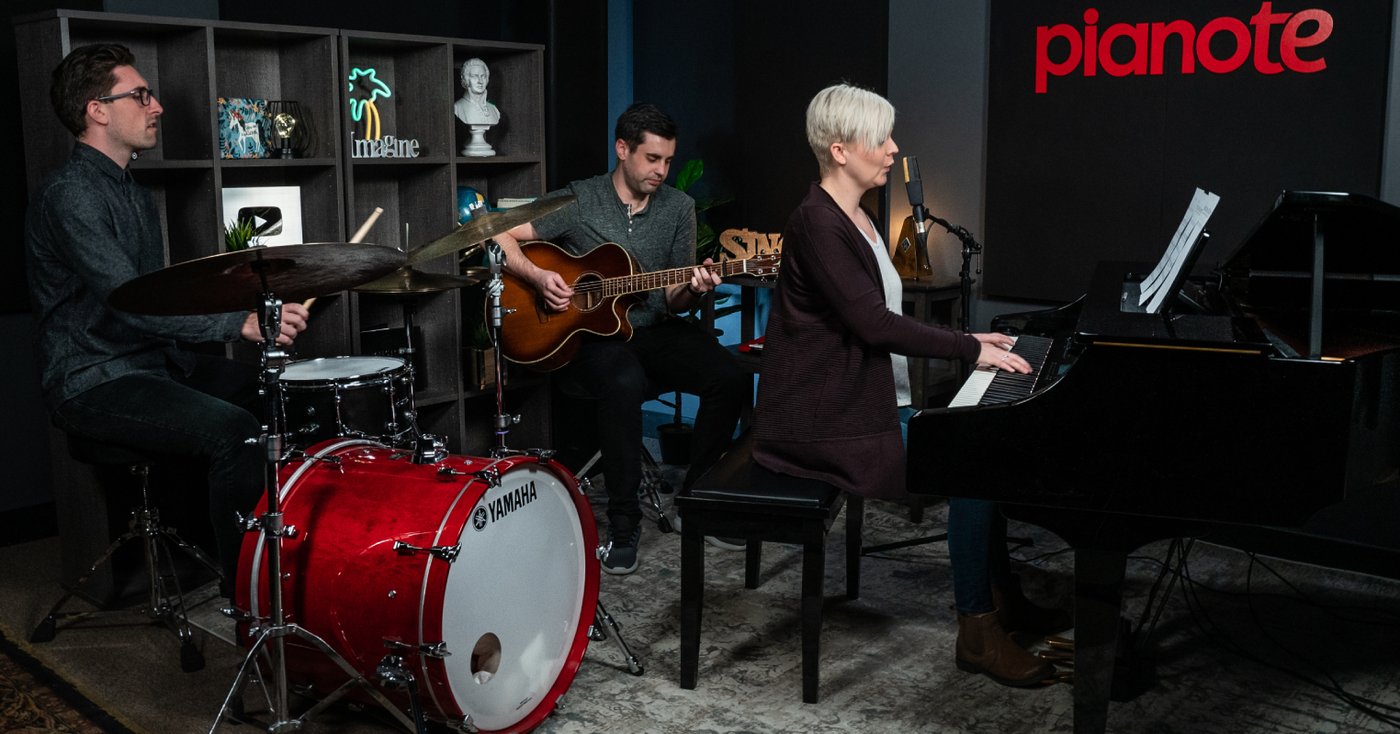 Want to play songs that will make you the life of the party? Here are ten easy piano songs you can start learning today, even as a beginner player!
Many beginner pianists get stuck playing easy but no-fun songs, like those from a nursery rhyme book. But we believe the fun should start from day one. After all, we didn't start learning how to play piano to play "Mary Had a Little Lamb."
The truth is, you don't need advanced skills to play good songs. You can play these songs right away.
🎹 Your Go-To Place for All Things Piano
Subscribe to The Note for exclusive interviews, fascinating articles, and inspiring lessons delivered straight to your inbox. Unsubscribe at any time.
1. 1234 – Feist
Starting our list of 10 easy piano songs is "1234" by Feist. It's so cheery and fun that, quoting Lisa, "You can't practice this and then be in a bad mood!"
We have a detailed video tutorial available for free that will get you sounding impressive and confident. You'll also learn a lot about chord theory and reading lead sheets.
Ever wondered what a 7th chord is? Or what D/C# on a lead sheet means? Find out here.
This song has the ability to put a smile on anyone's face. It's happy and easygoing, and not too fast (or too slow).
It works perfectly as a simple arrangement but does leave room for fancier improv on top of its basic structure.
2. Happy Birthday
Every birthday needs a round of "Happy Birthday" to embarrass the birthday-ee.
Make it an even grander occasion by volunteering as the accompanist for the next birthday you attend.
This simple tutorial will teach you both the melodic line of the song and left-hand accompaniment. And good news: most of the melody can be played in one comfortable hand position with one simple cross-over movement.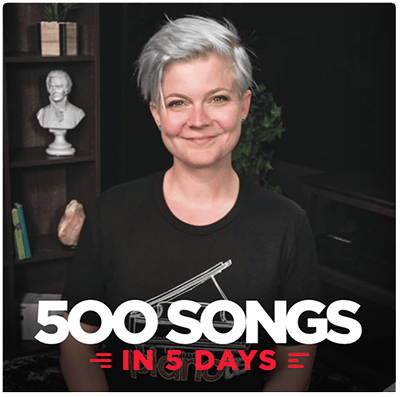 🎹 Play REAL Songs…The Ones You Love 🎵
The best way to learn music is by playing, not reading. Start off on a good note with our 500 Songs in 5 Days course pack. Free with your Pianote membership.
START PLAYING SONGS TODAY
3. The Scientist – Coldplay
Coldplay's classic, "The Scientist," is majestic yet deceptively simple.
There are only really four main chords, and you can get away with playing the entire song just by mastering the intro.
Our tutorial will introduce you to the four main chords (Dm7, Bb, F, and Fsus2) and their chord shapes. Lisa will also introduce you to inversion chord shapes and what suspended (Fsus2) chords are.
The left-hand sounds beautiful with just simple quarter notes, but once you're more comfortable, it's not difficult to play eighth notes in your left hand with the root note.
All in all, this song is a great opportunity to learn some chord theory basics while playing a fulfilling song.
4. Tiny Dancer – Elton John
What's so awesome about pop songs is that you can make them as simple or as complex as you like.
In this tutorial, we'll show you five different ways to play Elton John's "Tiny Dancer," from beginner-friendly to Elton-John-level advanced.
Start with the basic chords. Then add riffs, then add even fancier riffs. As you get to know a pop song, you'll get more comfortable with it and feel the urge to venture out of your comfort zone.
5. Just the Way You Are – Bruno Mars
> 4 Easy Piano Songs for Beginners
Bruno Mars' early hit is an extremely rewarding must-play.
It's catchy, has a positive message, and performing it will surely impress your crush.
What's more, there are only three chords to worry about — C, G, and Em — and they can all be played on white keys. Learn about them here.
6. A Thousand Years – Christina Perri
> 3 (Easy) Romantic Piano Songs
For a change of pace, try this romantic classic in 6/8 time, which you can find in our "3 (Easy) Romantic Piano Songs" tutorial.
Here, you'll learn what slash chords are and how to vibe with triple time.
While this song may sound complex, it's actually quite simple.
If you're interested in going further with this song, you can check out our more detailed tutorial in the members-only area.
Find out more about a Pianote membership here.
7. Interstellar Theme – Hans Zimmer
Hans Zimmer is famous for composing some of the most epic film scores ever.
But epic doesn't necessarily mean hard! The theme from Interstellar is iconic and grand, but a lot of it is repetitive and built from similar themes and rhythms.
Like "Tiny Dancer," once you get the basics down, it's fun to see what you can build from the main theme. Make an arrangement of Interstellar that is uniquely yours!
8. Waltz in A Minor – Frédéric Chopin
The Waltz in A Minor is considered to be one of Chopin's easier compositions. To make Chopin's music even more accessible, we've created simplified versions of the Waltz and two other pieces—Nocturne in E-Flat Major and Prelude in E Minor.
There's a reason why Chopin's sound is so closely associated with the piano—it's beautiful! Use these easy versions as a stepping stone to the real thing, and you'll be playing original Chopin in no time,
9. Let It Be – The Beatles
Another instant conversation-starter, "Let It Be" is also in C major so you don't have to worry about sharps and flats. But this song has the added benefit of introducing you to all the important C Major chords in a fun way.
In our tutorial, Jordan walks you through the fundamentals of music theory, chords, and chord inversions.
He also teaches you how to recognize numerical values for chords.
This is a neat skill to have because it allows you to play the song in different keys (transpose), making it easier to sing along no matter your vocal range.
There is a transition in this song that is a little tougher to master, but it's relatively short and with a little practice, beginners should be able to master it.
10. Imagine – John Lennon
And finishing our list of our 10 easy piano songs is John Lennon's "Imagine".
It's a classic and an instant conversation starter. It's also not meant to be played fast, so beginners will sound great even when they're practicing slowly.
This song is also entirely in C major, which means you don't have to worry about black keys.
The C major root triad, which makes up most of this song, is a very comfortable beginner chord to play. But it's also not boring.
You'll be using C as an anchor note while playing the "Imagine" motif, which will definitely get your hands moving across the keyboard.
Our tutorial will get you comfortable with C major as a key, playing triads, and reading sheet music. Check it out here.
Enjoy These Easy Piano Songs
As you can see, great-sounding pop songs are not exclusive to the realm of advanced pianists!
In fact, we encourage beginners to play complete songs from day one. It'll get you hooked on playing piano and encourage you to keep progressing. After all, the whole point of playing the piano is to have fun and sound good.
And these 10 easy piano songs are a great place to start!