Journey's hit "Don't Stop Believin'" is a song almost anyone can belt out on cue. It's an anthem, it's a banger, and if you're the piano player, you're the star!
In this tutorial, we'll teach you how to play the piano part to this iconic song. We'll break down the rhythms so you're ready to rock with the band. To really master the song, we encourage you to play along with the track. If you're a Pianote Member, you can also use our handy Practice-Along feature. It'll accelerate your journey for sure! 😉
🎹 Never Miss a Song Tutorial
Love our video tutorial? Your favorite song might be next! Subscribe to our newsletter for piano news, exclusive interviews, new tutorials, interesting articles, and more delivered to your inbox every week. Unsubscribe at any time.
Want the sheet music? Pianote Members get access to our sheet music library of transcribed songs. If you're not a member yet, start a 7-day free trial.
Intro
Not only does the "Don't Stop Believin'"'s intro make the song instantly recognizable, it drives the entire song. So get to know these patterns well.
It's probably easier to learn the right hand first. These rocking chords form the bread and butter of the entire song.

On our left hand, we'll play a walking bass. A neat thing about this song is that our walking bass acts as our melody.
You might notice that the root notes don't always land on a downbeat. In fact, they land on the "and" of beat 4 most of the time. These are called pushes and they look like this broken down:

Practice this slowly at first and use the rocking chords on your right hand to help you anchor a steady beat.
Verse and Build-Up
You essentially repeat the intro pattern underneath the verse.
But there's a fun little lead-in after the verse that's worthy of mention: two shots of a chord right after the speedy guitar solo: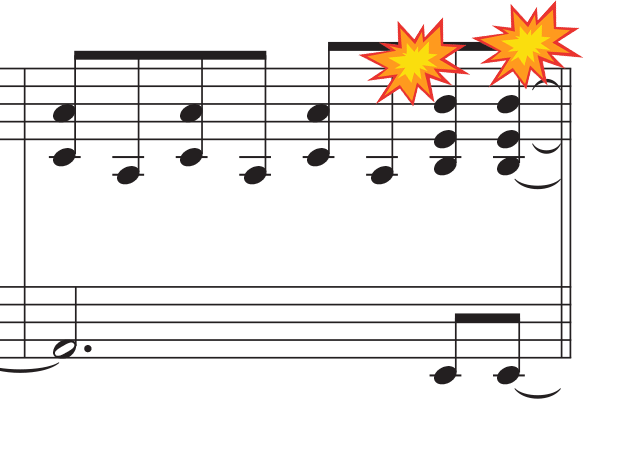 Again, try this with the recording to get it down pat.
Then, build up towards the chorus with some eighth note chords. You can play a crescendo to up the ante:
🎹 DID YOU KNOW? The title of Journey's hit can be traced to keyboardist Jonathan Cain's father. When Cain was in Los Angeles looking for his big break, he almost gave up and called his father, asking whether he should just go home. But his father said, "No, no, don't come home. Stick to your guns. Don't stop believin'." Cain and the band rocketed to stardom shortly after.
Chorus
For the chorus, you'll be playing eighth notes with your left hand and chords on your right that hit the first and the "and" of beat 2.
It may help to count out loud or to draw lines on your sheet music to help match up these notes.
…And that is essentially the entire song! You'll know you're a great piano player when you can play it up to speed with the rest of the band.
If you're not a Pianote Member yet but want to try out the Practice-Along feature, try our membership for free. And don't forget to have fun! Happy playing 🙂
Learn Your Favorites, Step By Step
As a Pianote Member, you'll get access to our 10-step Method, song library, and growing community of piano players just like you. Plus: get coached by world-class pianists who have played with rock stars.
TRY PIANOTE FOR 7 DAYS