"Easy On Me" by Adele is our new favorite piano banger! This song is SWEEPING the charts and for good reason—it's so beautiful. We have a very special piano tutorial for this song and some piano chord charts to help you along. And you'll get the awesomely talented Victoria Theodore leading the way!
"Easy On Me" is played in F Major, so remember to flat your Bs! There are some fancier chords here, so if you'd like a little more context, refer to these lessons. They'll open on a separate tab if you click on these links:
We'll run over these parts of the song:
Oh, and don't forget to download your free chord chart to play "Easy On Me"!
DOWNLOAD CHORD CHART PDF
🎹 Your Go-To Place for All Things Piano
Subscribe to The Note for exclusive interviews, fascinating articles, and inspiring lessons delivered straight to your inbox. Unsubscribe at any time.
"Easy On Me": the Piano Intro
The intro is based on four simple chords:
F – Dm7 – F/A – Bb
The Dm7 chord contains the notes DFAC and the F/A chord means you play an F chord over an A on your left hand (technically an F chord in first inversion). This is called a slash chord.
Now you'll hear that there are some riffs happening in the intro. Each little motif happens on a chord. Here's a rundown of them you can watch several times to get the hang of the notes: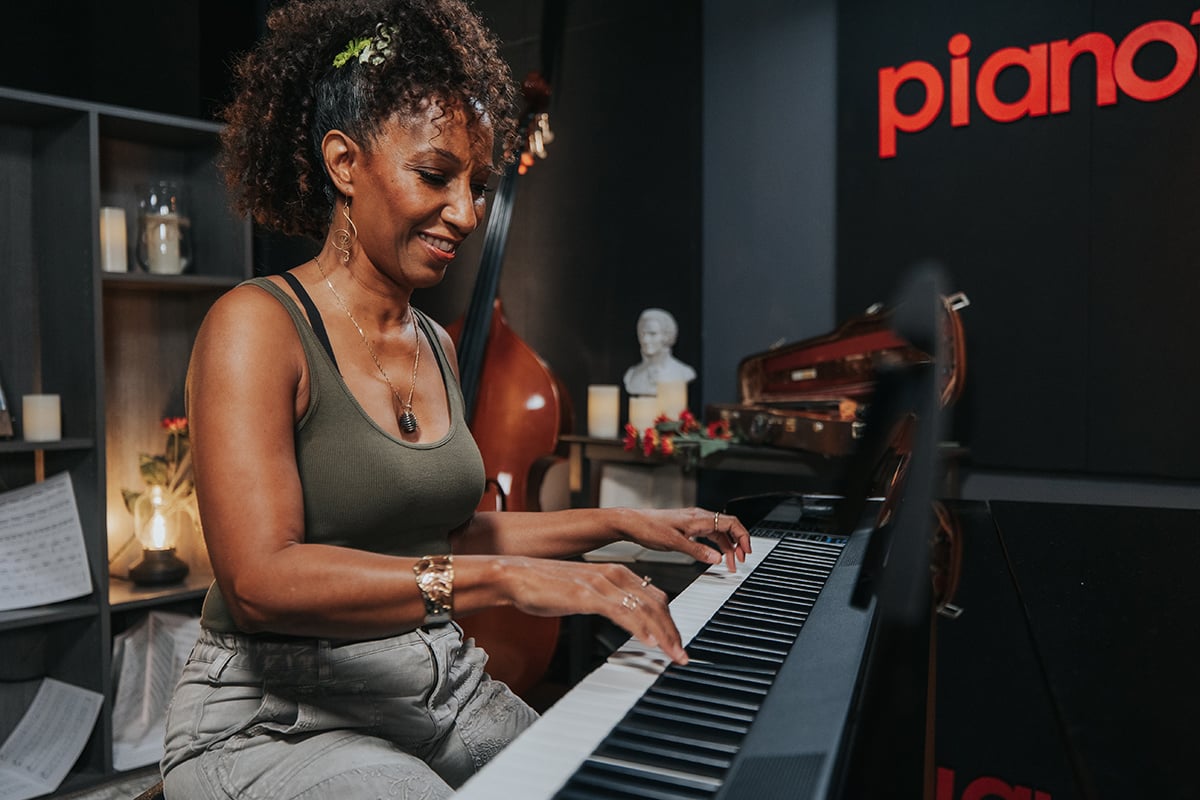 Introducing: Victoria Theodore
We are SO excited to have Victoria join us to design the classical learning path in Pianote! She's a super accomplished pianist, having worked with Beyonce and Stevie Wonder. To learn more from Victoria, join Pianote today! If you're not sure, take a look behind the scenes of the membership.
The Verse (Part 1)
The first part of the verse uses these chords:
F – Dm7 – Am7 – Bbsus2
We've covered seventh chords, but if you're new to sus chords, Bbsus2 is when you substitute the D in a Bb triad (Bb-D-F) with the second note from the root (C). So, Bbsus2 uses the notes Bb-C-F.
This is how Victoria plays Bbsus2 in the verse: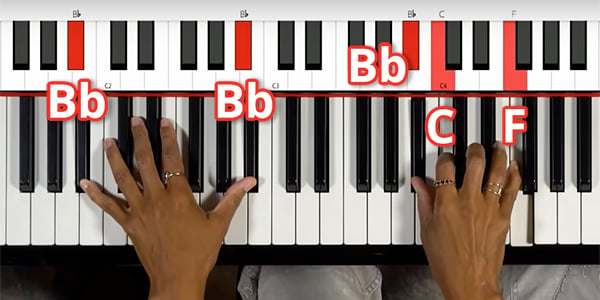 The Verse (Part 2)
Part 2 of the verse also uses a few fancy chords:
F – Dm7 – Cadd11 – Bb2 – Bb – F/Bb
Don't be scared by Cadd11! This is just a C chord with an 11th added on top (count 11 notes up from C, the root). And Victoria plays it like this: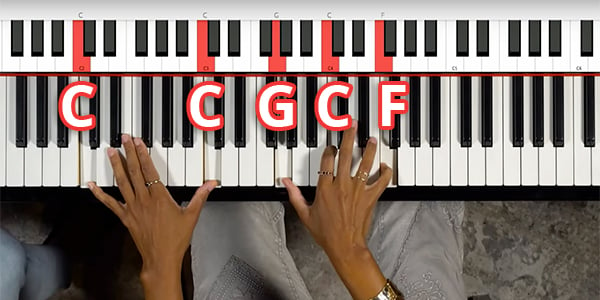 There's also a riff in that funky syncopated rhythm, played on top of the Cadd11 and Bb2 chords. (Bb2 is just another way of writing Bbsus2).
🎹 Make This Your Year of Getting Good at Piano 🔥
Get free lessons, tips, and piano news delivered to your inbox every week. Subscribe to The Note!
The Chorus
We've reached the chorus! No new chords here, but there is a quick little turnaround at the end of the first part of the chorus:
Then we end on the riff you already learned in the intro! 🙂
As with the rest of the song, there's some syncopation going on here. You don't play the chords directly on the beat. This may need some extra practice, but what helps is listening to the original recording and knowing the song well.
The Bridge
The bridge contains these chords, most of which you already know by now!
F – Bb/F – F – Dm7 – Cadd11 – F/Bb – Bb – C
Victoria does a little turnaround in the bass here:
Neat, eh?
Wanna go easy?
"Easy On Me" in Simple Mode
If the song feels challenging and you want to go easy on yourself (heh), this song sounds fantastic just by matching the chords in their simplest form (ie. root position) to the lyrics.
Again, if you want to play closer to the original, make sure to listen to the song a few times. The better you know it by heart, the easier it will be to recreate it faithfully on the piano. And it's okay if the riffs take a little extra practice!
Finally, have fun! This is an insanely fun song to perform. Make sure to see Victoria and I have sooooo much fun with it, and happy practicing!