Is a Pianote membership worth it? How good is Pianote?
You may have seen our free lessons on YouTube. You may have landed on our blog.
You've gotten serious about learning how to play piano and you're wondering if it's worth investing in a Pianote membership.
Which is a legit thing to wonder 🙂 In this post, we'll give you a sneak peek of what's behind the paywall so you can see exactly what you're paying for.
We'll walk you through these areas:
🎹 Your Go-To Place for All Things Piano
Subscribe to The Note for exclusive interviews, fascinating articles, and inspiring lessons delivered straight to your inbox. Unsubscribe at any time.
The Pianote Method
Our 10-level method is the backbone of Pianote.
It's our curriculum, designed by professional teachers (including me!). And it's designed to take someone from never touching a piano ever to playing songs, reading music, and even improvising.
There are 10 levels to the Pianote method:
Level 1: Getting Started on the Piano
Set up your practice space, master the fundamentals, and learn your first song.
Level 2: Keyboard Confidence & Control
Establish good practice habits and learn how to make scale practice fun.
Level 3: Chording
Unlock the building blocks to songs: CHORDS!
Level 4: Playing Chords Like a Pro
Master chords, add riffs and fills, learn how to find the key of a song, and cement your understanding of chord progressions.
Level 5: Sight Reading
Use the skills you've gained to learn how to read music. Then, write some — because you can!

Level 6: Developing Your Musicality
Learn phrasing, dynamics, and other expressive skills that will take your playing to the next level.
Level 7: Applying Technique and Solving Piano Player Problems
Further your confidence by troubleshooting the most common piano problems.
Level 8: Exploring Musical Styles
Get to know all the genre possibilities on the piano, including classical, blues, and jazz.
Level 9: Composition and Songwriting
Anyone can write songs. Learn the basics in Level 9, including how to develop a musical ear.
Level 10: The Next Steps
In the final level, we'll explore how to play with other musicians, how to get gigs, and what to do next on your lifelong musical journey.
Everything is laid out step-by-step. There's even a progress tracker that lets you pick up where you left off.
But what if I already have experience with the piano?
We understand that some folks may have dabbled with the piano before and don't need to start from lesson 1.
If that's you, there's a quiz you can do on the Method page that will match you to the best level to start from. You can also contact us as a Member for help in creating a practice plan.
I'm immensely proud of our Method, but I think the coolest part of our piano lessons is the practice-along feature…
Practice-Alongs
The practice-along feature lets you immediately practice what you've just learned.
A common question we get asked is: "How do I practice?" This makes sense; after all, we want our hard work to pay off!
We want you to be confident about what you should be practicing. And to know when you're good enough to move to the next lesson.
The last thing we want is for students to feel frustrated by either staying at one level too long or moving ahead too soon.
🔥🎹 HOT TIP! We're not kidding when we say "how do I practice?" is one of our most frequently asked questions. Practicing is about maximizing your time, not sitting at the piano for five hours a day doing the same thing over and over. Check out our free practice tips to learn more.
Buuuuut we also know why you want to learn the piano in the first place…
…to play songs!
Song Library
Playing your favorite songs is what playing piano is all about.
As a Pianote Member, you'll have access to our entire database of song tutorials, all in one place. And we're always adding more.
But wait, aren't song tutorials free? After all, you may have found us through our free YouTube tutorials.
And while those tutorials are super helpful, the tutorials you'll find in the Members Area are on a whole other level.
They come with lots of goodies, such as:
Lead sheets
Full scores
Backing tracks to play with a full band or just a piano
Practice-along assignments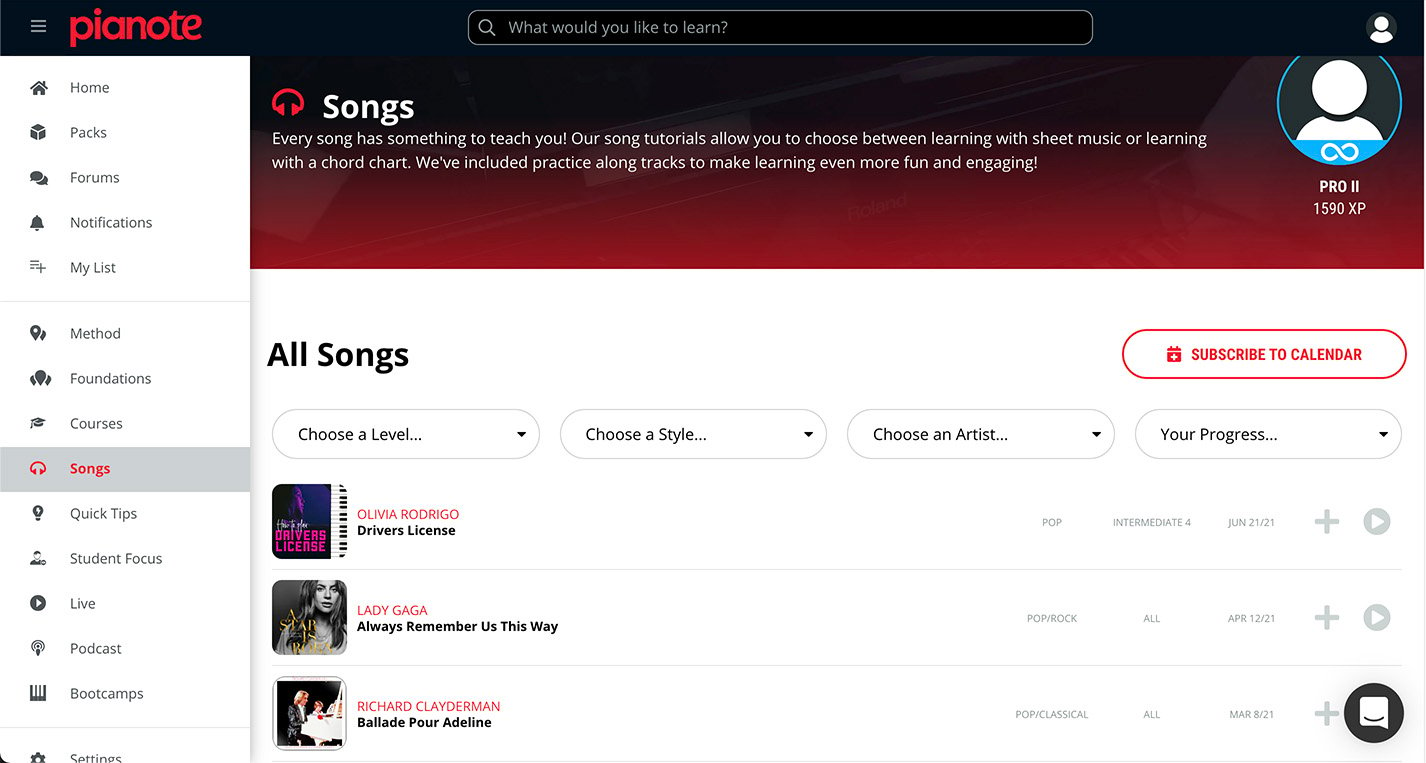 The tutorials you get access to as a Member are much more detailed than the tutorials we post on YouTube. We explore every section of the song.
We also appreciate that some people like to sing, some people like to play the melody. So we provide separate accompaniment and instrumental tutorials.
Remember: this is all included in your membership for free. You don't need to pay extra for songs or transcriptions, and we're always adding more to the song library.
Training Packs & Courses

Another cool thing that comes with your membership is access to every single one of our digital training packs.
These are stand-alone courses we sell, such as:
In my opinion, this is what makes the Pianote membership worth it. You won't have to buy extra if you want to dive deep into one of these topics.
On top of that, we also have courses dedicated to specific styles of music, such as jazz and boogie-woogie. All included in your membership.
Student Focus (My Favorite Part 🥰)
I can't overstate how much I LOVE our Student Focus section.
This is what sets Pianote apart from other online learning platforms, and it's what will make the most difference in your playing and your success.
EVERY week, either I or Sam host a LIVE Q&A session where you can ask us anything about music and the piano.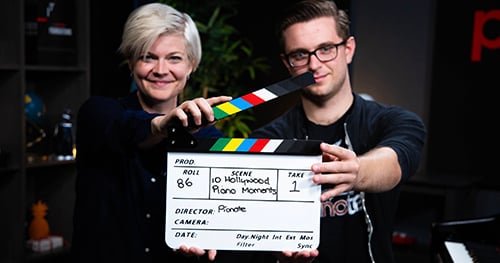 This is like having access to your own private teacher and being part of a lesson.
But if you can't make the weekly live, that's ok. We record and post every live session onto the Member's Area so you can watch them anytime.
So what's the Student Focus?
As a Pianote member, you can send us video clips of yourself playing. Then, either Sam or I watch them and provide feedback in a separate live lesson.
This means you get personal piano tips from real experts.
Just like the Q&A sessions, these get recorded and uploaded onto the site. This helps students learn from each other and creates a community, which allows us to encourage one another.
🔥🎹 HOT TIP! We understand that some folks may be shy about participating in the community, but we promise that it makes a real difference. Hearing how other students solve similar problems or hearing them ask interesting questions can support your own learning. Plus, there are new beginners joining us all the time.
How good is Pianote? (Summary)
I know I'm biased. But I wouldn't be here if I didn't think Pianote is the BEST way to learn the piano online.
Here's the simple truth: traditional lessons are expensive. And they're not always convenient.
With Pianote, you get the care and attention of traditional lessons plus convenience — all at a fraction of the cost.
| TRADITIONAL LESSONS | PIANOTE |
| --- | --- |
| In-person, personalized attention | Personal attention through Student Focus and contacting instructors |
| Can add up to $1700+ per year | $197 per year |
| Weekly lessons (you won't see your teacher every day) | Learn as often as you like, whenever you like |
| No built-in community | Immediately be welcomed into the Pianote student community! |
| Unlikely to offer extended free trial | 90-day money-back guarantee |
| May be against local Covid-19 restrictions | 100% virtual and socially distant |
We hope this tour gives you an idea of what being a Pianote Member is like. If you still have questions, comment on this post or on a YouTube video. We'd love to hear from you 🙂
And if you're ready to join (remember: 90-day money-back guarantee!), click this:
Happy practicing!