Discipline, talent, opportunity. Melody, harmony, tempo. In this episode of the Pianote Podcast, Lisa sits down with Jesús Molina to discuss why "music isn't just playing" and the prodigious Colombian pianist gives succinct yet value-loaded answers. It's an inspiring episode that touches on everything from the "secret" behind improvisation to how to manage frustration.
If you (like us!) feel inspired by Jesús, you'll be excited to learn that Jesús will be our featured Coach in June 2022. And you can access his course on improvisation and musical freedom by becoming a Pianote member today!
Learn Directly From Jesús Molina
Master playing with one of the best pianists in the world.
GET LESSONS WITH JESÚS MOLINA
Music As Lifestyle
Watch Jesús Molina play piano, and it's clear that he's in his element. For Jesús, music is a spiritual experience; it's a part of his soul. In his words, it's a "lifestyle," not just something he does. To see this in action, watch his fingers dazzle audiences at the 2018 NAMM show, a video that's racked up 2.2 million views.
Jesús will share some important tidbits of music knowledge in this interview. But while knowledge is important, for Jesús, it's all about how you use that knowledge to create beauty.
From Piano to Sax to Piano Again
Jesús began his piano journey at age four, but he didn't pursue it seriously until he was around fifteen years old. He took up saxophone briefly at age twelve, but it wasn't as exciting as the piano. Inspired by Brian Culbertson, he yearned to play chords and explore jazz. So he returned to the piano three years later. The transition felt natural.
Jesús considers the support he got from his family a "blessing." He is the first person in his family to pursue music and he hopes to pass the baton to future generations.
🎹 Learn From One of the Top Pianists in the World ✨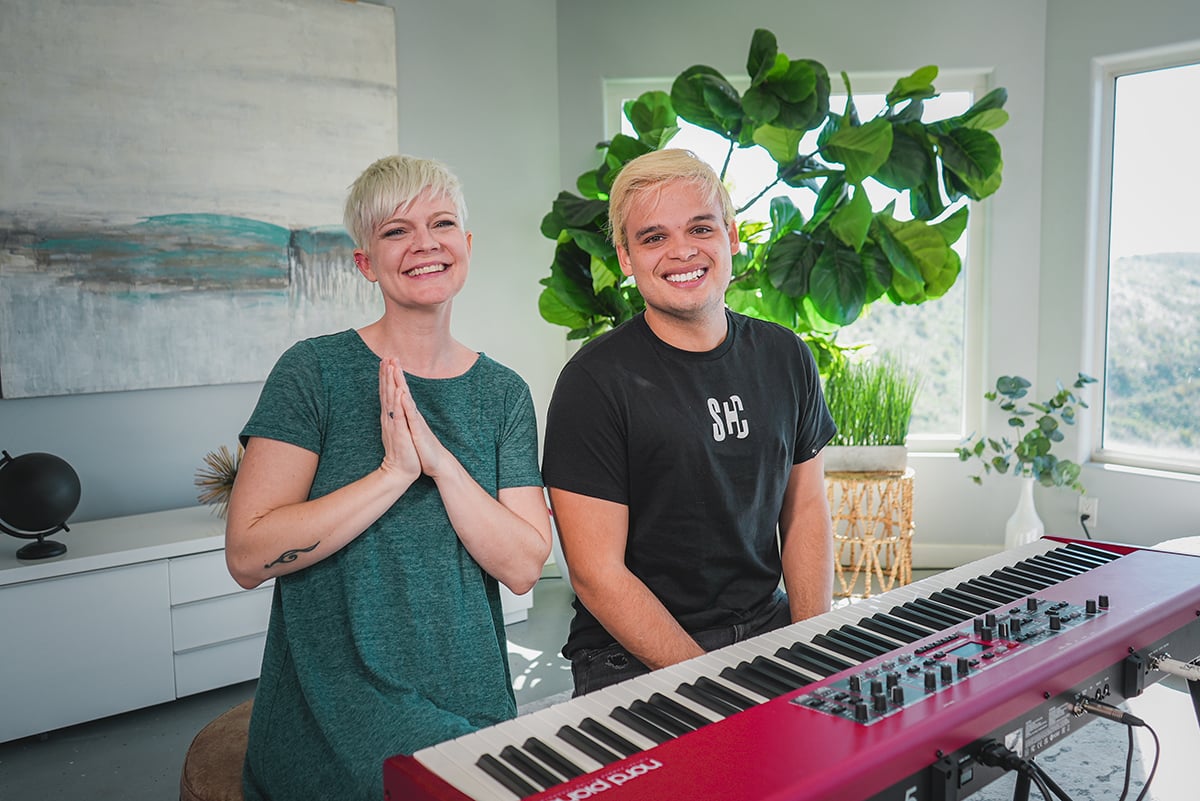 We're proud to announce Jesús as our newest Pianote Coach. Pianote Members can access Jesús' exclusive Improvisation and Musical Freedom course, which includes:
9 video lessons covering improvisation in jazz, bossa nova, classical, and more
Downloadable PDF exercises
Access to EVERYTHING in Pianote, including the Pianote Method and song library
JOIN PIANOTE
Frustration is good
Every pianist gets frustrated at some point. And the pros haven't transcended this. They get frustrated too!
In fact, Jesús doesn't think he's really "that good." He has a constant hunger to learn more because there's always more to learn. So, if he gets to a point where he doesn't need to practice, doesn't need to struggle, "that's a problem!"
For Jesús, feeling fed up is normal. In fact, he still has days where he wants to give up! But frustration forces you to choose between two paths: to quit or to overcome.
If you say, "you know what, this sounds great, I don't need to practice!" That's a problem!

Jesús Molina
On Skill
Jesús no doubt has technical prowess. He's known for his speed, and his deft fingers are an agile blur across the keys. It looks effortless, but speed is just one component. Accuracy is more challenging. In Jesús' opinion, performances should have not only "right tempo" and "right expression," but clarity. "A lot of people can play fast, but you can barely understand what they are playing."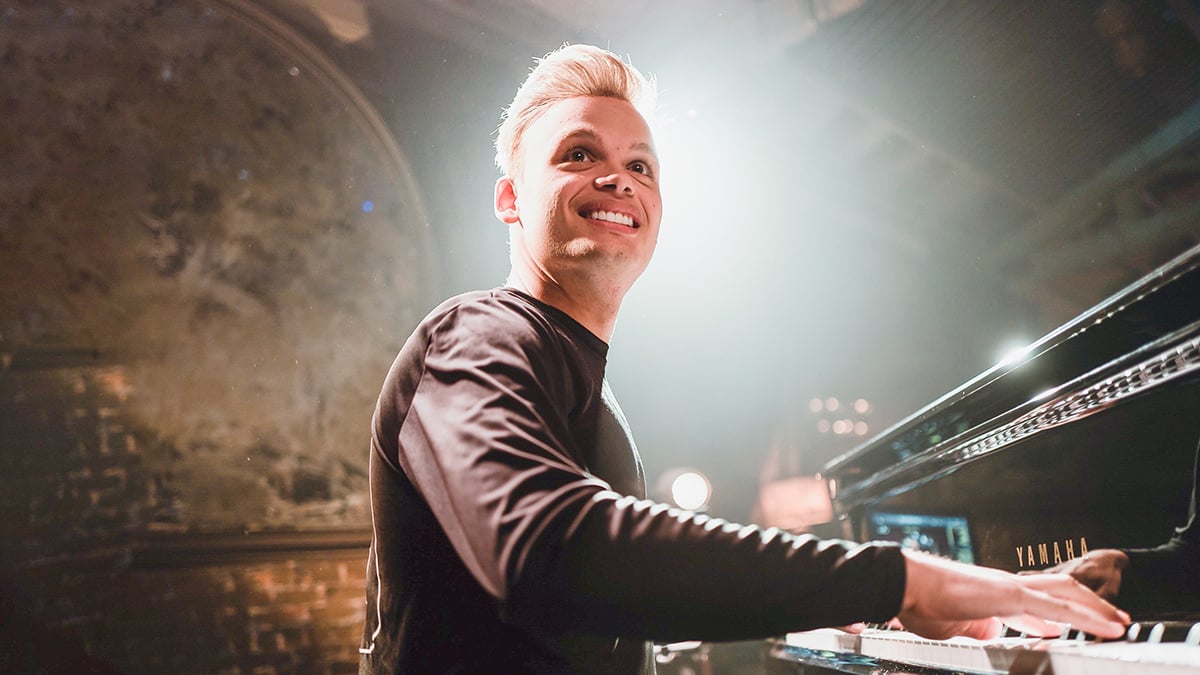 Being as relaxed as possible is essential to playing fast (and well). No one is relaxed right off the bat; it takes practice. So play with other musicians, perform, and expose yourself to slightly scarier situations. Relaxation comes with experience.
The three things Jesús focuses on each day are: melody, harmony, and tempo. And in his opinion, tempo is the most important. Why? Well, if you look at music closely, you'll find that tempo is the structure that anchors harmony, melody, and everything else. Including speed.
Tempo also anchors improvisation. Improvising can be anxiety-inducing for many because it's easy to worry about playing "wrong." But "mistakes are part of us because we're human beings," says Jesús. When he makes a mistake, he just tries to "make the mistake make sense." So if you're improvising and you play a bum note, ry to resolve the bum note as well as you can and move on. And "with good tempo, literally everything sounds good!"
Discipline. Talent. Opportunities.
Jesús Molina is involved with 27 albums this year! He's also our featured Coach for the month of June. And he's undergoing a dramatic health transformation that takes time, energy, and commitment.
How does he do it all?! Jesús admits he's a very organized person, though he also likes to be "responsibly spontaneous." There was a time when he practiced during "office hours" like 9:00 to 12:00 and then 2:00 to 4:00. Today, how much he practices depends on how much work he has lined up. "If you distribute your time the best you can do, you'll have time for everything. Even for having fun."
With good tempo, literally everything sounds good!

Jesús Molina
Today, Jesús Molina is a world-class pianist and a Berklee School of Music alumnus who has made it big in the U.S. When he reflects, there are three keys to success: talent, discipline, and opportunity.
Talent is a gift, but you don't need Mozart-level talent to become successful. If you're reasonably talented and put in the discipline, you can be just as successful as someone who relies on talent. People like Oscar Peterson, Stevie Wonder, and Prince are what happens when you combine raw talent and channeled discipline. And once you've combined your talent and discipline, opportunity tends to follow.
Also, listen to music and build community. Jesús credits his mentors and compatriots at Berklee for imparting in him the knowledge he has now. He also loves being friends with drummers, from whom he's learned the importance of tempo. "Drums and piano? So connected!"
Finally, Jesús encourages musicians to share their music. "Use social media. This is the best resume you can have these days." After all, music is meant to be heard.
Never Miss an Interview 🎙️
Get exclusive access to world-class pianists and what makes them tick. Subscribe to The Note today.