Oscar Emmanuel Peterson (1925-2007)—lovingly nicknamed "OP"—is widely recognized as one of the greatest jazz pianists who ever lived. Renowned for his dazzling virtuosity, technical skill and even voice, "the man with four hands" continues to influence and inspire pianists decades after his death.
---
Biography
Oscar Peterson was born on August 15, 1925 in the humble "Little Burgundy" neighborhood of Montréal, Québec, Canada. He was the fourth of five children and his family were Caribbean Canadians with roots in St. Kitts and the British Virgin Islands.
Oscar's father saw music education as a way out of poverty. He was a self-taught organist and insisted all his children learn the piano and a brass instrument. Oscar's first mentor was his older sister Daisy, who later also became a respected musician in the community.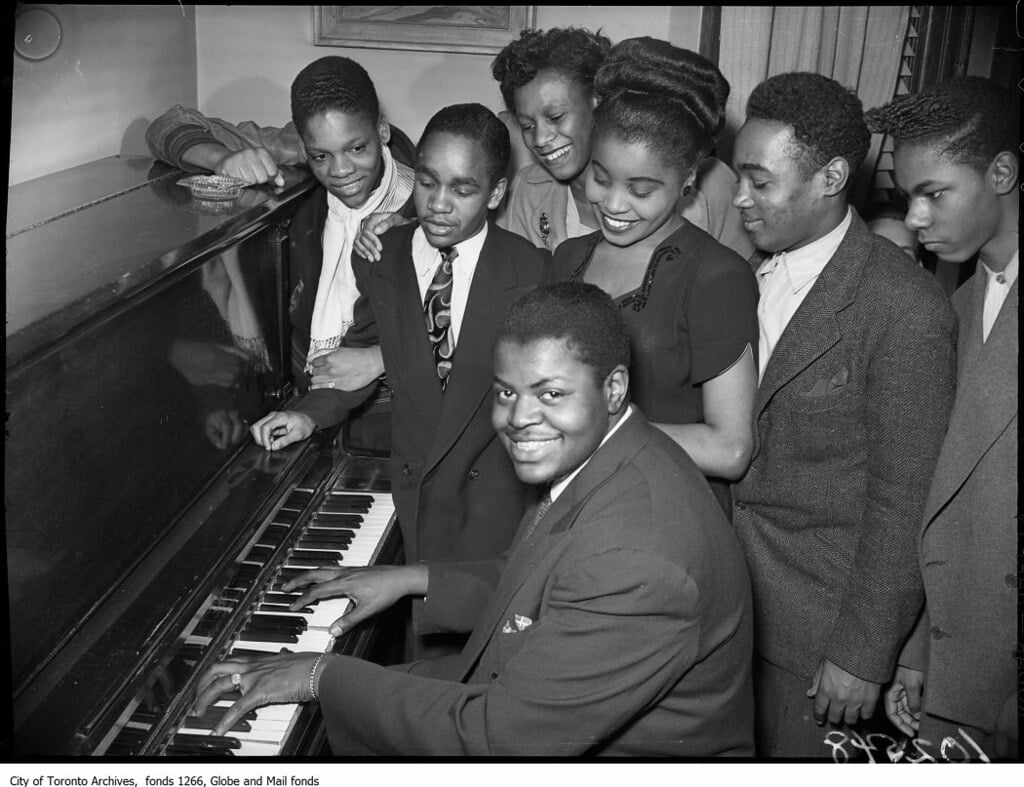 Growing up, Oscar also fell in love with the trumpet. But a bout of tuberculosis damaged his lungs and ended any career he may have had with the brass instrument.
At one point, the young Oscar won the attention of manager Norman Gantz, who also managed the career of artists like Ella Fitzgerald. Norman Gantz kickstarted OP's career in the United States by having him perform as a "guest artist" at Carnegie Hall in 1949. (OP couldn't perform as the main act because he couldn't secure a work visa in time.)
After that explosive American debut, the rest is history.
As a musician, I respond to the harmony and rhythm of life, and when I'm deeply moved it leaves something singing inside me.

Oscar Peterson on writing Canadiana Suite (Source: Canadian Songwriters Hall of Fame)
🏆 Key Achievements
Order of Canada (Companion), Order of Ontario (Member), Ordre national du Québec (Knight), Order of Arts and Letters, Government of France (Officer)
15 honorary degrees
8 Grammy Awards
2 Juno Awards
First living person (other than a reigning monarch) to be featured on a Canada Post stamp
Has a street named after him (Oscar Peterson Boulevard in Mississauga, ON)
Influences and Style
OP is a staple figure in jazz's mid-twentieth century golden age. He rubbed shoulders with other greats like Louis Armstrong and Dizzy Gillespie, while dazzling audiences with the Oscar Peterson Trio.
What made OP so beloved? His technical prowess stunned audiences, for sure, but as with all successful artists, his style wasn't without criticism.
Perfectionist
At 17, Oscar wanted to drop out of school to pursue music. His father, a strict disciplinarian—who was, according to Oscar, "more than firm"—wasn't pleased. Still, he ultimately said yes under the condition that Oscar not only become a successful jazz pianist, but the greatest jazz pianist.
A remarkably cohesive ensemble, the three musicians seemed to have telepathic powers of communication.

N. Paglinauan, NPR
This attitude towards perfectionism would follow Oscar for the rest of his career. He challenged the musicians he played with and his own style is marked by its technical precision. His first trio, with Herb Ellis and Ray Brown, was intended to sound as one artist rather than an ensemble of three. This demanded the band be tight.
Technical Virtuosity
OP is perhaps best known for his dexterity. A typical Oscar solo is rife with lightning fast yet crystal clear runs.
This technical virtuosity likely came from the diversity of mentors Oscar studied with in his youth. He attended the Conservatoire de musique du Québec à Montréal, but also took lessons from Harlem jazz legend Louis Hooper. He even studied under Paul de Marky, whose "grand-teacher" was Franz Liszt, perhaps the greatest classical virtuoso of all time.
Conversely, Oscar's reputation for speed also earned him a fair share of critics. Some critics find that his playing, while impressive in performance, lacked emotion and artistic originality.
❓🎹 DID YOU KNOW? OP had a stroke while playing live, and he still managed to finish the concert! Now that's dedication.
Style Synthesizer
As a musician, Oscar not only played with high technical skill, he also understood music on a deeply intuitive level. He can deftly mimic, pick inspiration from, and riff upon the styles of his heroes and contemporaries. Even his vocal style has been likened to Nat King Cole's.
Here's a video of Oscar that demonstrates his understanding of and fluency in other musicians' jazz styles.
Utter dedication, every time you play. And if that is scary, it is also uniquely exciting: Once it's bitten you, you never get rid of it."

Oscar Peterson on improvising in front of a large audience (Source: Sistema Toronto)
Key Works
In 1962, OP composed "Hymn to Freedom." Inspired by the spirituals he grew up hearing in the Montréal Black community, it became an anthem for the Civil Rights Movement. With lyrics by Harriette Hamilton, this song would later be inducted into the Canadian Songwriters Hall of Fame.
Another of OP's most well-known works is the Canadiana Suite (1963), a love-song to his home country. Each song of the 8-piece suite explores a place in Canada, from the Maritimes and the cities of Toronto and Montréal to the prairies and the Pacific Northwest. The suite celebrates the vastness and diversity of the country. Of course, OP names one song after his childhood neighborhood, "Place St. Henri."
Legacy
Today, OP is a revered figure in Canadian cultural history. But life wasn't always easy for the Black musician from an immigrant family. As this Heritage Minute clip shows, at times, Oscar had difficulty entering performance spaces due to the color of his skin.
OP also experienced several tragedies in his personal life. He outlived one of his daughters as well as Norman Gantz, one of his best friends.
"You have to almost be cold," he says of the loneliness he experiences on tour. "You have to try and put it aside . . . because it can block your improvisational ideas."
Oscar also struggled with his health. He suffered from arthritis from a young age, and in 1993, experienced a stroke during a performance. This would create a lasting impact on the left side of his body, affecting his playing.
Yet despite these personal setbacks, OP played music until his death in 2007 at the age of 82.
Left: OP recording in 1955. Top: OP mixing in his home studio in 1991.
On Music Education
At one point, Oscar operated the Advanced School of Contemporary Music, but the school closed after three years because Oscar's performing schedule was too demanding. OP would contribute to musical education in other ways with academic posts such as becoming a professor and then a chancellor at York University. He also wrote four volumes of jazz instruction, Jazz Exercises and Pieces for the Young Jazz Pianist.
Whether through his recordings, writings, or interviews, OP's tenacity, virtuosity, and creativity continue to inspire pianists everywhere.
---
*Note: This article contains affiliate links, which means we might earn a small commission from the product seller if you make a purchase. For more info, check out our privacy page.
Sources and Further Reading
Cover photo by Tom Marcello Webster (license: CC BY-SA 2.0) via Wikimedia Commons