We piano players aren't perfect all the time. In fact, there are certain mistakes piano players make that are quite common.
Today, let's look at the top six mistakes piano players make so we can start avoiding them.
1. Not practicing with a metronome.
I get it. Practicing with a metronome isn't always fun. In fact, that tick-tick-ticking can drive you crazy. But not practicing with a metronome can lead to problems with rhythm.
In fact, I think we pianists have a reputation for inventing our own time signatures and not having the best sense of rhythm!
But practicing with a metronome — as tedious and frustrating as it may get at times — does make a difference. So I encourage you to get into the habit of using one.
Many electronic keyboards come with their own metronomes already built-in, but if you don't have one — or if you use an acoustic piano — just Google "metronome" and use the many free metronomes that are available online.
2. Poor posture.
Another common mistake among pianists is posture. Many of us start out with the best intentions: we sit down at the piano with our backs straight and feet flat on the floor, but as we keep practicing, our posture gets wonkier and wonkier. (Just look at mine in the video!)
Poor posture can cause undue strain, shoulder problems, and neck problems. It can make playing piano more uncomfortable than it needs to be, and therefore less enjoyable.
So correct your posture now and then. Put your feet flat on the floor, keep your back straight, and keep your wrists up—be careful not to drop those wrists! (Want to learn more? See our posture lesson with a chiropractor!)
Having a good posture habit will ensure that you play comfortably, for a long time, and with joy. We want you to play for as long as with as much joy as you possibly can!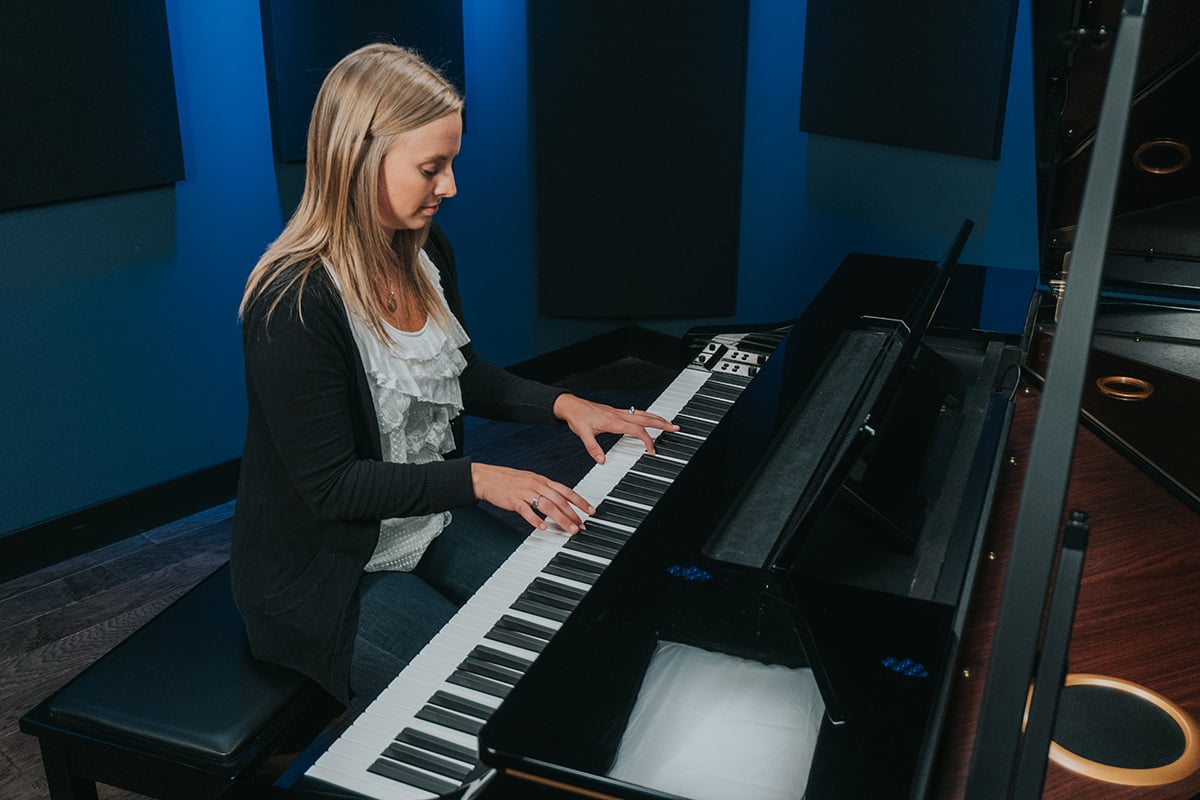 🎹 Piano Technique Made Easy ✨
Technique is the foundation to piano playing. If technique has been holding you back from playing the songs you love, check out Piano Technique Made Easy with Cassi Falk. This course, free with your Pianote membership, will take you through all 12 major and minor keys as you master scales, arpeggios, chords, and more.
CHECK IT OUT
3. Overcomplicating things.
We often see pianists wanting to learn as fast as possible. They put too many expectations on themselves and create all sorts of over-complicated goals and practices.
While there is good intention in this, remember to go easy on yourself. Learning the piano is a process — it's not an overnight phenomenon — and it's supposed to fun.
So keep it simple: spend a little time on technique, a little time on practicing new skills, and a little time on learning new songs.
You don't have to practice five hours a day. In fact, just practicing thirty minutes a day adds up much more than you might think.
4. Not making a plan.
On the other hand, another practice mistake piano players make is not having a plan. You might sit down at the piano and play whatever feels good at the moment, but having a directionless practice session can make it harder to progress at the rate you want.
To practice more efficiently and effectively, simply make — and even write down — specific goals.
For example, write down that you want to learn THIS song, THESE chords, or THOSE scales.
A perfect piano practice plan doesn't have to be super complicated, but it does help to have some concrete goals you can work towards.
5. Not stretching.
Another bad habit of pianists is we sometimes forget to stretch!
A simple way to fix this is to get into the routine of taking a break to stretch during practice sessions. I recommend a ten-minute wiggle break every thirty minutes!
To stretch, try pushing your wrist forward like I do in the video, and do some shoulder rolls.
Remember: don't practice for too long! When you start to feel tired, get up, move around, and stretch.
6. Not connecting with a community.
Because we share a space with Drumeo — a similar online tutorial website but for drummers — I've noticed that drummers are very community-oriented.
In contrast — perhaps because of the nature of our instrument — pianists tend to be quite isolated.
But this is a mistake pianists make because having a music community can be immensely valuable.
Communities can inspire you, support you, and motivate you to stick with your goals. After all, when you're in a band, communal goals are very clear and everyone has to do their part.
A community can also support you with learning. If you run into a musical problem, you can share it with your community and if someone has been there, solved that, you can learn from them. Or, the two of you can solve a problem together.
Now if you're sitting there wondering, "Hm, but where can I find a piano community?!"
You've come to the right place!
Join us at Pianote and talk to other pianists all over the world on our forums and private Facebook group.
So there are the 6 most common mistakes piano players make (in my opinion). Do you agree? How many are you guilty of?
Good luck with your practice and as always, have fun!