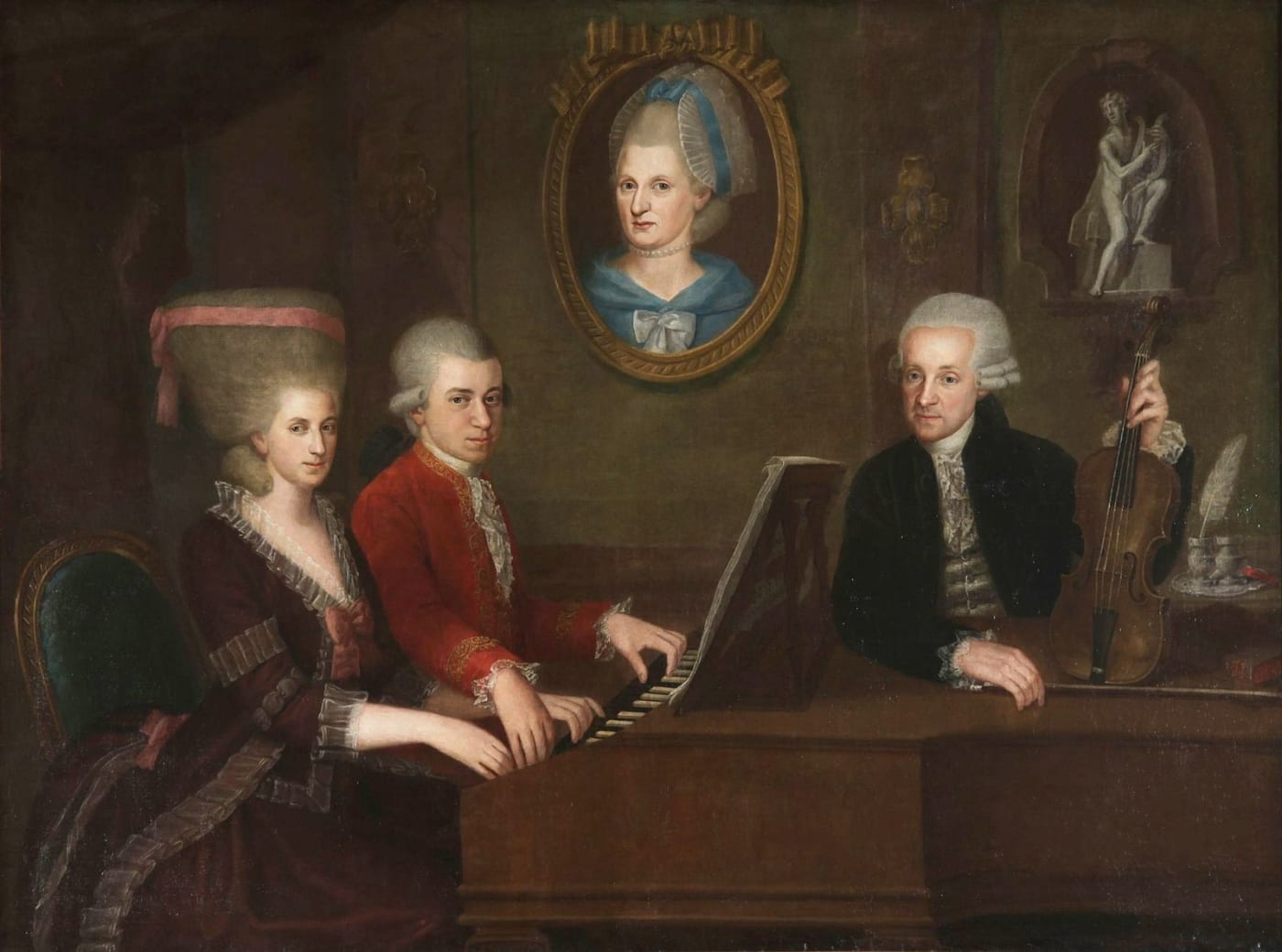 Who was Nannerl Mozart? Most people are familiar with Mozart — Wolfgang Amadeus, that is. But growing up alongside one of music's most beloved prodigies was his older sister, Maria Anna Walburga Ignatia.
Maria Anna (nickname: "Nannerl") toured with her famous little brother and was a talented pianist herself. But, unlike Wolfgang, Nannerl's talent was never nurtured. She stopped performing when she grew up because it was frowned upon for women to be professional musicians.
What makes a pianist one of The Greats?
Each month, we'll profile an artist associated with the piano on their birthday. Subscribe to The Note for more profiles!
We don't know much about Nannerl, and to date, none of her original compositions have survived. But fascination with Nannerl's life and music has grown in recent years, uncovering some of her secrets.
---
Biography
Nannerl Mozart was born on July 30, 1751, making her five years Wolfgang's senior. She battled several illnesses during childhood and almost died of bronchitis. Yet she eventually outlived her brother by 35 years.
The children's father, Leopold Mozart, was a skilled violinist who made it his life's work to ensure their success. Wolfgang and Nannerl spent their childhoods touring Europe, wowing courts, nobles, and other important people of the day. The family quickly became famous.
Nannerl retired from the public eye at age 18 and married Johann Baptist Franz von Berchtold zu Sonnenburg, a magistrate. However, she did spend a portion of her life giving music lessons in Saltzburg.
Nannerl and Wolfgang: Siblings and Co-Stars
Many sources claim Wolfgang and Nannerl enjoyed a positive sibling relationship. Some speculate that the elder Mozart notated her brother's early music, when Wolfgang was too young to write things himself. We may, in fact, be hearing bits of Nannerl in Wolfgang's early compositions!
Wolfgang seems to have adored his sister. He dedicated compositions to her and praised her songwriting skills, encouraging her to compose more.
But their relationship soured in adulthood. Both Leopold and Nannerl disapproved of Wolfgang's marriage to Constanze Weber, and the siblings last saw each other in 1781.
Eventually, Nannerl and Constanze did reconnect after Wolfgang's death. Nannerl even gave Constanze all the letters she had saved from Wolfgang. She also met her nephew, Franz Xaver.
Nannerl Mozart's Music and Legacy
Sources from Nannerl's time claim that she was an extraordinary musician. As the older sibling, she may have even been more admired than Wolfgang.
Unfortunately, we don't know that much about Nannerl, and her music career effectively ended when she reached marriageable age. But we no longer consider it inappropriate for women to pursue music careers today. This has led to a resurgence of interest in Nannerl's life and work.
🎹👉 CHECK IT OUT: Here's a neat little blog (fictionally) written by Nannerl herself!
Books
Nannerl has, undoubtedly, inspired a wealth of literature.
A collection of Leopold Mozart's compositions is named after his daughter: "Nannerl's Notebook" is a portfolio of easy and charming beginner-friendly pieces that teachers still use today. Some suspect that there are pieces here composed by Wolfgang, but notated by his father.
There have been numerous re-imaginings of Nannerl's life. Most recently, The Kingdom of Back is a YA historical fiction novel by Marie Lu that centers Nannerl Mozart as its protagonist. It's based on the imaginary kingdom Nannerl and Wolfgang created together as children where they were king and queen.
Film and Drama
Playwright Sylvia Milo has done extensive primary source research on Nannerl by reading her letters. This culminated in a one-woman play, The Other Mozart. (Milo's research actually informed a lot of the information in this post.)
Imagine an eleven-year-old girl, performing the most difficult sonatas and concertos of the greatest composers, on the harpsichord or fortepiano, with precision, with incredible lightness, with impeccable taste. It was a source of wonder to many.

A quote about Nannerl's performance discovered by Sylvia Milo
Because there's so little factual knowledge about Nannerl Mozart, what is known about her is ample creative fodder for storytelling. The 2010 French Film Mozart's Sister, for example, pictures Nannerl's life as one of romance and ambition. She probably never lived the adventures in that film, but it's still exciting to imagine what life would have been like for a talented woman musician in 18th-century Europe.
We may never hear what Nannerl Mozart composed or would have composed. What we can take from her story, however, is that anyone who loves music deserves the opportunity to cultivate their passion. Music brings so much joy to folks of all ages, genders, backgrounds, and experiences. Let's ensure it's accessible to all.
---
Sources and Further Reading: