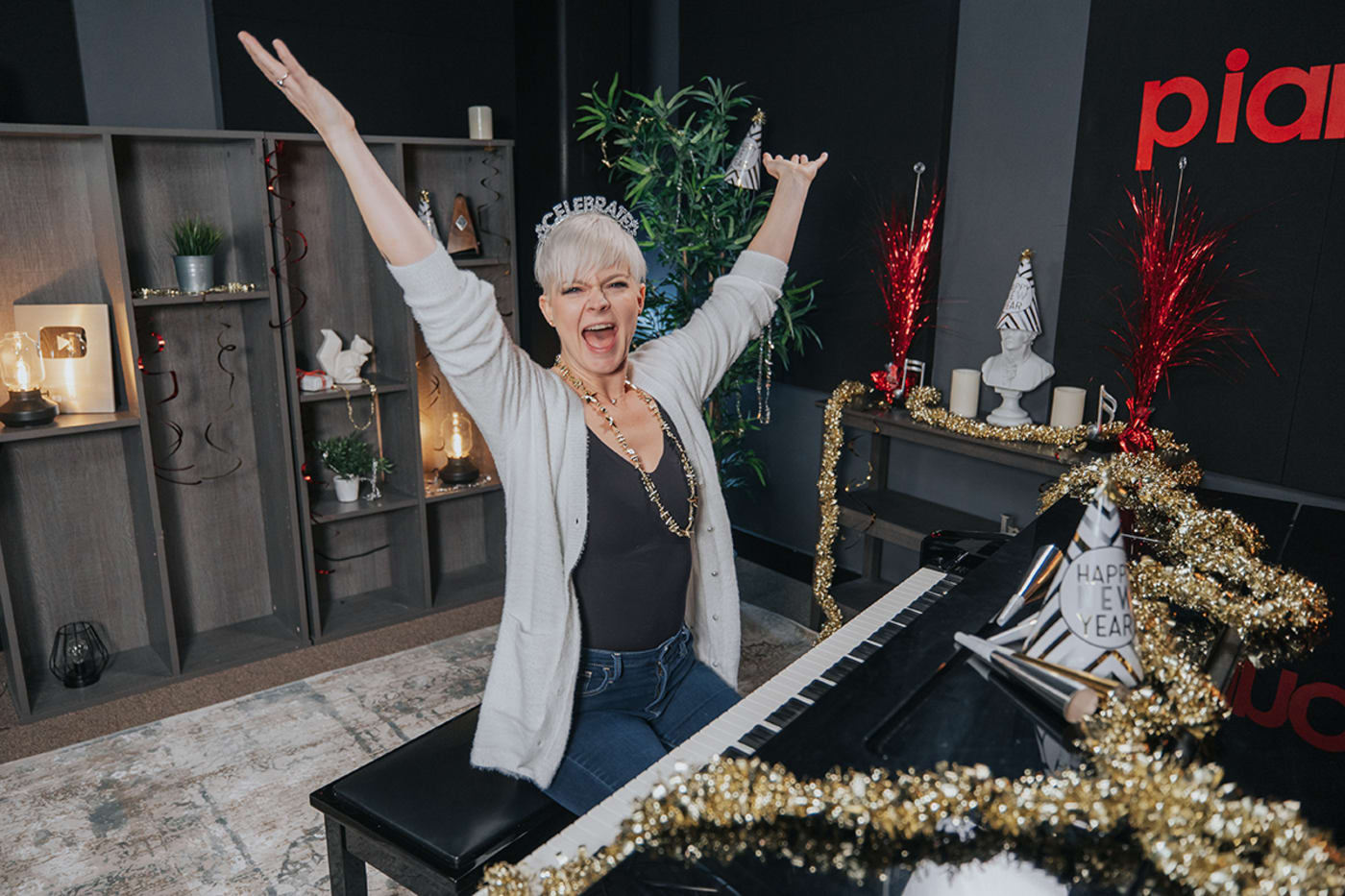 Setting your piano goals? Want to play more songs in 2023? This is the blog post for you. We'll share some tips on how to actually achieve your music goals, including how to play more of the songs you love.
🎹 Make This Your Year of Getting Good at Piano 🔥
Get free lessons, tips, and piano news delivered to your inbox every week. Subscribe to The Note!
Every January, people all over the world sign up for gym memberships, learn new recipes, or buy a stack of books to read only to completely forget about it by February. In fact, studies showed that 80% of people fail their New Year resolutions by February and only 19% of people maintain their goals for two years.
Piano players can relate. Learning how to play a musical instrument is challenging, so it's very common to feel discouraged. Perhaps you're not progressing as fast as you want, or you're stuck on a particular song or technique. And sometimes, seeing more advanced players (especially children!) on social media can be discouraging too.
But each of our musical journeys is unique 🙂 So please don't compare yourself to others! Keep reading to get some tips on how to stick with your New Year's goals.
💡 Why New Year's Goals Fail
If you struggle to stay on track of your New Year's goals, you're not alone. Try to avoid these pitfalls:
Setting vague goals. "I want to get better at piano in 2023" is a great goal, but it's a difficult one to measure. What does "better" mean? Try to be specific about what you want to accomplish.
Having goals that are too strict or ambitious. On the other hand, being overly ambitious or too strict can backfire. If you're not sure whether your goal is too strict, try setting a range instead of a specific number. For example, instead of "I will learn 10 songs by December 31," try "I will learn between 5 and 10 songs by December 31."
Relying on willpower. Scientists are learning that raw willpower isn't that useful when it comes to achieving goals. Instead, successful people tend to enjoy their goals or structure their life to make achieving them easier. For example, place your piano near the kitchen if you find it easier to practice while you're waiting for your coffee to brew or your dinner to warm up in the oven.
Piano Goal-Setting Tips
#1. Expect to not want to practice
No one said learning to play a musical instrument would be easy. Learn to expect challenges, because no matter how musically gifted you are, there will be hard days. Expecting difficulty preps you mentally and you'll feel less disappointment when there's a roadblock.
#2. Create a safe space to practice in
Practice in a cozy space. Make it convenient. Make it comfortable. Not only will a good practice space encourage you to spend time in it, it can also help get you out of your comfort zone. Privacy also helps; headphones are great for practicing improvisation because no one can hear your mistakes!
#3. Set S.M.A.R.T. goals
S.M.A.R.T. goals are specific, measurable, achievable, relevant, and time-bound. Here's an example:
Specific. My goal is to play Prelude in C Major.
Measurable. My goal is to play Prelude in C Major at the right tempo and have it memorized.
Achievable. I have played pieces slightly easier than Prelude in C Major, so it's a realistic piece to learn.
Relevant. I want to play Prelude in C Major because it's my dad's favorite piece and I want to surprise him on Father's Day.
Time-Bound. I will learn Prelude in C Major, memorized and at the right tempo, by Fathers Day, 2023!
#4. Assemble a handy toolkit
While you can learn piano with just your brain, hands, and a piano, resources like these will help in times of challenge:
#5. Check in with yourself after practicing
This is perhaps my favorite trick of Lisa's. After a practice session is the perfect time to check in because we often feel the best about music after a practice session. This is a good time to remind yourself why you play — to feel this good!
Also remember to end your practice session on a positive note. Play a song that you know well, improvise, and just have fun.
#6. Remember your "why"
Finally, it all comes down to remembering why you want to play piano in the first place. Perhaps you want to continue a childhood activity, perform for someone you love, or to simply play that favorite song of yours that features piano.
If it helps, write down your why and paste it on the wall in front of your piano.
#7. Change your perception of what practice is
It's natural to think of practice in a negative light: it's homework, it's a chore, it's something unpleasant that you unfortunately have to do in order to get good. But framing practice like this can demotivate you.
Instead, reframe your idea of what practice is. According to Victoria Theodore, our classical piano coach, practice is not a rote, boring activity but an opportunity to connect with music.
---
---
Song Learning Tips
Learning new songs can be intimidating. Here are some quick tips to make the task less daunting:
Learn a song section by section. This will make the experience less overwhelming. Spend a day learning the verse, then the next day learning the chorus.
Don't be afraid to mark up your sheet music. You're allowed to write down notes, remind yourself to

sharp

or flat something, break down counting, and even draw lines to indicate how your hands match up.
Isolate the most challenging parts. It's tempting to play a song from beginning to end over and over or to focus on the parts you're good at. But to improve more quickly, zero in on the toughest parts of the song and spend extra time improving those measures.
Listen to the song often. Finally, spend some time just getting to know your song! This will help you memorize the song and rely more on intuition when you practice and perform.
Lessons to Inspire You
In need of inspiration? Here are some of our favorite lessons about motivation and practice:
🎼 Learn Your Favorites, Step By Step With Full Sheet Music Downloads
As a Pianote Member, you'll get access to our 10-step Method, song library, and growing community of piano players just like you. Plus: get coached by world-class pianists who have played with rock stars.
TRY PIANOTE FOR 7 DAYS