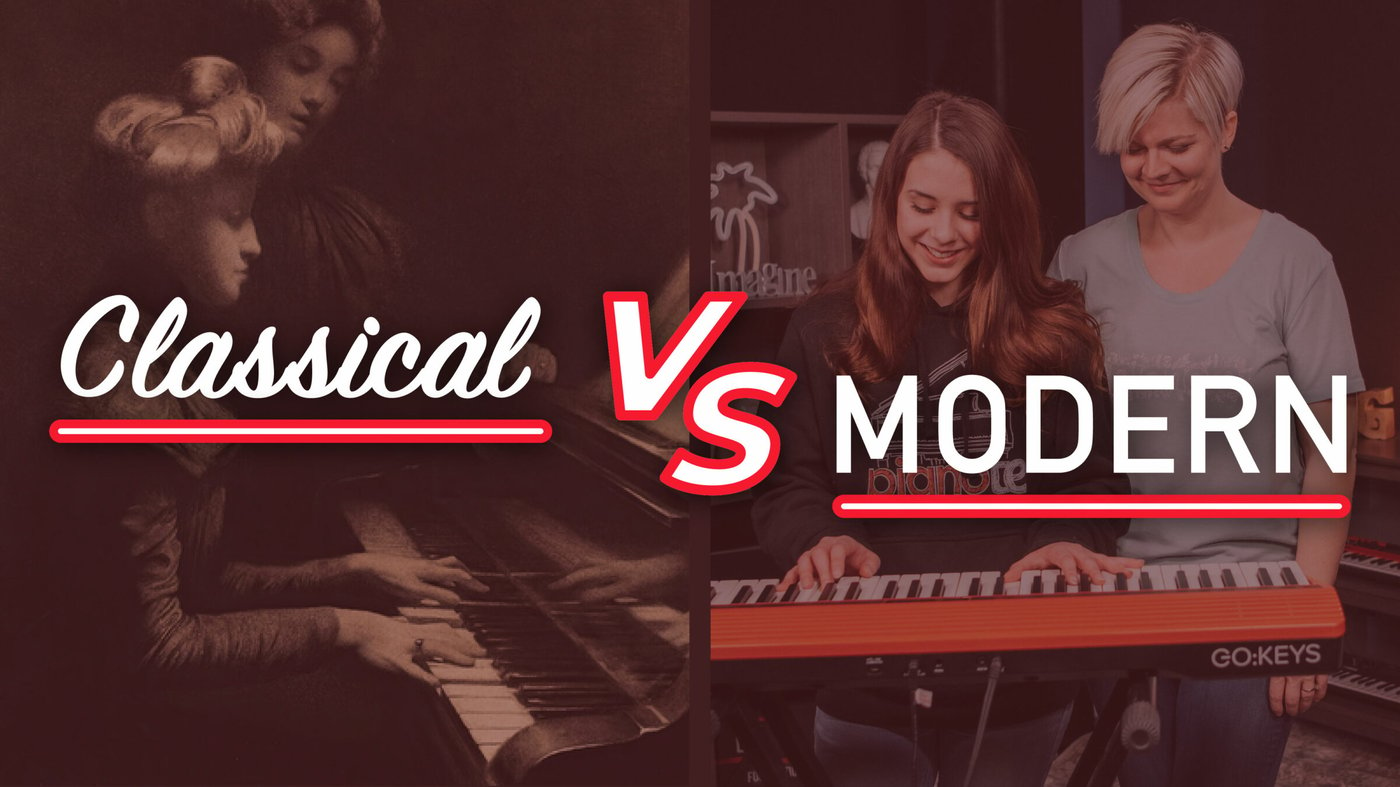 What's the best way to learn piano? Classical piano lessons or something more modern, like online lessons?
This is a common question beginners ask. And like lots of things, the answer is "it depends."
In this article, I'll explore the differences between the modern approach used by Pianote and a traditional approach like the Royal Conservatory of Music. Hopefully, this will help you decide how to approach learning piano!
🎹 Your Go-To Place for All Things Piano
Subscribe to The Note for exclusive interviews, fascinating articles, and inspiring lessons delivered straight to your inbox. Unsubscribe at any time.
---
Before we start…a disclaimer
Everyone is biased, so I want to be upfront about mine by sharing a little about my background.
I earned my Associate diploma from the Royal Conservatory of Music (RCM) exam program. (The RCM is the national conservatory in Canada.) I've also tutored young people to help prepare them for their RCM exams, so I'm pretty familiar with the traditional classical approach.
On the other hand, I learned guitar in my teens. Learning guitar introduced me to chord charts, improvising, and blues scales. Then, in 2020 I started working with Pianote and became even more familiar with the "chording" approach.
Having experienced a little bit of both worlds, I can confidently say that there are pros and cons to each. I'll further discuss my personal opinion at the end of this article.
---
Classical Piano Lessons: The Royal Conservatory of Music
Conservatories are institutions where students study music and then graduate with a credential. I'll discuss the Royal Conservatory of Music of Canada (RCM) because it's the one I'm most familiar with. But another well-known conservatory approach you may want to check out is the UK's Associated Board of the Royal Schools of Music (ABRSM).
How does the RCM exam system work?
The RCM offers traditional in-house teaching, but it's best known for its examination system, which is used by students across North America. There are 10 levels in the exam curriculum, Grades 1 to 10. These are followed by two additional levels, the Associate (ARCT) and the Licentiate (LRCM). Students can also earn an Associate diploma in pedagogy (teaching).
The practical RCM syllabus includes components like:
Repertoire: pieces from variety of musical periods (Baroque to contemporary)
Technical drills: scales, chords, arpeggios etc.
Ear testing: identifying intervals, chords, and progressions by ear; playing back melodies
Sight-reading: clapping and playing new music
The RCM theory syllabus includes topics like:
Basic theory: naming notes and intervals, writing cadences, identifying and writing chords
Harmony: reading, writing, and analyzing chord progressions
Counterpoint: completing fugal exercises
Analysis: understanding large-scale forms like sonatas
History: the Western canon of music, from the Middle Ages to the Modern era
🎹 FYI: The RCM curriculum is updated regularly. This article is accurate to the best of our ability and reflects requirements at the time it was written. But students interested in the RCM programme should refer to official RCM syllabi.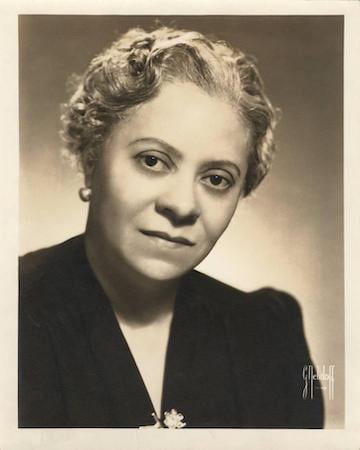 The RCM method can introduce you to classical composers throughout time, from Baroque (ie. Domenico Scarlatti) to Romantic (ie. Mily Balakirev) to Modern (ie. Florence Price).
The RCM Method: Pros
There are a number of benefits to a traditional classical approach. It's:
A tried and true method: people have been learning piano like this for generations, and the syllabus is put together by music subject experts.
Well-rounded and foundational: levels build in intensity bit by bit. It's a very graded approach.
Emphasis on technique: you'll drill all the foundations: scales, arpeggios, chords, inversions, etc.
Wide range of repertoire: students are required to play all eras of music, from Baroque to contemporary. However, jazz and pop are often not included.
Ear training and music theory: you'll learn how to play and clap back what you hear.
International recognition: the RCM method is recognized throughout the world as one of the gold standards of music education.
The RCM Method: Cons
Despite being quite thorough, the RCM approach does leave out some areas:
Fewer practical skills: improvisation, using lead sheets and chord charts, and playing with others don't get much focus, but the most recent syllabus update has more options for substituting improvisation and lead sheets in some exam areas.
Non-classical genres: the vast majority of the RCM repertoire is classical, but the most recent syllabus allows students in grades 1-10 to substitute a popular piece from a pre-determined list of arrangements.
Cost: exams can be expensive.
Old-fashioned approach: for example, history exams rely on rote memorization.
Intensity: the syllabus is very demanding (I can speak from experience!) and exams can last for hours.
Personally, my biggest critique of the RCM method is the emphasis on exams. Because while exam scores are useful for things like applying to university, in my humble opinion, a good grade shouldn't be the end goal of your musical journey. Music is also subjective—what one person deems as an incredible interpretation of Chopin might be mediocre to someone else.
Who is the RCM system for?
In Canada, most people who participate in the RCM system are youth because students can earn high school credit by completing certain RCM levels. But musicians of any age can enroll in the system. The classical method is best suited for:
People who love classical music (of all eras)
Students who want to pursue music in higher education
Musicians who wish to earn a credential, whether for academic, performance, teaching, or other reasons
Younger learners who benefit from more structure
Those interested in mastering highly technical, athletic skills like fast runs, leaping arpeggios, and large chords
Important note: RCM certification isn't required for many post-secondary institutions. Auditions are preferred in many academic programs. So be sure to check your program's entrance requirements!
Modern Piano Lessons (ie. The Pianote Method)
Let's face it: classical piano lessons were designed in a completely different time. Needs (and tastes) have changed.
Modern piano methods tend to emphasize chords and ear training. This is because understanding chords allows you to play from chord charts, which are often used in popular music and widely available. And understanding chords and chord charts makes it possible to play piano without reading sheet music at all.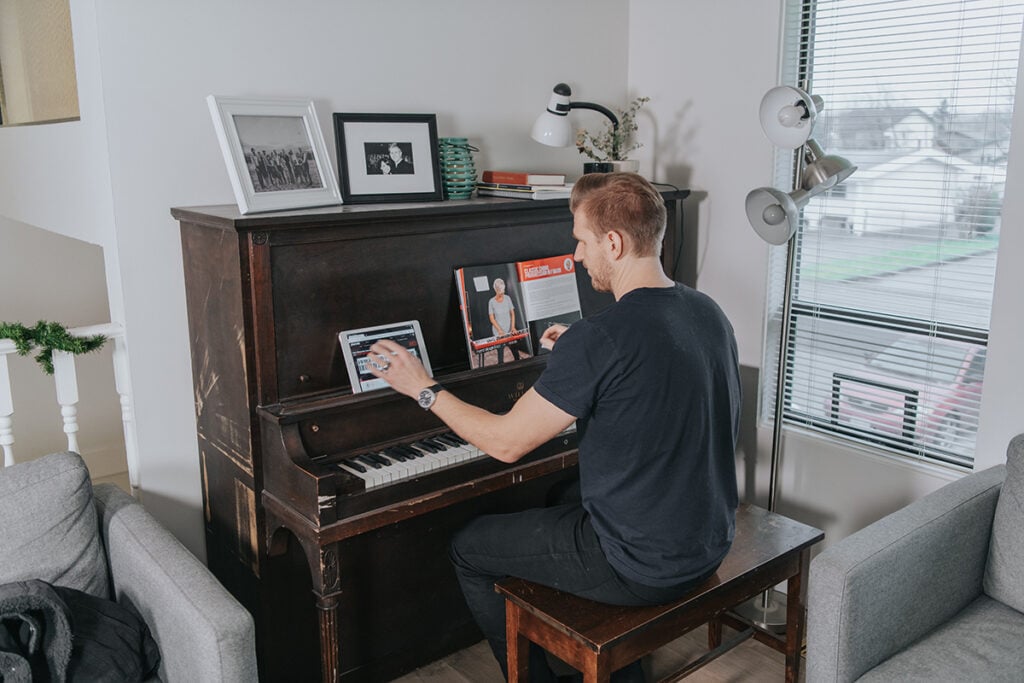 This is a huge advantage! Learning how to read sheet music can be time-consuming and frustrating for beginners. So, the modern approach is practical, efficient, and saves you time and money. In fact, you can play a large number of pop songs with just four chords.
How does modern piano learning (ie. the Pianote Method) work?
Modern piano learning methods will vary in their approach, but many put an emphasis on chords as the foundation to everything.
The biggest difference between the RCM method and the Pianote method is that at Pianote, we introduce different concepts in each level. Here's a summary of what you can expect to learn if you follow the Pianote Method:
Level 1
Getting Started on the Piano
Level 2
Keyboard Confidence & Control
Level 3
The Key to Beautiful Music
Level 4
Playing Chords Like a Pro
Level 5
How to Read (and Write) Music
Level 6
Developing Your Musicality
Level 7
Common Piano Player Problems
Level 8
Exploring Musical Styles
Level 9
Composition and Songwriting
Level 10
Go Anywhere on the Piano
You can find more details about the Pianote Method here.
Comparing the Pianote Method and the RCM method is honestly comparing apples to oranges. The Pianote Method is more about giving you the tools to progress in whichever direction you want, whereas the RCM method gradually intensifies technique through harder and harder classical pieces.
🎹 MODERN METHOD + CLASSICAL? If you like classical music but are intrigued by the modern Pianote approach, we've got you covered! The Pianote Method includes a classical learning path taught by Victoria Theodore, who traces her teaching pedigree to Claude Debussy (yes, that Debussy!). Not ready to be a member? Try Pianote for seven days.
Modern methods sound awesome! So what's the catch?
Of course, there are pros and cons to everything. There is an argument that modern methods can lead to a plateau of skills, while classical methods are better at building technique. The classical method is arguably more "physical."
Classical education also emphasizes sheet music literacy. And while sight-reading isn't a mandatory skill (fact: the Beatles couldn't read music), it's an extremely useful one. Being able to play anything someone puts in front of you is just convenient!
However, it's not too difficult to fill in the gap with whichever method you choose. Classical players can take chording lessons and pop players can do technique workouts.
Who should take modern piano lessons?
The chording approach that Pianote uses is best suited for:
Hobbyist musicians who just want to play the music they love
Those interested in pop, jazz, and improvisation
Musicians who want to play with other musicians
Songwriters and budding composers
Singers who want to accompany themselves
Self-motivated adult learners who want flexibility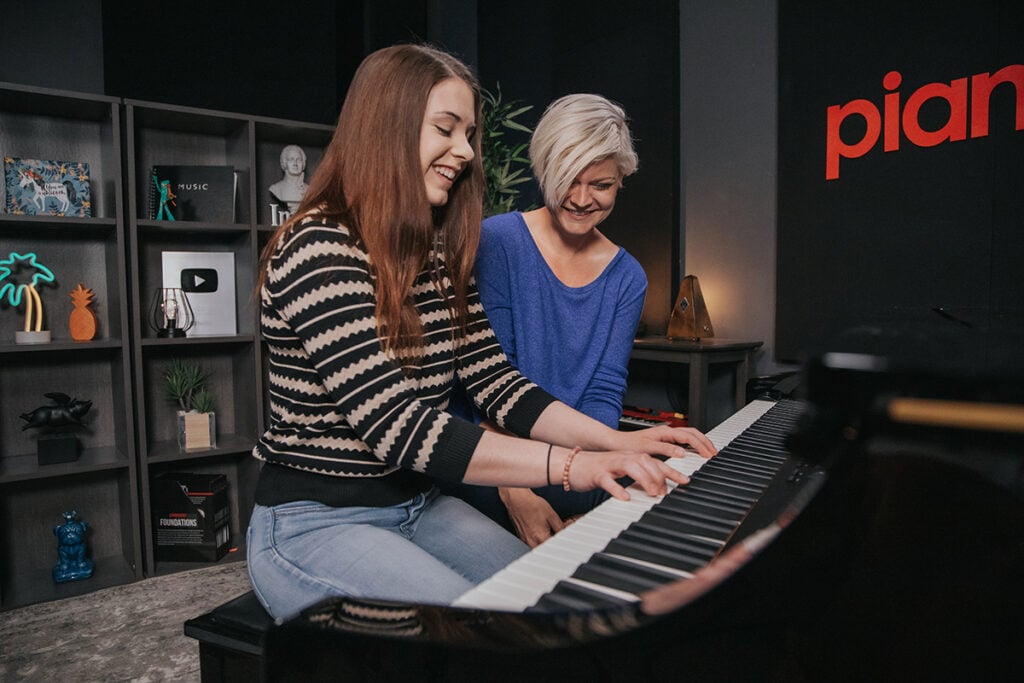 Interlude: Late Bloomer Pianists
The classic story of a successful pianist begins in early childhood. They're a child prodigy whose talent gets discovered when they can barely read. The prodigy is then paired with a renowned classical teacher and made to practice hours upon hours a day, becoming a touring concert pianist when they grow up.
But not all professional pianists share this story.
For example, Kevin Castro (one of our in-house Pianote Coaches and an incredible professional musician!) started piano as a child but quit soon after. He rediscovered the instrument in his teens and learned through YouTube tutorials. The summer before university, he decided to pursue music for good and studied as much as he could to fill in knowledge gaps. He later became one of the few students to successfully graduate on time from his university's jazz program.
Also consider these other "late bloomer" professional pianists who buck the standard narrative:
While James Rhodes took lessons between ages 11 and 18, he stopped for a decade. Then he rediscovered the piano at 28 and has since released seven albums!
Albert Franz is famous for being a late bloomer—he started playing at 17 after suddenly falling in love with classical music. Now he's a well-known pianist with numerous accolades.
Revered pianist Sviatoslav Richter was largely self-taught until he caught the attention of a master teacher at age 22.
My Personal Experience: From Classical Piano Lessons to Chording
I was an unusual child…I adored classical music and would beg my parents to play Mozart and Tchaikovsky in the car. Piano was challenging at times, but I was motivated to keep going because I wanted to play the pieces I heard in the car.
Then, as a teenager, I became interested in classic rock and picked up the electric guitar (as teenagers often do). I learned how to read chord charts and this opened up a brand new world for me; I couldn't believe how much you can do with just chords!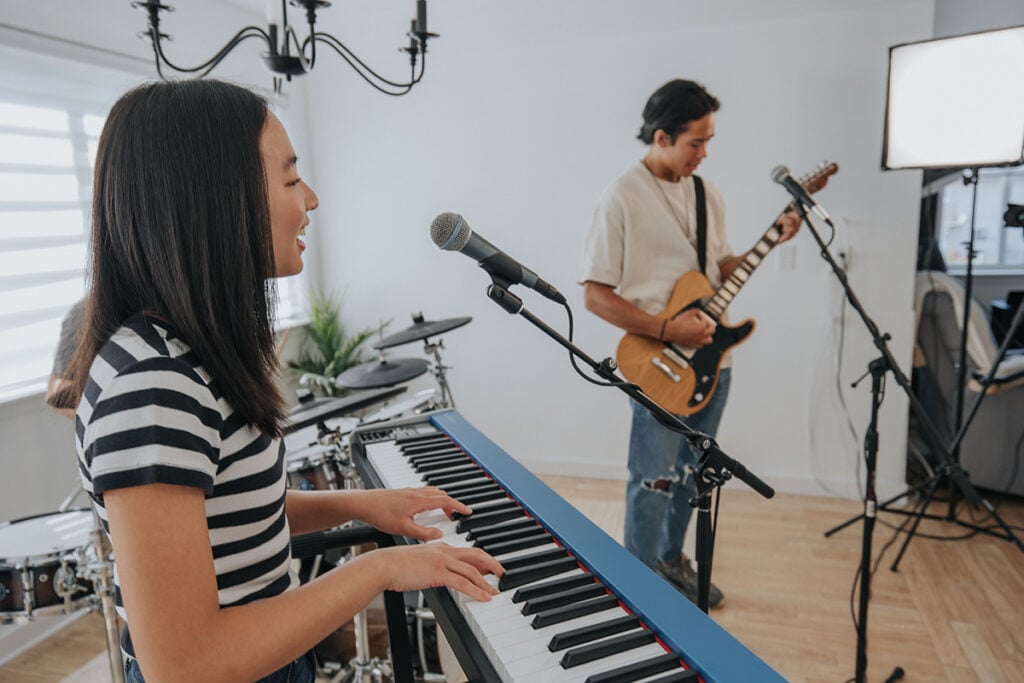 What I learned playing guitar turned out to be indispensable, because I use that knowledge every day at my job with Pianote.
That being said, my classical foundation definitely comes in handy. Having spent years drilling chords and scales, I already had the tools to improvise and play other genres. All I needed to do was use those skills in a different way.
Personally, my biggest advice is to play what you love. Go in the direction of your favorite music and that will be your perfect learning method.
Master the Piano YOUR Way 🔥
As a Pianote Member, you'll get access to our 10-step Method, song library, and growing community of piano players just like you. Plus: get coached by world-class pianists and learn whenever you want, wherever you want, and whatever you want.
TRY PIANOTE FOR 7 DAYS