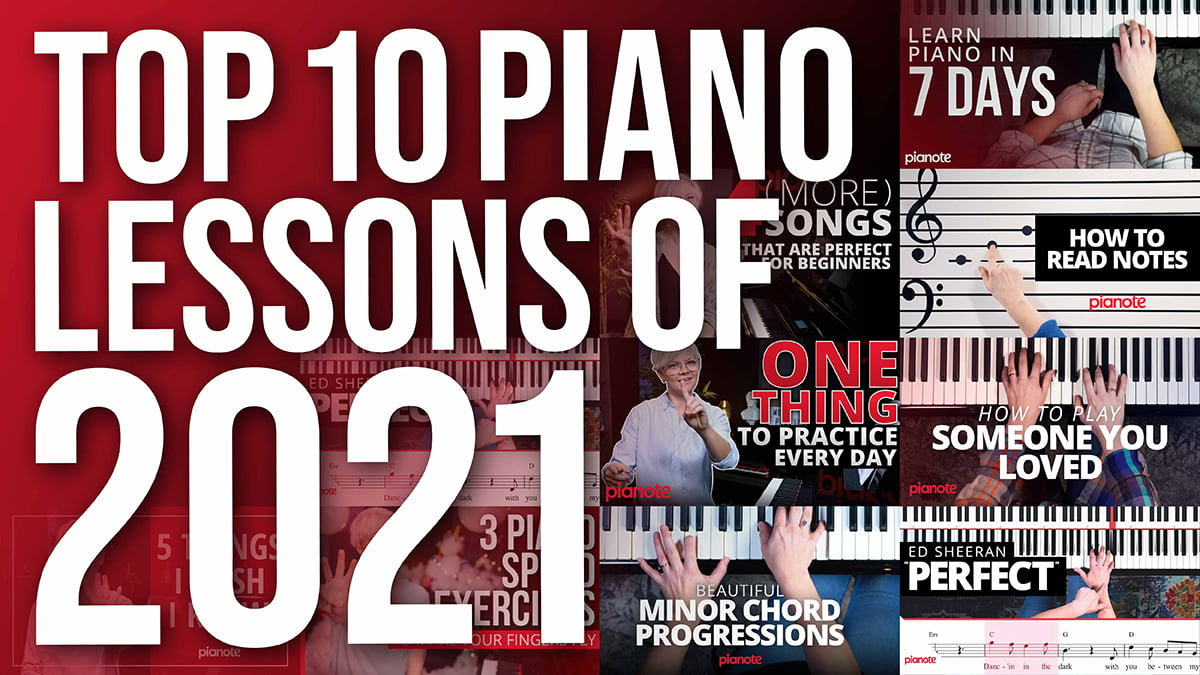 It's been a busy year at Pianote. We uploaded nearly 100 videos this year and are close to 1 million subscribers. Thanks for all the support!
Like last year, we've narrowed down what YOU think are our best videos of the year. Here are the top 10 most viewed lessons of 2021, decided by our audience.
New Year, New Goals 🥳
Make this your year of getting good at the piano. Sign up to get free lessons, tips, and piano news delivered to your inbox every week.
#10. 5 Things I Wish I'd Known Before Starting the Piano 🎹
Learning how to play piano is an incredible journey. But there are often surprises along the way! Here are 5 things Lisa wish she'd known before she started:
Your hands won't always listen, but this is common, normal, and totally fixable!
Get comfortable with the keys on the keyboard — it's like learning the alphabet before learning words.
You can play songs right away on day 1!
How you practice is important too. Be intentional.
Try to get 88 weighted keys as your first keyboard. (Learn more about buying the right piano here.)
#9. Piano Finger Speed Exercises 💨
Everyone wants to play fast. But the fastest way to play fast is to play…slow.
In this lesson, Jordan introduces four exercises to help you build your finger speed, dexterity, and strength. These include:
Scales with a

metronome

Standard arpeggios, then extending those arpeggios up an

octave

with the thumb tuck technique
The F blues scale, which consistently uses the same three fingers — you can sound very impressive very quickly with this one!
A precision exercise that uses the same few fingers over and over
#8. Creating Beautiful Minor Chord Progressions 🥀
Minor chords sound gorgeous. We heard your requests for a lesson on minor chord progressions and this was the result! Two of these progressions start on a minor chord, but one doesn't and still sounds moody and beautiful. This lesson is in the key of G Major, which means the minor chords are Am (ii), Bm (iii), and Em (vi). 
If you want to learn more about creating progressions that evoke a certain mood, see our lesson on making sad, hopeful, and happy chord progressions.
#7. How to Play "Perfect" on the Piano (Ed Sheeran) 💕
"Perfect" remains one of Ed Sheeran's most beloved hits, so we're not surprised that this video made it to the top 10. And it's a song that shows just how much you can do with only four chords.
This song follows the I-vi-IV-V pattern, which translates to G-Em-C-D in G Major. (Sidenote: The original is in A-flat Major, but if you know your Nashville numbers, you can transpose it!)
For the full lesson and to download the lead sheet for free, check out the blog post.
#6. Beautiful, emotional piano with just 3 notes #shorts 3️⃣
This year, YouTube introduced #shorts. And you've made it clear how much you love them! This was our most popular #short, rocking at #6 of our top 10 videos.
We love sharing quick wins, and anyone — literally anyone — can make beautiful music on the piano with just three notes.
In this example, our three notes are B-C-G. And we'll pair this with a very simple chord progression on the left hand: Em-C-D-Bm. Once you get comfortable with the basic pattern, try varying your notes and their order, play in different octaves, or even transpose the whole thing!
🎹 Learn to Play Piano Step-By-Step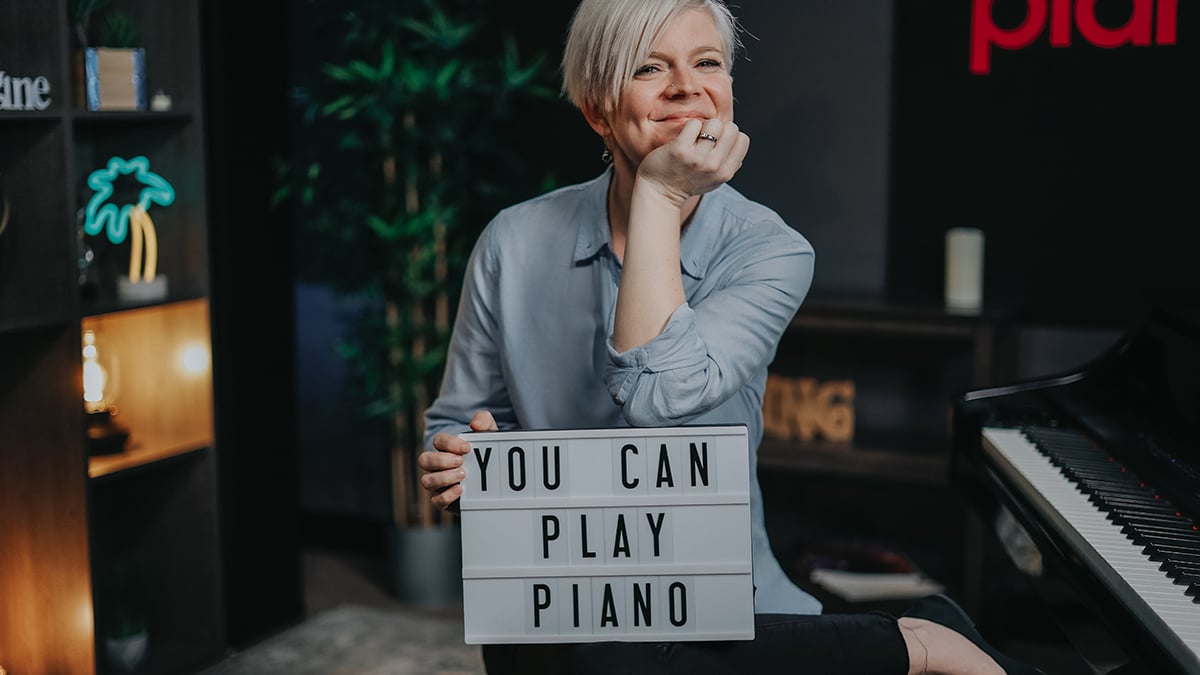 Get started on the right foot (or rather, hand). Get four FREE lessons that will take you from sitting down on the piano for the first time to playing your first song.
TRY IT OUT
#5. Practice *THIS* Every Single Day! ✅
One of the hardest things about learning piano? Knowing what to practice!
Here's an all-in-one exercise that will tick all your skill boxes: theory, hand independence, chord progressions, and playing fast! You'll play:
Arpeggios in your left hand
Triad inversions with your right hand
A D Major chord progression that makes the whole thing sound good
The last step — playing two arpeggio notes for every triad inversion — won't be easy, but you CAN master it! And you'll be a hand independence expert when you do!
#4. How to Play "Someone You Loved" on the Piano 💌
Lewis Capaldi's piano-based hit is a favorite song of ours to demo because it uses the iconic 1-5-6-4 progression so well. 
The main riff is exquisite and really not that difficult to play — it's basically just outer shells of the I, V, vi, and IV chords. And once you nail down the riff, you've nailed down about 90% of the song.
Other than the four chords, we get a surprise Em chord in the bridge section. But the song is otherwise quite simple. Get the lead sheet for free here.
#3. 4 Songs That Are Perfect for Beginners (Piano Lesson) 🍀
Racking up more than 1 million views, this classic lesson from 2019 (remember 2019?!) takes the #3 spot of our top 2021 videos.
It's a video we still reference a lot because we love showing beginners that they, too, can play beautiful songs with the right tools. This video will show you tips on how to play:
"Cups (When I'm Gone)" by Anna Kendrick from Pitch Perfect
"Hello" by Adele
"Just the Way You Are" by Bruno Mars
"Someone You Loved" by Lewis Capaldi
And you can download sheet music and chord charts for free right here!
#2. How to Read Notes (Beginner Piano Lesson) 🎼
Learning to read music is like learning how to speak another language. Once you can read music, you unlock endless opportunities. But reading sheet music can also be intimidating.
This video was our #1 video last year, and it's still going strong at the #2 spot in 2021!
Watch this lesson to unlock the secrets of the grand staff. Then, check out the sequel: How to Read Notes (Part 2).
Now, for our winning video…drumroll…
🥁 🥁 🥁
#1. 7 Days to Learning Piano (Beginner Lesson) ✨
You've spoken! "7 Days to Learning Piano" was our most successful video in 2021 🙂
Which is awesome, because we're proud of this one 🙂 A big part of what keeps us ticking is showing beginner piano players how much they can accomplish in just a few sessions. So, yes, you can play songs within your first week of piano. Within your first day, if you really hustle!
In this video, we'll run through learning piano in seven steps:
Navigate the keyboard
Play the five-finger scale
Play fifths
Develop hand independence
Learn chords (triads)
Play "Imagine"
Get fancy
BONUS! Have fun!
We hope you enjoyed watching our videos as much as we enjoyed making them this year. If you have suggestions for videos, be sure to let us know on our YouTube channel.
…And help us get to 1 million subscribers by clicking that red subscribe button!