Even beginners can quickly learn a 4 chord song on piano! In this lesson, we'll teach you the Big Four chords (C, F, G, and Am). Then, we'll share some tips on how to practice and what chords to learn next. Finally, we've compiled a list of 20 popular songs that only use four chords. This lesson has a little bit for everyone, from beginners just learning to play to intermediate and advanced pianists who want to expand their repertoire!
Music is amazing, but it doesn't have to be complicated. You don't need to be a pro to enjoy playing the piano, because learning to play songs can be quick, simple, and fun!
🎼 Jump to 4-Chord Songs
Click the song titles to jump to chord charts, tutorials, and tips. All songs have four (or fewer!) chords!
"Dreams" by Fleetwood Mac
"Fake Empire" by The National
"Great Balls of Fire" by Jerry Lee Lewis
"Hallelujah" by Leonard Cohen
"Halo" by Beyoncé
"Havana" by Camila Cabello feat. Young Thug
"Hey Soul Sister" by Train
"Jolene" by Dolly Parton
"Just the Way You Are" by Bruno Mars
"Knockin' on Heaven's Door" by Bob Dylan
"Lean On Me" by Bill Withers
"Let It Be" by the Beatles
"Mad World" as performed by Gary Jules
"Ocean Eyes" by Billie Eilish
"Perfect" by Ed Sheeran
"Silent Night" by Franz Xaver Gruber and Joseph Mohr
"The Sound of Silence" by Simon & Garfunkel
"Sunday Morning" by Maroon 5
"Time of Your Life (Good Riddance)" by Green Day
"Yellow" by Coldplay
The Big Four Chords on Piano
These four chords are by far the most popular chords in music. Once you know them, you'll have unlocked hundreds of pop songs. And we're not exaggerating!
C G F Am
That's because these four chords are the I, the V, the IV, and the vi (respectively) chords in C Major. The I, V, IV, and vi chords are central to harmony.
Here's how to play these chords as triads (three-note chords):
Play the root note (for Am, that's A) with your thumb ("finger 1")
Then, play the middle note of the triad with your middle finger ("finger 3")
Finally, play the top note with your pinky ("finger 5")
If you're just starting out on piano, you can play just the root and top note using fingers 1 and 5 for now. This is called a shell chord.
How to Practice Chords
Practice moving between these chords on the keyboard. Keep your hand in the same shape. At Pianote, we like to call this shape "The Claw."
A great way to get comfortable is to practice playing a slow rhythm of four C chords, and then moving in the same slow rhythm to F. You can gradually progress your way through the sequence and speed up until your muscle memory starts to kick in.
Getting comfortable switching between these chords is going to make playing songs much easier, and getting to know the relationships between them will help with songwriting, too. Experiment with the order of things. These four chords are going to sound great no matter how you choose to play them, so switch things up and see what you can create.
How to Read Chord Charts
Knowing how to read chord charts is a great skill to have because chord charts are widely available andoften free. Chord charts help you quickly learn the foundations of a song, so you can add your own riffs, fills, ornamentations, and solos later.
Reading chord charts is easy! You'll see the lyrics of the song and bold letters above them. These are your chords.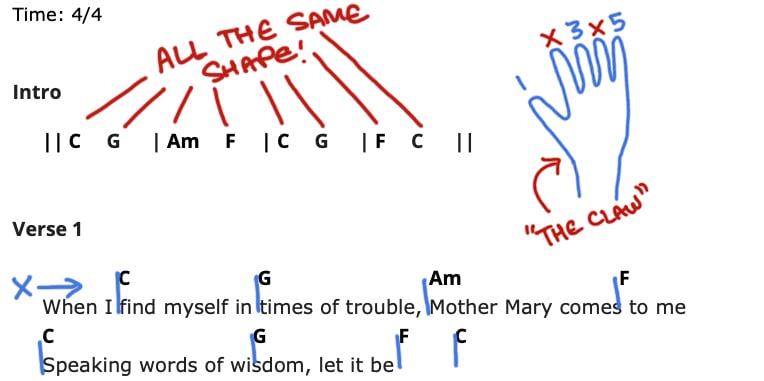 The chords are positioned above the lyrics in such a way that you will play them when you reach that portion of the song. When you are singing along and see a "G" above the word, switch to the G chord. When you see an "F," switch to the F chord.
That's it!
Chords Made Easy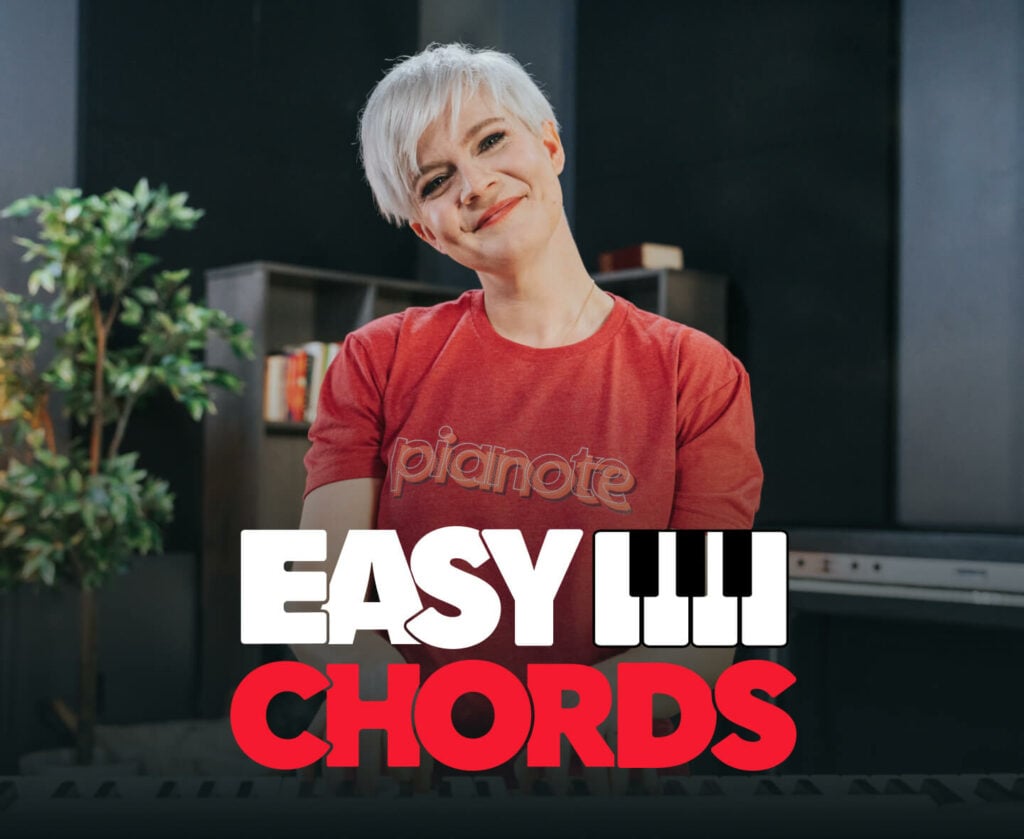 Change chords better and master two songs in just 10 minutes a day for 30 days with expert support from real teachers. Next cohort starts Jun 5, 2023.
SAVE YOUR SEAT
Chords to Learn Next
Once you master the Big Four chords, it's time to expand your chord knowledge! Some good chords to learn include the I, IV, V, and vi chords of neighboring keys, such as:
G Major: G, C, D, Em
F Major: F, Bb, C, Dm
E Major is a common key in guitar music. The I, IV, V, and vi chords in E Major are E, A, B, and C#m. These are handy to learn too.
But if you want to dive deeper into chords, here is a detailed breakdown of the types of chords you'll commonly find on chord charts, including the theory behind the chords.
🎹 Your Go-To Place for All Things Piano
Subscribe to The Note for exclusive interviews, fascinating articles, and inspiring lessons delivered straight to your inbox. Unsubscribe at any time.
---
4 Chord Songs on Piano
Here are 20 popular songs that only use four chords. We've included links to chord charts and even step-by-step tutorials where available. You'll only have to worry about four chords for each song, though some songs use more elaborate chord variations. Even then, you should be able to play these songs using basic versions of each chord.
Dreams – Fleetwood Mac
🎹 HOW TO MAKE A MAJ7 CHORD: You can make a major 7 chord by adding a major third on top of your existing major triad stack. So, Fmaj7 will contain the notes F-A-C-E.
🎹 WHAT'S A "6" CHORD? To play a G6 chord, add the 6th note from the chord's root to your G major triad. For G6, your notes would be G-B-D-E.
Fake Empire – The National
"Great Balls of Fire" is a song you can have a lot of fun with. Because the harmony is so simple, you can focus on fun by adding glissandos, slides, and tremolos. Check out Kevin's tutorial on how to master this song with a walking bass and rock shuffle.
🎹 HOW TO MAKE A DOMINANT 7TH CHORD: Dominant 7th chords are indicated by a "7." To build a dominant 7th chord, add a minor third on top of your major triad stack. So, F7 will have the notes F-A-C-Eb.
Hallelujah – Leonard Cohen
Halo – Beyoncé
Havana – Camila Cabello feat. Young Thug
Hey Soul Sister – Train
---
---
Jolene – Dolly Parton
Just the Way You Are – Bruno Mars
Knockin' on Heaven's Door – Bob Dylan
"Let It Be" is one of those songs nearly everyone knows, and it makes for a perfect spur-of-the-moment sing-along. While "Let It Be" only has four core chords, they undergo several variations. So, brush up on slash chords and seventh chords. Or, just toggle the instrument to "piano" on the Ultimate Guitar chord chart page and you'll find keyboard diagrams for all chords. Handy!
🎹 WHAT ARE SLASH CHORDS? When you see a slash chord, play the chord to the left of the slash with your right hand and the note to the right of the slash with your left hand. So, for C/E, you're essentially playing a C major chord over E in the bass.
Lush, ethereal, and beautiful, "Ocean Eyes" is a quintessential Billie Eilish song with beautiful chords arranged in a simple, repetitive harmonic pattern. It's a super simple song…but you can do so much with it. Experiment with playing the chords broken, in arpeggios, or throw in some passing tones and trills.
🎹 WHAT ARE SUS CHORDS? If you see a "sus" chord, substitute the middle note of that triad with the number indicated by the chord symbol. The second note from D is E, so Dsus2 will include the notes D-E-A.
"Perfect" is one of the top pop hits of the last 10 years, and it's only four chords! Now, these chords will feel a little advanced if you're unfamiliar with a key like A-Flat Major. But beginners can simplify the song by lowering all chords by a half-step, playing G, Em, C, and D instead.
Silent Night
The Sound of Silence – Simon & Garfunkel
Sunday Morning – Maroon 5
Time of Your Life (Good Riddance) – Green Day
🎹 WHAT ARE "ADD" CHORDS? To play a Cadd9 chord, count up nine steps from C and add that note on top of your C major triad. (Psst: that note is D.)
Yellow – Coldplay
🎼 Learn Your Favorites, Step By Step With Full Sheet Music Downloads
As a Pianote+ Member, you'll get access to our 10-step Method, song library, and growing community of piano players just like you. Plus: get coached by world-class pianists who have played with rock stars.
TRY PIANOTE FOR 7 DAYS