<< Download the 10-minute practice resources >>
Here is your 10-minute practice routine.
Because you have 10 minutes. I know you do. Everybody has 10 minutes.
Sometimes it can feel overwhelming to think about practicing the piano when we have so much going on in our lives. I work full-time, then I have a second job some nights and I have kids.
But I have 10 minutes.
The key for me is to only think about that 10 minutes. Nothing more. I 'trick' my brain into thinking that 10 minutes is all it's going to be, and then often I find my practices going much longer.
So I'm going to walk you through the actual 10-minute practice routine that I use. You can take these exercises and use them to create your own routine.
You can find downloads of all of the exercises and the song I'm playing at the top of the page, or you can also get them here as well: Practice Resources
The Warmup
I always start with some kind of dexterity exercise to get my fingers moving. I find Hannon exercises to be fantastic for this. I'm using Hannon 2 for today. Make sure you pick a tempo that is comfortable. Remember, we are just warming up now — we're not trying to build our speed. We want to get our fingers loose for the practice.
Run through this once (or twice) and then move on to the next step.
Scales
I've said it many times. Scales are the single best exercise you can do on the piano. For a short practice like this one, we don't want to go through every single key. Instead, pick one major key and its relative minor key. It's good to change these every day so we can get better at learning the keys.
Think about it — if you do a different major and minor scale each day you're practicing 14 different key signatures every week! That's an amazing way to get comfortable on the keyboard and really learn your key signatures.
For today we'll keep it simple. C Major and A minor. I play the scales up and down, with the first time going slowly and the second time going double-time. Again, you want to pick a tempo that is comfortable for you. We want these early exercises to be easy, so we are feeling good about practicing.
After the scales, we move on to reading music.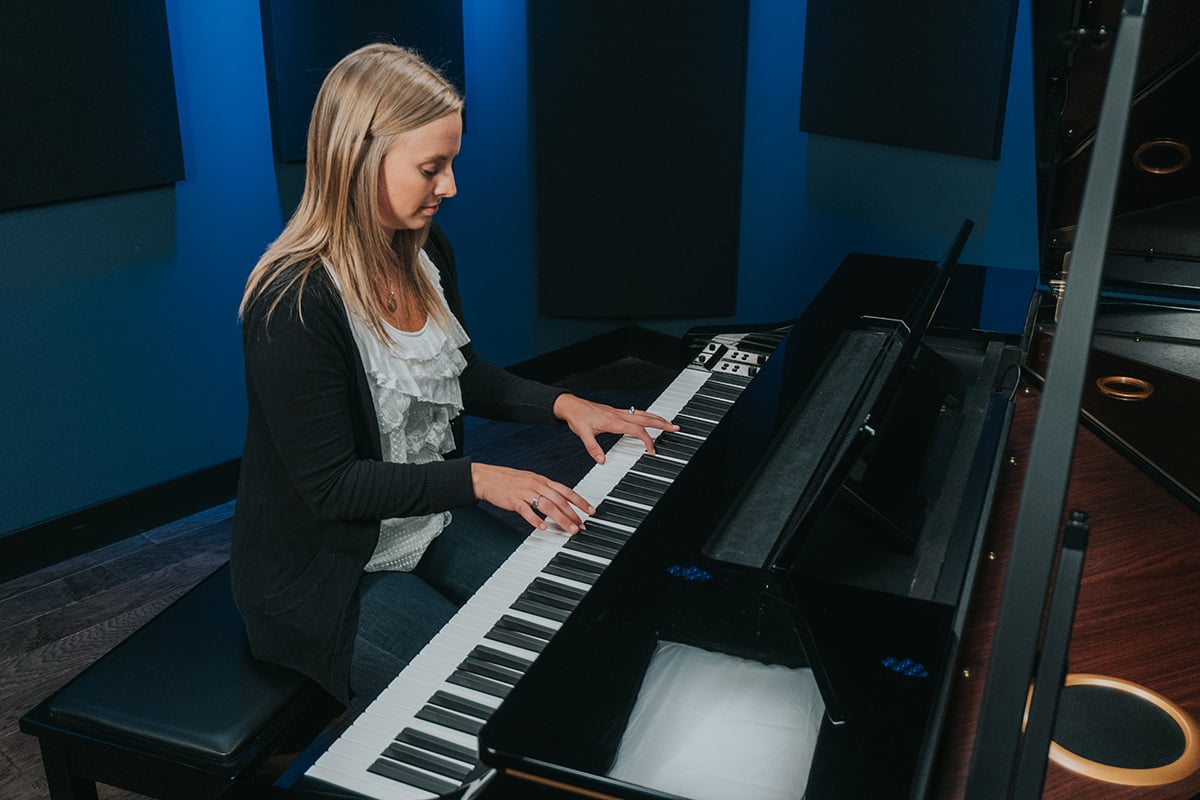 🎹 Piano Technique Made Easy ✨
Technique is the foundation to piano playing. If technique has been holding you back from playing the songs you love, check out Piano Technique Made Easy with Cassi Falk. This course, free with your Pianote membership, will take you through all 12 major and minor keys as you master scales, arpeggios, chords, and more.
CHECK IT OUT
Sight-Reading
Sight-reading is such a useful skill to develop because it allows us to learn the notes better, and be able to learn and play songs MUCH faster.
The key word here is SIMPLE. We want to be successful, so find a piece of music you haven't played before and just practice a few easy bars. I've included a download of a nice exercise, and there are sight-reading books you can buy that have good exercises in them as well.
This also gets our brain thinking about reading music — and we're going to be using that when we move to the final (and best) part of our 10-minute practice.
If you don't know how to read music just yet, or you'd like to brush up, read our lesson on How To Read Notes.
Practicing Your Song
This is what we came here for. We play the piano to play songs. And now we have warmed our fingers and our brain up, we can spend the next 4-5 minutes practicing a song that makes us happy — or one that we really want to learn.
If you only did this for 5 minutes, then your 10-minute practice would be over. But I find that once I'm on to the song, it's easy to just keep going for another 10-15 minutes!
Even if you don't, though, look at everything we have worked on in this short time: dexterity, speed, scales knowledge, hand independence, sight reading, and songs. All of that in just 10 minutes!
You have 10 minutes, we all do. I would really challenge you to try this 10-minute practice routine. After one week I know you will already notice a difference.
Good luck and have fun!