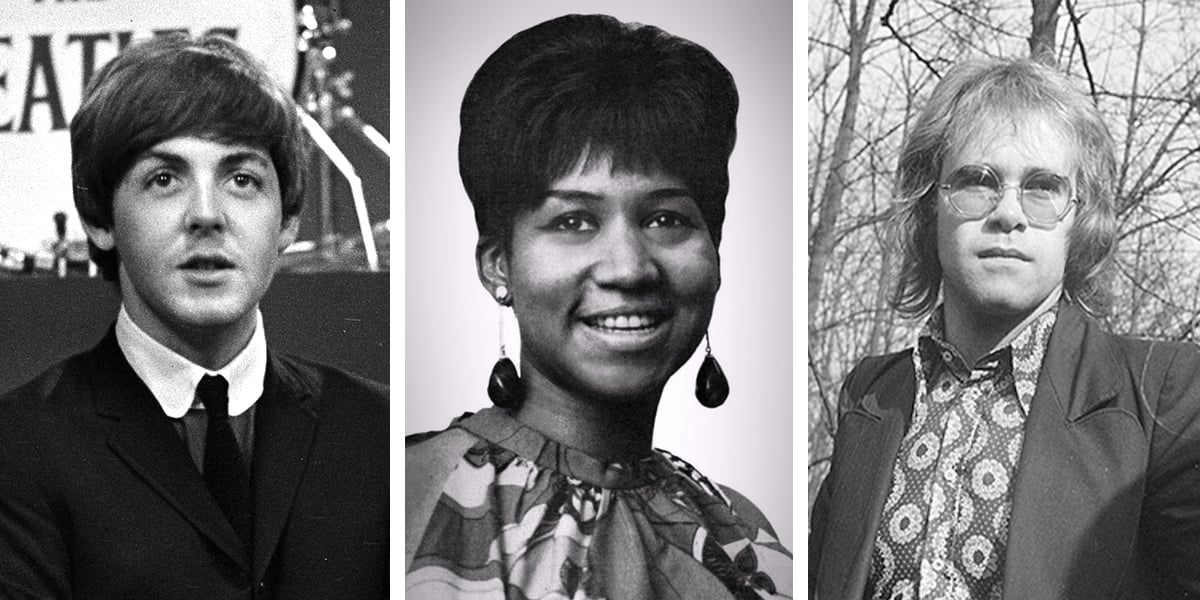 For the first time since 2004, Rolling Stone magazine has released a new 500 Greatest Songs of All Time list. A culmination of efforts by songwriters, artists, producers, industry professionals, journalists, and staff, it was pared down fro an initial 4000 songs. (You can find a breakdown of the voting process here.)
To celebrate the release of this list, we've compiled a list of songs that feature the piano. If you want to learn these songs, you can find most chord charts for free on Ultimate-Guitar.com. If you need a little more help, here are some free resources:
And don't forget that for many of these songs, such as "Let It Be" and "Tiny Dancer," we have free tutorials to give you a head start.
---
Greatest Songs of All Time That Feature Piano
Without further ado, here are songs on the Rolling Stone list that feature the piano:
The Animals – "House of the Rising Sun" (#471)
Alicia Keys – "If I Ain't Got You" (#440)
Harry Styles – "Sign of the Times" (#428)
Fiona Apple – "Criminal" (#423)
Bonnie Raitt – "I Can't Make You Love Me" (#372)
Billy Joel – "Scenes From an Italian Restaurant" (#324)
Neil Young – "After the Gold Rush" (#322)
The Doors – "Light My Fire" (#310)
Bruce Springsteen – "Jungleland" (#298)
Ray Charles – "Georgia on My Mind" (#283)
Randy Newman – "Sail Away" (#275)
Roberta Flack – "Killing Me Softly With His Song" (#273)
Procol Harum – "A Whiter Shade of Pale" (#271)
Joni Mitchel – "River" (#247)
Bill Withers – "Lean on Me" (#236)
Nina Simone – "Mississippi Goddamn" (#172)
Journey – "Don't Stop Believin'" (#133)
George Michael – "Freedom! '90" (#126)
The Beatles – "Let It Be" (#121)
McCartney's masterpiece has reached legendary status, but as a composition, it's quite simple. Consisting of only four basic chords arranged in the most popular progression of all time, "Let It Be" proves that genius does not always require virtuosity.
Jackson 5 – "I Want You Back" (#104)
The Beatles – "Hey Jude" (#83)
Simon & Garfunkel – "Bridge Over Troubled Water" (#66)
Elton John – "Tiny Dancer" (#47)
The awesome thing about "Tiny Dancer" (and all pop songs) is that you can play them as simply or as complicated as you like. Watch "Tiny Dancer" played at five levels here.
Little Richard – "Tutti Frutti" (#34)
Billie Holiday – "Strange Fruit" (#21)
John Lennon – "Imagine" (#19)
Queen – "Bohemian Rhapsody" (#17)
Aretha Franklin – "Respect" (#1)
Crucially, all top three spots in the publication's 2021 greatest songs of all time list are occupied by Black artists. (#1 is Aretha Franklin's "Respect," #2 is Public Enemy's "Fight the Power," and #3 is Sam Cooke's "A Change Is Gonna Come.) As anyone who has read the news in the past few years will observe, the times are a-changin' and people, music-lovers included, want more diversity.
And perhaps we're finally respecting that.
---
Cover photo (left to right): Paul McCartney, Aretha Franklin, and Elton John — all artists represented on Rolling Stone's 500 Greatest Songs of All Time List. (Source: public domain, Wikimedia Commons).