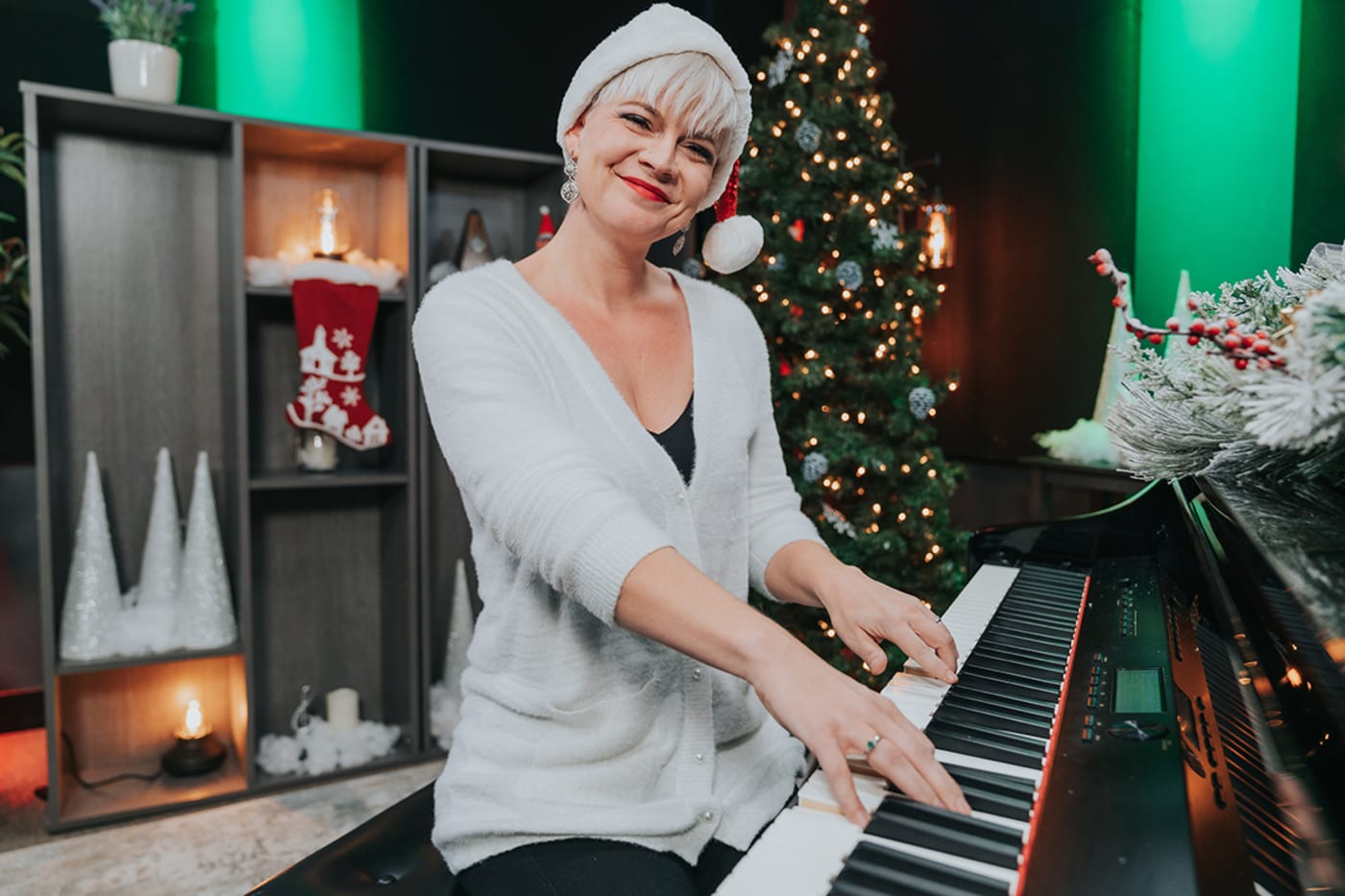 It's that time of year! If you want to drum out Christmas songs on the piano for a holiday sing-along, this post is for you.
Holiday songs are excellent pieces to learn for several reasons. Because they're so familiar, adding embellishments and improvisations of your own can be fun and easy. Playing Christmas songs on the piano is also an opportunity to bond with family and friends and show off the musical skills you've learned this year.
Without further ado, here are ten famous Christmas songs, piano sheet music, and resources on how to play them. The songs in this post span a range of levels, so whether you're just learning how to read music or can improvise at the drop of a hat, you'll have resources to help you along.
🎹 Never Miss a Song Tutorial
Love our video tutorial? Your favorite song might be next! Subscribe to our newsletter for piano news, exclusive interviews, new tutorials, interesting articles, and more delivered to your inbox every week. Unsubscribe at any time.
Joy to the World 🌍
DOWNLOAD SHEET MUSIC
Kick-off your holiday celebrations with "Joy to the World," a classic many families will know. Lisa's tutorial on this one is extremely flexible—you can sight-read the sheet music as it's written or you can add your own flair by using the chord symbols to make up your own accompaniment.
If you want to fancy up your "Joy to the World" with chords, you can review how chords work with our free chording resource. When you've gotten the hang of the chords in "Joy"—and there are only four—explore different ways to play them as an accompaniment: arpeggios, broken patterns, solid chords, and more.
Carol of the Bells 🔔
DOWNLOAD SHEET MUSIC
"Carol of the Bells" was one of our most requested Christmas songs in 2019. We have a free, full score available for you along with chords. The sheet music may be on the more challenging side for some students, but Lisa explains it in detail in her tutorial.
This song is fantastic for practicing hand independence as well as dynamics. Even though the melody is quite simple, there is opportunity for expression and creativity. Add some sustained pedaling for a hauntingly beautiful sound.
14 Easy Christmas Songs for Solo Piano
Get all your Christmas favorites in one beautiful songbook! Arrangements include:

Away in a Manger
Carol of the Bells
Christmas Time is Here
Dance of the Sugarplum Fairy
Frosty the Snowman
God Rest Ye Merry Gentlemen
Joy to the World
O Christmas Tree
O Holy Night
Rudolph the Red-Nosed Reindeer
Silent Night
The Christmas Song
The First Noel
We Wish You a Merry Christmas


I'll Be Home for Christmas 🎄
DOWNLOAD FULL ARRANGEMENT
DOWNLOAD LEAD SHEET
We have both a full arrangement for both hands and a lead sheet for this relaxing tune.
If you want to play the full arrangement but are new to reading music, take it slow. After all, this song sounds great at a slower pace. Feel free to pause and replay Lisa's in-depth tutorial. And be sure to also check out our free sight-reading lesson pack if you're not sure where to start.
You'll learn a good variety of jazzy chords in this song. And while some of these chords are more advanced, the full left and right-hand arrangement will show you what notes belong in these chords and how they sound.
I Have a Little Dreidel/"The Dreidel Song" 🕎
This arrangement by Gilbert DeBenedetti of the popular Hanukkah song for kids is very easy to play and leaves plenty of room for creativity. The melody may be a little different from the one that is commonly sung, so if you know this song well, see if you can substitute your own version of the melody if you prefer.
Then, see if you can vary the notes of the left-hand accompaniment: try repeating notes, playing chords (try C, G, and F major), and adding licks in the left hand. Get creative.
Deck the Halls 🎊
DOWNLOAD LEAD SHEET
As Lisa says, no holiday is complete without awkwardly singing the high notes of "Deck the Halls" with the people you love!
Try our free lead sheet for "Deck the Halls," an easy beginner song because the melody fits almost perfectly under the right hand.
Lead sheets show you both the melody of a song and the chords that go with it. They're a good guide for those who are just starting to improvise—you get the full guidance of the melody, but you also have room to make up chording accompaniments on your own!
In her tutorial, Lisa will also show you ways to play ◊ to make it easier to transition between the chords.
Silent Night 🌌
DOWNLOAD LEAD SHEET
Lisa's beginner tutorial on "Silent Night" is a must-see for adult beginners. In this video, Lisa guides a relatable adult beginner, Kaitlyn, through the learning process. You'll see how Kaitlyn can learn "Silent Night" with a lead sheet despite not knowing how to read notes yet.
Some tips from this tutorial:
Identify your weakest areas
Pick out those areas and focus on them; practice in chunks
Don't overthink!
Practice, practice, practice! There's no secret other than this. You don't have to practice for hours—just practice consistently, even if it's only 10 minutes a day.
Let it Snow 🌨️
DOWNLOAD SHEET MUSIC
Here in the Pacific Northwest, where Pianote is headquartered, we don't get white Christmases often. So, I expect many of us are humming this song and praying for snow!
Our "Let it Snow" arrangement has a jazzier feel to it, along with a few advanced chords like A♭dim7. But don't worry! Lisa will walk you through everything, including both a simplified left-hand accompaniment and the full thing. You'll also learn about slash chords, diminished chords, and swing beat in this lesson.
Remember: don't get too hung up on fingering— just use what makes sense to you.
All I Want for Christmas is You 💝
This Mariah Carey hit has been a classic for several years, and it's insanely fun to belt out too!
There are several chord charts for this song available for free on Ultimate Guitar, which now has chord diagrams for piano too. Chord charts are easy to read and give you plenty of room to improvise, so they're good tools for stimulating creativity.
If you're new at reading chords and chord charts, check out our quick primer here.
The Christmas Song 🎁
DOWNLOAD LEAD SHEET
"The Christmas Song" is another relaxed and jazzy song perfect for snuggling up to the fireplace.
Lisa's tutorial on "The Christmas Song" walks you through the art of reading chords, building them, and singing along to a lead sheet. There are lots of chords involved in this song, but we'll show you easier alternatives to some of the more advanced chords.
You'll also notice that while songs may feel complex at first, many pop songs (including Christmas songs) include repeating parts. Once you learn a refrain, you may find that you're already halfway through learning a song!
We Wish You a Merry Christmas 🎅
Finally, check out this easy arrangement of "We Wish You a Merry Christmas." (8notes offers a wealth of free and easy Christmas carol arrangements for piano. They retain the copyright but folks are free to download and perform their arrangements.)
While there are a few hand position changes, the key is C major (no sharps, no flats) and there are fingering markers to help you along.
Got singers in the family? Here's a four-part arrangement of this song that you can all harmonize!
One final thing: if a certain key doesn't fit your natural vocal range, check out our resources on transposing to a key that's easier to sing.
Have fun with Christmas piano songs this winter!
Playing Christmas music on the piano with a cozy fireplace, some pretty lights, and the people you love is a beautiful experience. Remember: the point of holiday music is to have fun, so don't stress too much about fingering, counting rhythms, or playing songs "correctly." You'll know you're playing "right" when everyone is singing along and enjoying themselves 🎄