For beginners, classical piano can feel intimidating. But it's an irresistible genre, full of passion, drama, and beauty.
And guess what? You CAN play classical piano! Here's a beginner's guide that covers the key things you need to start your classical journey, including:
If you want a more thorough introduction to classical piano, check out our beginner classical course taught by Victoria Theodore. It's free with your Pianote membership 🙂
🎹 Get a Head Start on Classical Piano ✨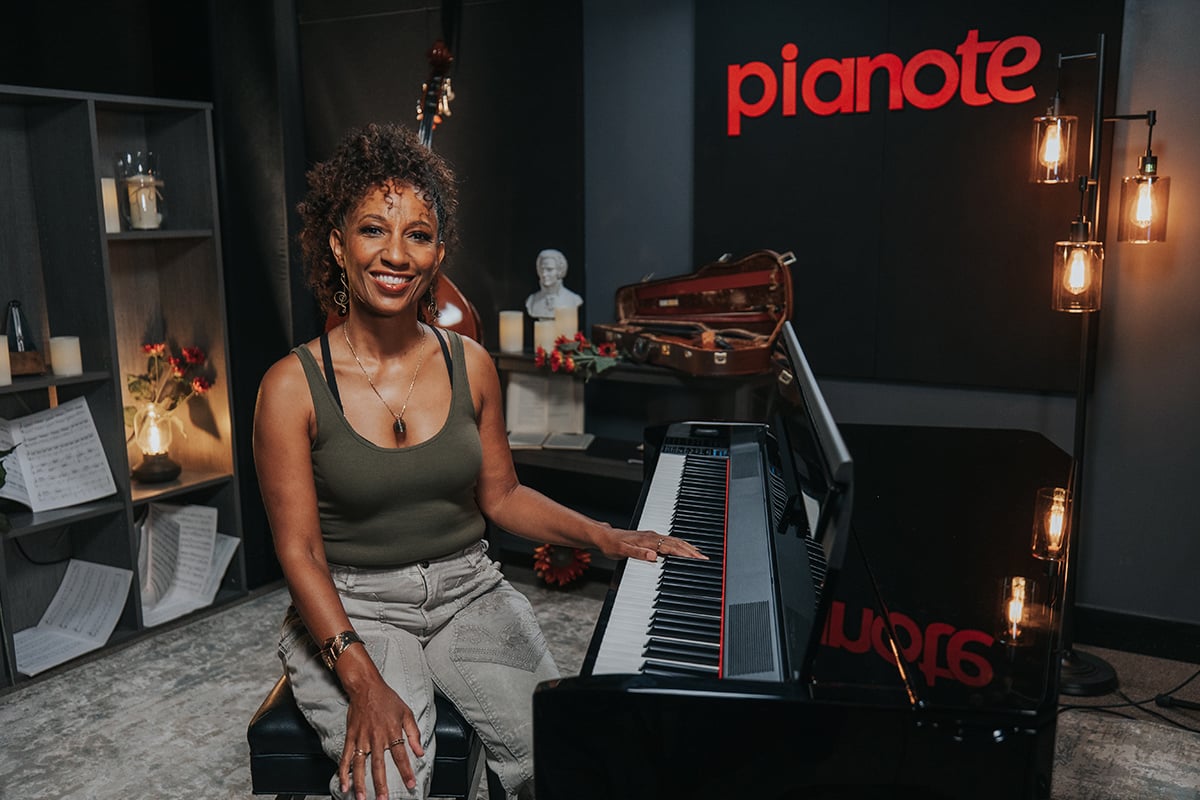 Love classical music but not sure where to start? Head over to Classical Piano Quick Start, four free lessons designed for beginners taught by Victoria Theodore. Victoria is a classically trained pianist with degrees from Oberlin College and Stanford University. She has also shared the stage with stars like Beyoncé, Stevie Wonder, Prince, and more. Start your classical journey with Victoria today!
GET 4 FREE CLASSICAL LESSONS
Classical Piano for Beginners: 5 Tips
There's a lot going on in classical piano. And it can be intimidating for beginners to get started with. So, we have come up with five big tips that are fundamental to playing classical piano:
1. Posture
Posture is important for piano of any style. But it's especially important for classical piano because your hand position greatly affects how your music sounds.
Improper posture can also be painful! And you want to be comfortable if you plan to practice hard 😉

When playing piano, make sure your wrists aren't drooping. Slightly lift your wrists, but make sure your shoulders are relaxed.
You'll definitely hear a difference.
2. Make every note count!
Sight-reading is an important part of classical piano, but classical music is so much more than playing notes correctly!
In the video, watch the difference between "Minuet in G" without articulation and "Minuet in G" with articulation.

It's tempting to rush through notes once you know them, but every note counts. Articulate your notes and shape your phrasing. This adds more uniqueness and character to your classical piano pieces.
After all, performing classical music is all about interpretation.
3. Practice your technique
There's no substitute for practicing technical skills!
For example, if you're playing a piece in G Major, practice your G Major scales and arpeggios. It'll make a big difference in how well you play your piece.
Technique isn't always fun to practice, but on Pianote, we have tons of practice routines designed to make it more exciting:
And if you want a deeper dive into technique, check out Piano Technique Made Easy.
4. Do the work
On the subject of scales and arpeggios, let's talk about practice…
Everyone wants to get to a place where they can confidently, competently, and enjoyably play their favorite piece. But to get there, you need practice!
Victoria suggests you aim for 30 minutes a day. If you can practice more, awesome! If not, try to be as consistent as you can. Practice a little bit every day. Even five minutes counts.
5. Immerse yourself in the music
Finally, make time to get inspired.
Listen to new music. Explore different subgenres. Read up on the life stories of your favorite composers. Why did they compose the way they do? Keep an open mind and an exploratory attitude!
Here are some articles to get you started:
Classical music can be challenging. But if you're feeling stuck, remember your why.
Learn Classical Piano With Victoria Theodore
We recently released a classical piano course for beginners taught by Victoria Theodore!
This course pack is free with your Pianote membership. If you're not a member yet, take a look behind the scenes and consider joining today! It's a wonderful, supportive community of people wanting to master piano; people just like you!
If you're not ready to commit yet, no worries. Check out our free classical lessons:
Happy practicing!