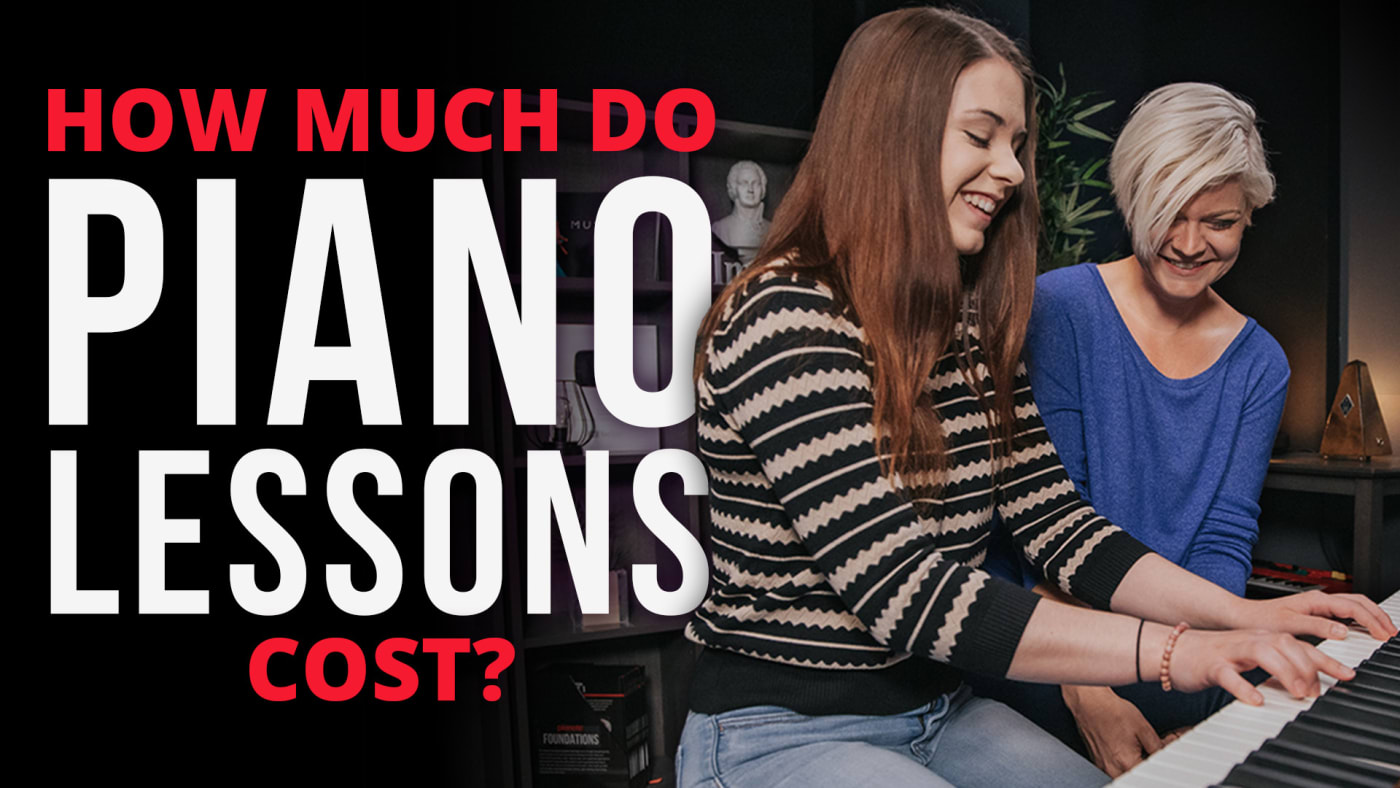 The cost of piano lessons can range anywhere from $20 per lesson to more than $100 per lesson. Piano lesson rates depend on your location, the experience level of your teacher, whether they have formal credentials, and how advanced the student is.
For example, a college student who teaches piano as a part-time gig can charge as little as $20 per lesson. This teacher can be excellent for very young children or casual hobbyists.
On the other hand, a teacher with a graduate degree in music and/or certifications from a conservatory can charge $100 or more per lesson. Generally, piano teachers charge more for more advanced students.
🎹 Get Started on the Piano Today, For Free
Get started on the right foot (or rather, hand). Get four FREE lessons that will take you from sitting down at the piano for the first time to playing your first song.
START PLAYING NOW
Keep reading to learn how to find the cost of piano lessons in your area, what other costs to consider, and how to save money.
How to Find the Cost of Piano Lessons In Your Area
Many piano teachers don't advertise their rates online. But if you want to know how much piano lessons cost in your area, try the following.
Find teachers through a professional association and ask about rates
If you're in the United States, you can use the Music Teachers National Association (MTNA) directory.
Canadians can browse organizations like the B.C. Registered Music Teachers Association or the Ontario Registered Music Teachers Association. The Royal Conservatory of Music also provides a directory of RCM-certified teachers.
Ask about lessons at a local music retailer
Many music retailers offer music lessons. These may be slightly more expensive than independent teachers if the retailer gets a cut. But you'll be certain that your teacher has been vetted.
Get recommendations from friends and family
If you know someone who plays piano, ask about their learning journey, what worked and what didn't.
Places like Craigslist and Kijiji often have ads for piano lessons. As it's more difficult to gauge the identity and quality of teachers in a public directory, be careful! Ask your prospective teacher lots of questions.
Take your time
Finding a good teacher can make or break your learning experience, so take your time. To learn more about choosing teachers, check out How to Find a Piano Teacher.
Keep in mind that piano lessons are typically 30 minutes, 45 minutes, or 60 minutes. Many teachers offer a free trial lesson and discounted lessons if you decide to stick with them long-term. A teacher who comes to your home will cost more than going to the teacher's studio yourself.
Other Costs to Consider
Lessons won't be the only purchase you'll make as a budding piano player. Take, for instance, buying the piano itself!
Piano prices also vary widely. You can get a brand-new entry-level digital piano for around $500. Acoustic uprights can be very cheap or even free. Meanwhile, a new grand piano can run you five or six figures.
🔥🎹 HOT TIP: Buying your first piano can be overwhelming, so be sure to check out our free guide on what to look for when buying yours.
Your piano teacher may also require you to buy books and accessories, and pay recital fees. And don't forget about travel time and gas money if you need to commute to your lesson. These costs can quickly add up.
Piano Items
Cost
Weekly private piano lesson @ $40/lesson x 52 weeks
$2,080
Entry-level digital piano (estimate)
$500
Method book (estimate)
$25

Metronome

(estimate)
$35
Pedal, if not included with keyboard (estimate)
$50
Bus fare @ $2.50 x 52 weeks
$130
Total:
$2,820
How to Save Money
If you're on a budget, online courses may be something to consider.
For example, one month of Pianote costs just $16.42. Meanwhile, a month's worth of in-person private lessons at $40/lesson will cost $160.
Online lessons have other advantages. You can learn whenever you want and at your own pace. And at Pianote, you can connect with an online community of like-minded musicians and learn directly from world-class coaches like Jesús Molina.
Of course, one-on-one attention has its advantages. If you like individual attention, you can combine online lessons and an in-person teacher. For example, do an online lesson every week and check in with a real-life professional once a month to make sure your technique is up to snuff.
7 More Ways to Save Money on Piano Lessons
#1. Buy a second-hand piano
Not only will you save money, you can save a beautiful instrument from the junkyard! Cheap (even free) used pianos, especially acoustic uprights, are often sold when families need to move. Check your local Facebook Marketplace or Craigslist.
#2. Rent a piano
If you're not sure whether piano is something you want to commit to, ask a local retailer whether they have instruments to rent or a rent-to-own program. You can also rent piano studio space.
#3. Join group lessons or double up on lessons
Some retailers and teachers offer group lessons at a lower price. Two friends or two siblings may get a good deal on lessons if they learn together.
#4. Borrow method books from the library
There are many piano method books available. If you're not sure which one is a good fit, try it first through your local library.
#5. Download free sheet music
While popular songs are often copyrighted, most classical repertoire can be downloaded online for free because copyright has expired. The Petrucci Music Library has tons of downloadable PDFs of piano classics. 8notes also has a large library of easy beginner tunes and lead sheets.
#6. Contact a local music school, and see if any students are interested in teaching
Intermediate and advanced piano students are sometimes interested in teaching, either to improve their own abilities, share the joy of music, or make some extra money. If you live near a music school or university, ask whether any students offer lessons. They may teach at a discounted rate!
#7. Take advantage of free online resources
There is a wealth of piano knowledge online. Make sure you subscribe to Pianote on YouTube—we release a FREE lesson every week!
If online learning has piqued your interest, check out How to Learn Piano Successfully Online in 2022. Or try Pianote for free for seven days.
FREE PIANOTE TRIAL