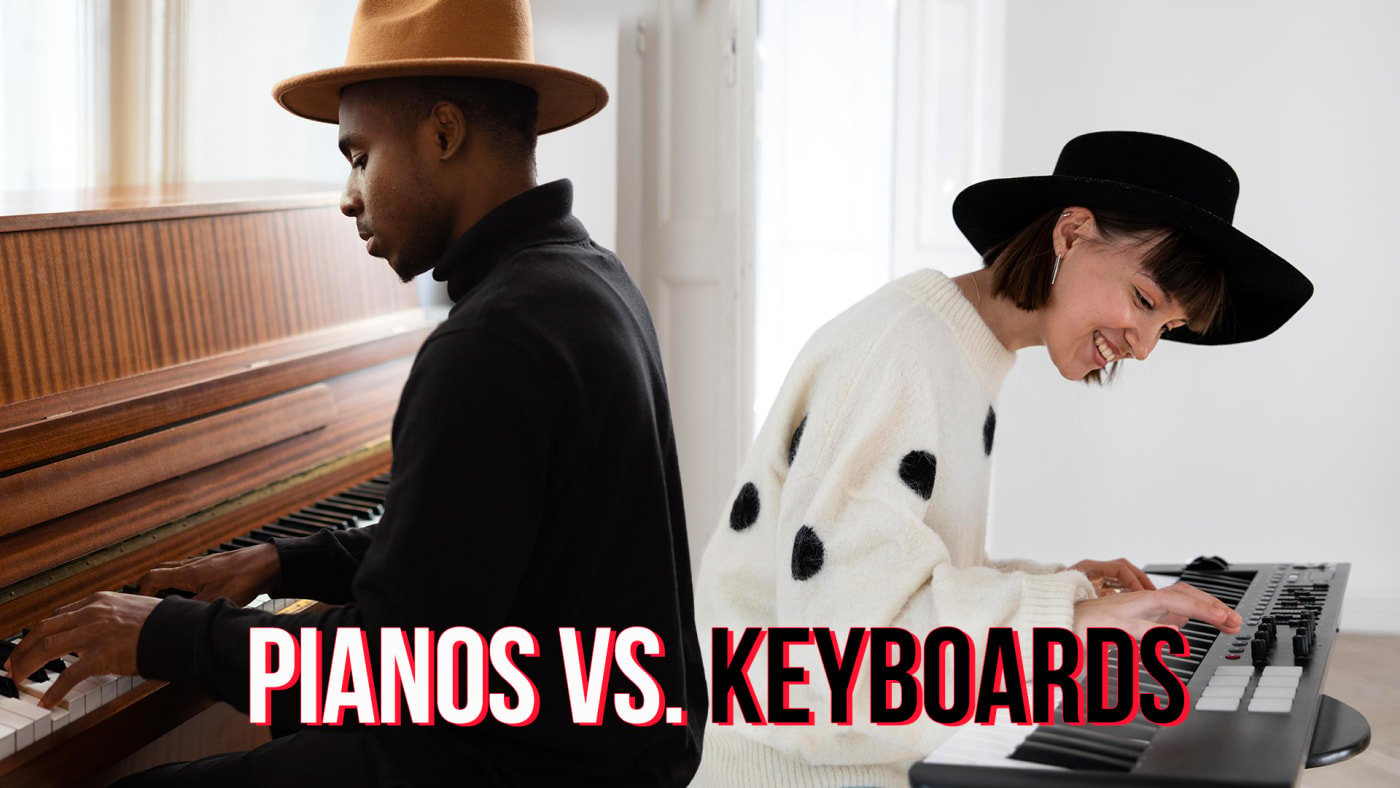 Want to learn how to play piano? We're excited that you're excited! If you're brand new on your piano journey, one of the first things you'll have to do is also the hardest: buying a piano. This often leads people to search for keyboard vs. piano differences.
*This article contains affiliate links, which means we might earn a small commission from the product seller if you make a purchase. For more info, check out our privacy page.
---
Well, "keyboard" and "piano" are somewhat confusing terms. But in this article, we'll assume that you want to learn the difference between an instrument like the Roland FP10 and an instrument like the Yamaha U1.
And guess what? Both are excellent instruments for beginners. Let's dig in deeper…
🎹 Make This Your Year of Getting Good at Piano 🔥
Get free lessons, tips, and piano news delivered to your inbox every week. Subscribe to The Note!
Keyboard vs. Piano: A Semantic Quandary
First, let's define what "keyboard" and "piano" mean.
A keyboard technically refers to any musical instrument interface that features white and black keys. Like this:
So, technically, these are both keyboards:
But if you're new to the world of pianos and keyboards, you're probably thinking of this when you hear the word "keyboard":
In the piano retail world, this instrument is typically called a digital piano.
So what's a "piano"? In general, a piano is any instrument descended from the 18th-century fortepiano. Within this category, there are acoustic pianos (such as the Yamaha U1) and digital pianos (such as the Roland FP10). The following are all "pianos":
Fazioli "Origami Fairmont" Special Model
Acoustic Concert Grand Piano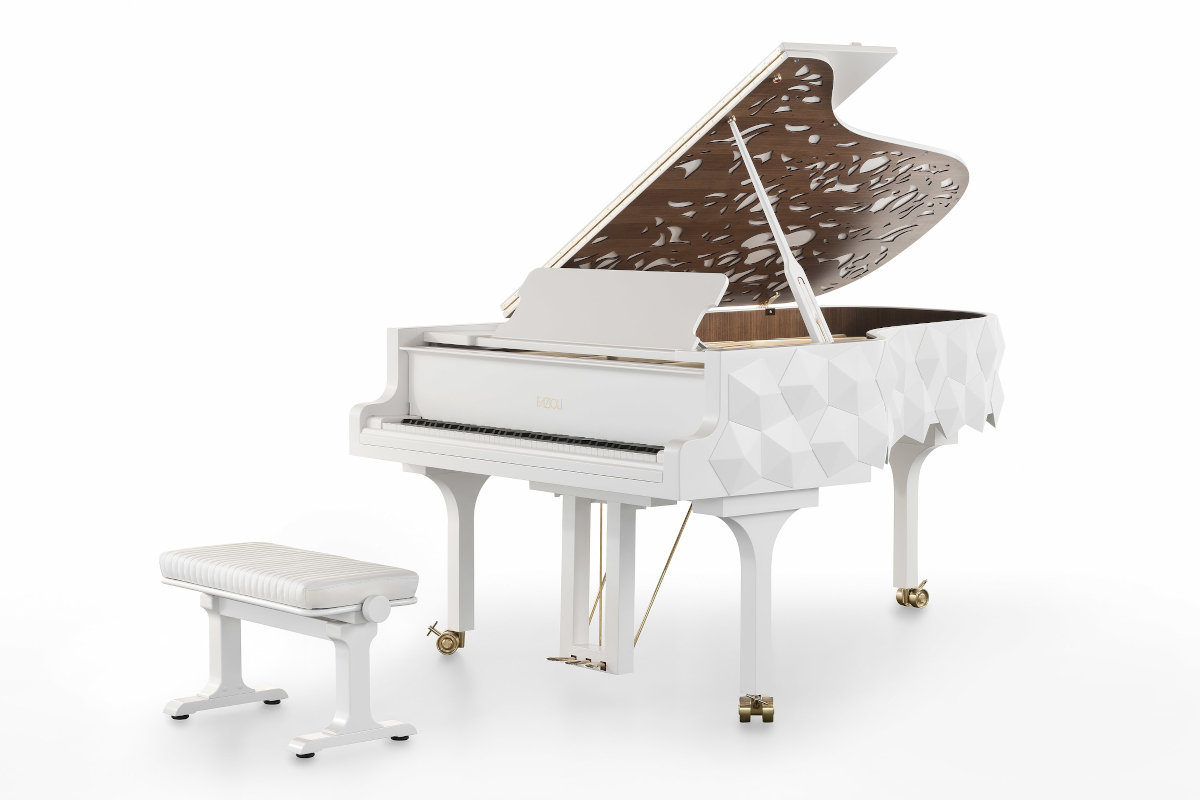 Piano-Like Instruments
Here's a summary of how we'll use these words going forward:
Category 1: Acoustic Pianos
Acoustic grand pianos
Acoustic upright pianos
These are your classic pianos. Made of wood and no electronic parts, these pianos have decorated the homes of musicians since the 18th-century fortepiano. High-quality acoustic pianos can last a lifetime, but they're also very expensive and require regular maintenance.
Category 2: Digital Pianos
Stage pianos and slab keyboards
Home console pianos
These pianos produce sound by translating an input (your finger pressing a key) into a sound output through sampling or modeling. While criticized for not offering the same playing experience as an acoustic piano, new technology has made digital pianos rival their acoustic counterparts.
Category 3: Other Keyboard Instruments
Synthesizers
MIDI keyboards
Workstation keyboards
For these instruments, recreating the piano-playing experience (and sound) is not the goal. Rather, instruments like synthesizers are mostly used for music reproduction and live performances that require many sounds.
Today, we also have hybrid pianos that blend the best of the digital and acoustic worlds. These instruments typically have an acoustic action mechanism and a digital sound output. That way, you can practice your Rachmaninoff concerto at home with headphones and then comfortably play a concert grand on stage!
Coming up next: a summary of pros and cons for both digital pianos and acoustic pianos…
Digital Pianos: Pros and Cons
Pros:
Substantially more affordable than acoustic pianos
Require very little maintenance
Portable; perfect for gigs
Capable of producing many sounds than just "piano"
You can practice in private with headphones
Easy to record
Cons:
Doesn't offer an authentic acoustic piano experience, though technology is getting close
Key action varies in quality: high-end weighted keys can offer a similar experience to an acoustic, but cheaper models won't offer this
May not last as long as a well-maintained, high-quality acoustic piano
Not ideal for pianists who are provided acoustic pianos at gigs
Ideal Digital Piano Customers:
Beginners: Don't drop ten grand on an acoustic piano unless you're certain you'll stay in the hobby; an entry-level digital piano with weighted keys should suffice for a first-timer.
Children: Acoustic pianos can be damaged if not treated properly, so digital pianos are more suitable for households with children and pets.
Professional stage musicians: whether you're busking on the street or accompanying a band in a stadium, the portability of stage pianos is invaluable.
Pop and rock pianists: pop and rock musicians can take advantage of the many sounds a digital piano offers, from vintage organ sounds to futuristic synth tones.
Apartment dwellers: anyone who lives in a small space will likely prefer a digital piano.
Acoustic Pianos: Pros and Cons
Pros:
Offers the authentic piano-playing experience
Perfectly weighted keys will bring out the finest nuance, perfect for classical and jazz genres where articulation is key (no pun intended)
Can last a lifetime and more, becoming a family heirloom
May hold resale or trade-in value
A beautiful piece of furniture for any home
Cons:
Substantially more expensive than digital pianos; however, you can often find old uprights for free in classifieds, though quality may be lacking
Requires regular maintenance
Not portable
Offers just one sound (piano)
Can't practice with headphones, but many uprights offer a "practice pedal" solution
More difficult to record
Grand pianos can be very loud and take up a lot of space
Ideal Acoustic Piano Customers:
Classical pianists: Classical music still largely depends on acoustic pianos to capture subtle nuances.
Jazz pianists: Because jazz is also a genre where how something is played matters as much, if not more, than what notes are played, acoustic pianos offer a nuanced action for articulating jazz lines.
Advanced pianists: No matter what genre you play, if you become dedicated to the piano, you'll likely want to upgrade to a quality acoustic at some point.
Keyboard vs. Piano Summary: Which should you buy?
The decision to buy a piano is a very personal one. Things you might take into consideration include:
How long you decide to stick with the hobby
The genre(s) of music you want to learn to play
Your living situation, including size of home and housemates
Budget
On top of these personal considerations, there are a few guidelines that any piano student should follow:
Buy a piano with weighted keys. This means pressing softly will make a soft sound, and playing hard will make a loud sound. Today, many entry-level pianos in the sub-$500 range offer this feature.
Buy a piano with 88 keys, if possible. This is the standard size of a piano keyboard. Even if your first songs are limited in range, you'll quickly outgrow a smaller keyboard.
Try before you buy. Piano action (how keys feel) is super personal. Some people like heavier actions; others prefer lighter ones. You won't know what you prefer until you go into a store and try a bunch of instruments. Piano action is the je ne sais quoi that makes one piano better than the other.
Learn more about pianos!
More posts bout buying the right instrument:
And if you want to learn more about pianos…
Bought your piano and ready to dive in? Visit our Start Here section for free resources. Or try Pianote for seven days, 100% free.
Master the Piano YOUR Way 🔥
As a Pianote Member, you'll get access to our 10-step Method, song library, and growing community of piano players just like you. Plus: get coached by world-class pianists and learn whenever you want, wherever you want, and whatever you want.
TRY PIANOTE FOR 7 DAYS