"Wish You the Best" made such a big impact on us, we decided to make a video teaching everyone how to play it on the piano! Get a detailed tutorial on this beautiful new release from the Scottish singer-songwriter Lewis Capaldi.
🎹 Don't Miss Out on Free Song Tutorials
We love helping people learn the songs they love. Each week, we release quick tips, song tutorials, and other free content for piano players, by piano players. Subscribe to our mailing list so you don't miss out. You can unsubscribe any time.
"Wish You the Best" – Sheet Music and Chords
We're proud to offer fully notated sheet music for "Wish You the Best" to our Pianote+ Members! We have both a version for pianists who want to sing and play at the same time, and a version for those who just want to play solo piano.
Due to licensing rules, we can only offer sheet music to Members. But if you're not a Member yet, you can still access the sheet music by signing up for a free trial. Just click the button below.
7 DAYS OF PIANOTE – FREE
You can then use our Practice-Along feature, slow down tricky bits, and loop areas for extra practice.
Otherwise, you can play along with our free tutorial video. In this song:
The main chords are E♭, B♭, A♭, and Cm. These are your I, V, IV, and vi chords.
You'll also encounter wild card chords that add tasty tension to the song. These are A♭m and Bdim.
---
"Wish You the Best" – Intro
We're in E-flat major, which means we have three flats: B♭, E♭, and A♭. The intro is fairly simple: it's all about rocking between the E♭ and B♭.
On our left hand, we'll play E♭ in the bass. This is the tonic (first) note of E-flat major. In other words, home base!
Verse
The verse is similar to the intro, but it's got a little more stuff thrown in.
We're still doing the E♭ – B♭ rock, but sometimes we throw a D in there.
On our left hand, we play a I-V-vi-V-IV progression. That's E♭ – B♭ – Cm – B♭sus4 – A♭sus2. You can play these as chords or just the root note.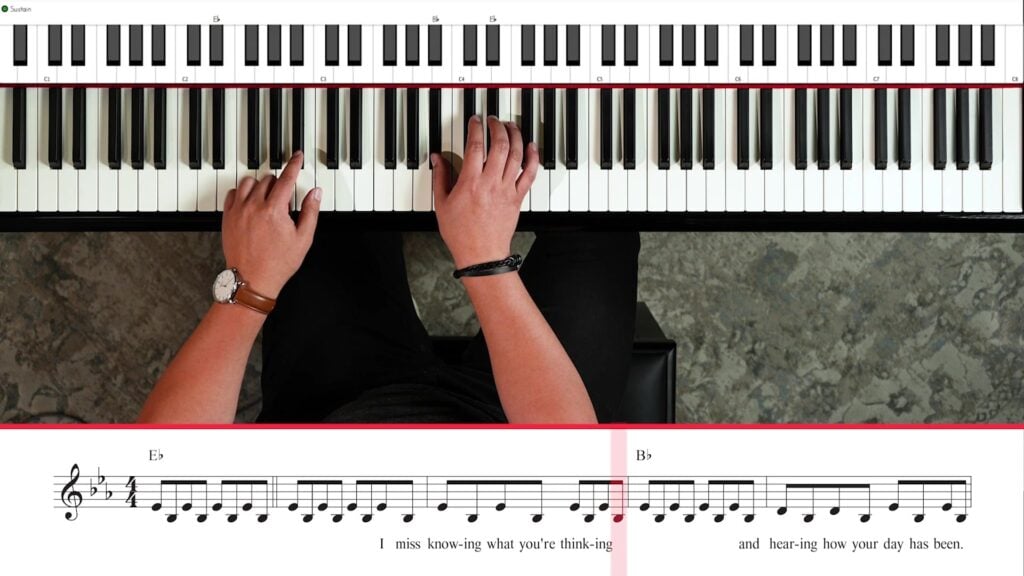 The second time we play the verse, we add even more notes: F and G. The piano part starts to match what Lewis is singing more closely.
Chorus
In the pre-chorus, we start with the vi chord in the form of Cm7 and end on an A♭sus2 chord. This suspended chord has such an interesting, dreamy sound because it omits the third, which makes it sound neither major nor minor.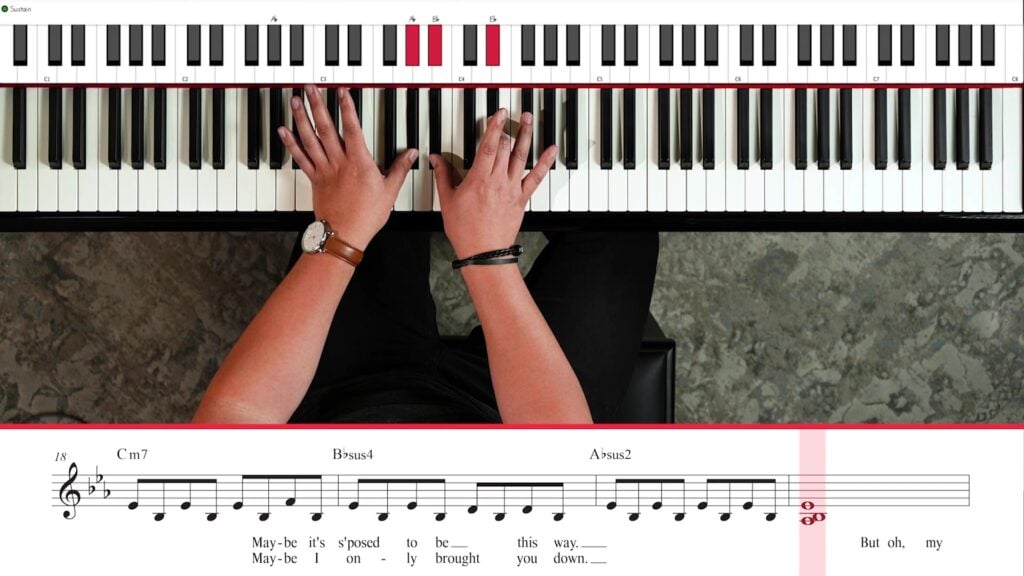 During the chorus, accompany your right hand with left-hand octaves. This will make the song sound a lot bigger and grander. If you can't stretch into octaves, play fifths instead.
The right hand is based on the same rocking motif, but we build on it by adding more melody. A good way to learn all these changes (and to develop your ear training!) is to just listen to the song very closely and hear where the notes go up or down. You can also play the music video on YouTube and set the speed to 0.75x, 0.5x, or even 0.25x.
Then…we end on a truly beautiful chord: Abm/Cb.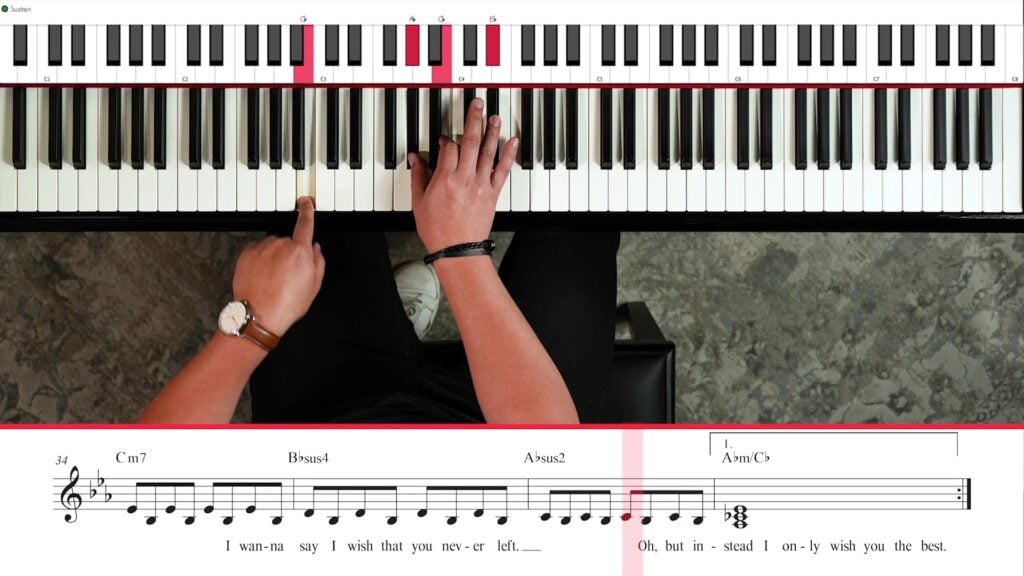 This is a minor iv chord in first inversion, and it does so much to the mood of the song. Which shows how small tweaks to basic chords can make a big impact.
Bridge
The bridge takes everything you've learned and pulls the intensity up a few notches. We even get a Bdim chord which adds a lot of extra tension!
If you can, try to play octaves in this section! It'll make a big difference. Playing forte (loud) will also help establish this part of the song as the climax. 
For more contrast, play the verses and the last part of the bridge very softly, and the chorus slightly louder. Then, when the first part of the bridge arrives, give it your all!
---
About the Song "Wish You the Best"
If you've watched the music video for this song, you'll know what we mean when we say it'll pull your heartstrings. The music video is based on the true story of Greyfriars Bobby, a 19th century terrier who stood guard over his master's grave for 14 years. You can watch Lisa and I (we're both dog owners!) react to the video and analyze our first impressions of the song.
If you enjoyed this tutorial, make sure to check out some of our song tutorial favorites:
🎹 Learn Piano For Free
Inspiring tutorials. Fascinating articles. Exclusive interviews. We create piano content anyone, anywhere can enjoy for free. Don't miss out, sign up for more free lessons.