Learning to play an instrument like the piano online can be daunting. It's important you find a way to learn that makes the most of your time (and money 💸💸💸), but is also fun and engaging in the process. One useful tool is the Internet! But how do you find the best online piano lessons…for you?
That's a tough question. Which is why I've tested some popular online piano lessons so that you might get a scope of what's best for your learning style.
🎹 Your Go-To Place for All Things Piano
Subscribe to The Note for exclusive interviews, fascinating articles, and inspiring lessons delivered straight to your inbox. Unsubscribe at any time.
YouTube Learning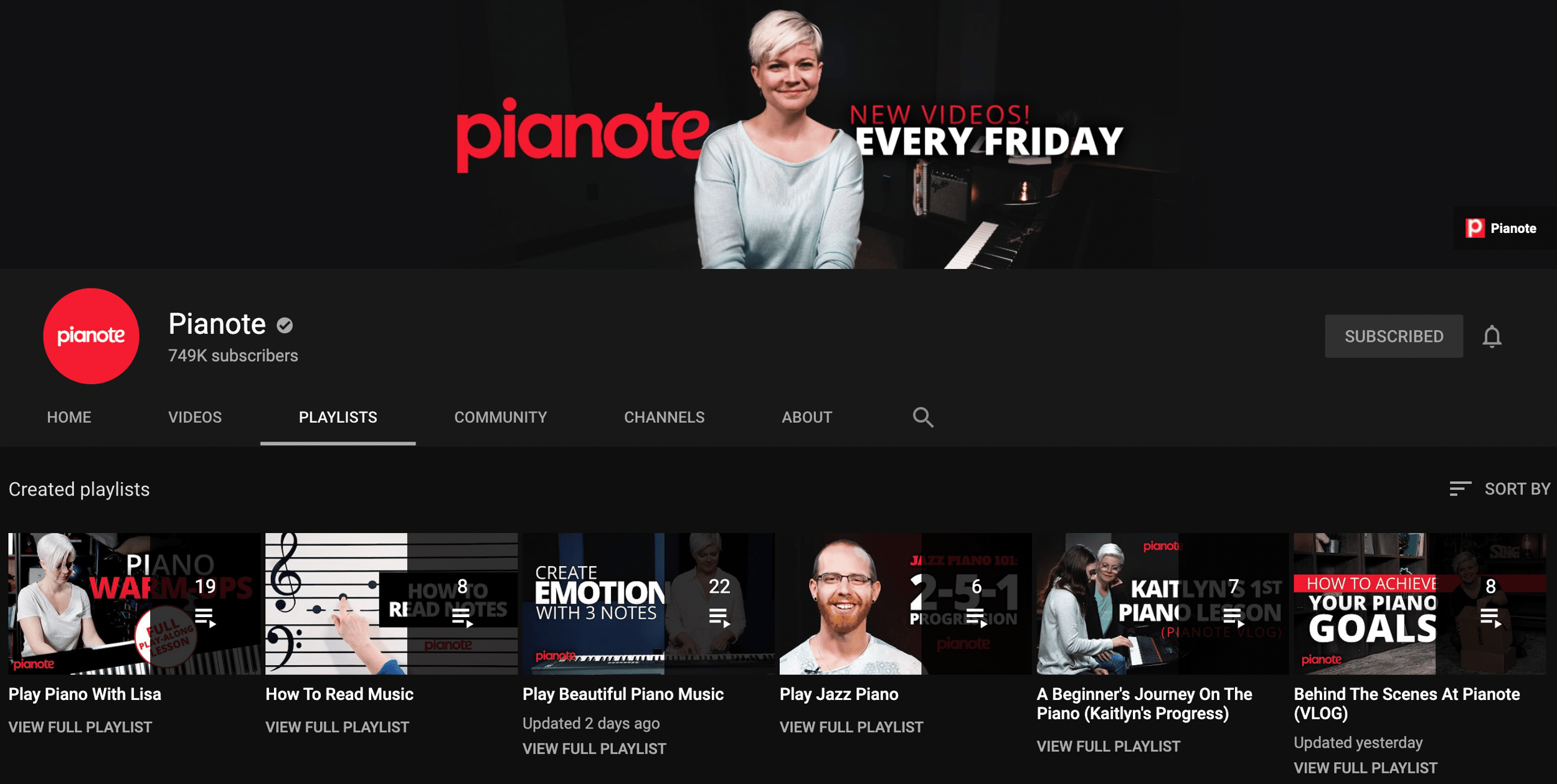 The first style I want to dive into is YouTube learning. It is an amazing resource for *free* content. There are so many different piano lessons waiting to be discovered, you'll be spoiled for choices! But therein lies one of the problems: you might have a difficult time knowing where to start or finding the right order of things to learn the piano in a way that makes the most sense for you.
YouTube is great for 'quick wins', fast and easy song tutorials, small gaps you can fill in your learning… but if you're looking for a more structured approach, or a sense of progress to your learning, you may find it a bit tricky, and it may leave you a little wanting for better organization.
That being said, as a precursor to our complete (and well-organized 📝) curriculum at Pianote.com, we have a fantastic resource of free and in-depth lessons available on our YouTube channel, with new videos every week, and a focus on getting people excited about playing the piano with popular song tutorials, tips on technique, and different playing styles. It's a great way to see what Pianote is all about. If you like a deeper look, check out our 7-day trial. 🙃
Video Game-Style Learning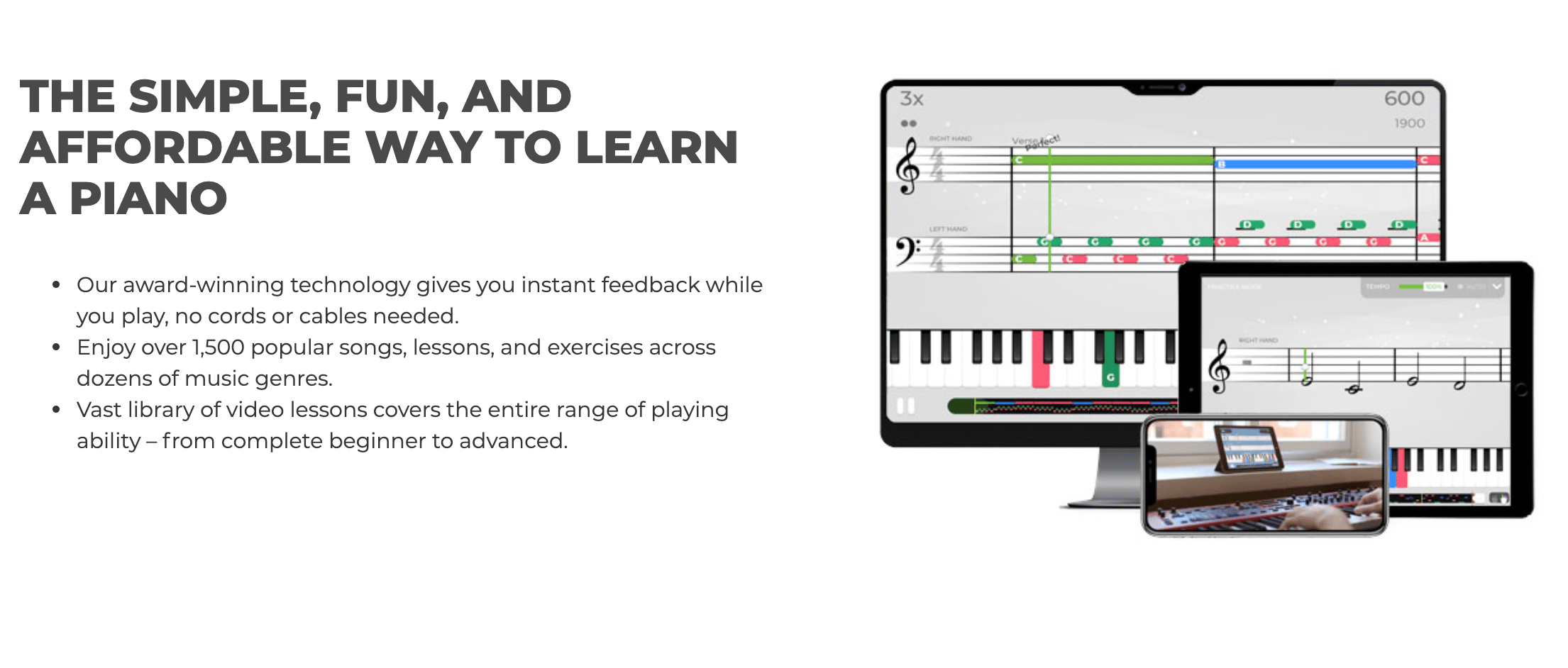 Technology is evolving quickly, even for piano players, and new learning platforms are taking advantage of it in interesting ways. Programs like Yousician, Simply Piano, & Flowkey can connect your practicing to the internet (via USB or microphone) and provide feedback based on the speed and accuracy of your playing.
As you might imagine, 'video game-style learning' is actually a lot of fun. The programs can tell if you are playing incorrectly and will grade you accordingly. It promotes a sense of self-competition, and it can really make the whole experience feel like, well, a game!
Sometimes this learning style can limit what might otherwise be available to you: you can't always skip ahead, and you might be stuck learning something you're not excited about, just as a way to move up and get on to 'the next level'.
While it's amazing that we've reached a point where our phones can tell us how good our piano playing is, the technology is still in its infancy and it's yet to be able to read the more complex aspects of your playing, like rhythms and technique.
Playground Sessions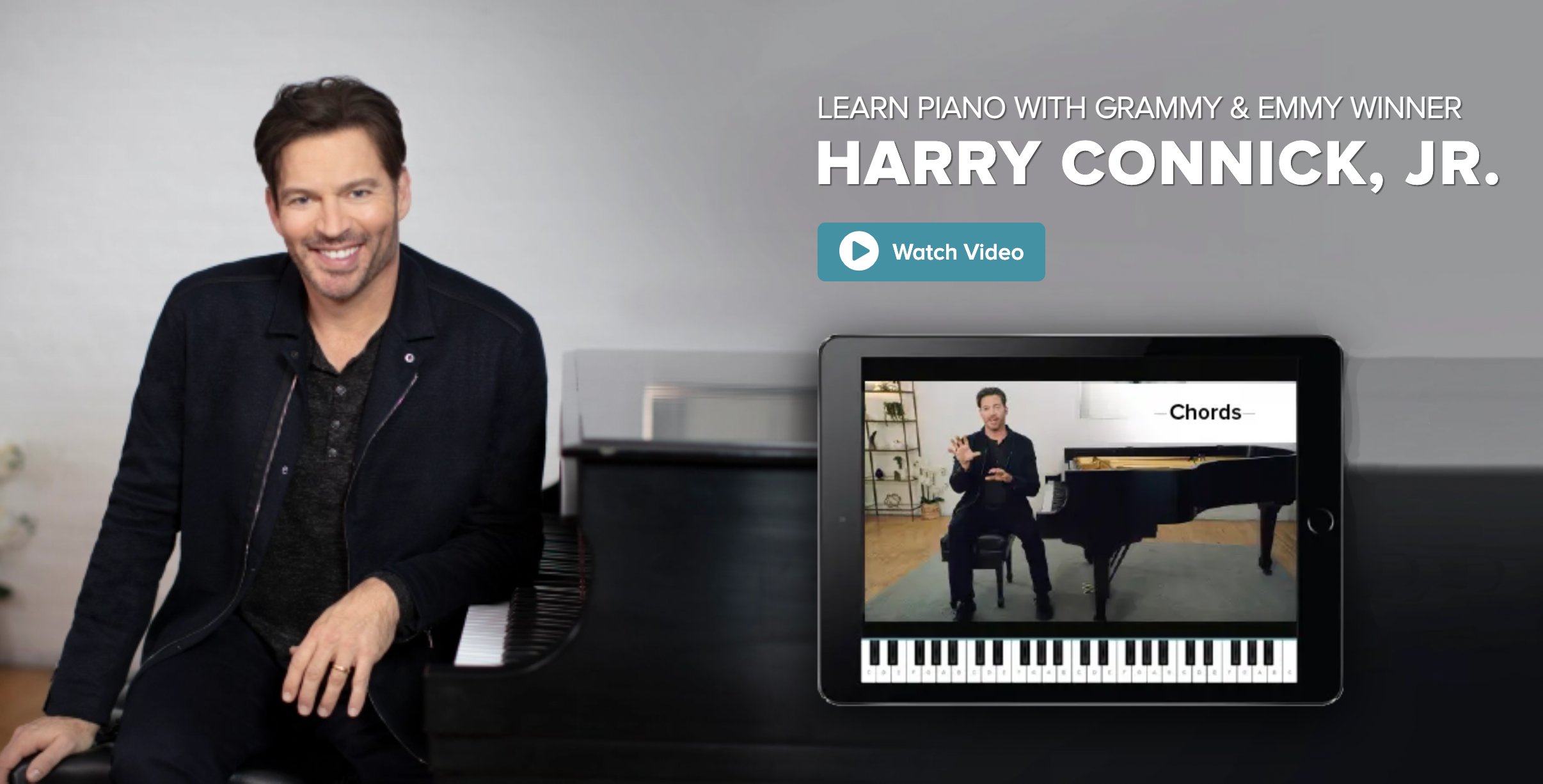 Next up is Harry Connick Jr.'s Playground Sessions. To me, it feels like a hybrid of the video game-style learning we've already talked about, and the 'membership' style we'll touch on shortly.
I had a lot of fun with Playground Sessions. It connects to your piano like the aforementioned apps, and it was wonderful to see Mr. Connick Jr. teach me some piano skills. I was a little disappointed to find he wasn't teaching the majority of the lessons, more so just popping up occasionally to remind me he's still a part of the action.
I liked the video learning support and found the lessons were clear and concise, but navigating the website was difficult and a little confusing to get started. From a beginner's perspective, It could have done more to guide me to a clearer learning path.
I did appreciate the community forums where you could ask questions and get answers, but I was left wondering how to apply some of the techniques in the videos, outside of the exercises provided in the lessons themselves. There wasn't a lot of 'why' to the ideas behind the lessons, and theory can be a big part of your understanding.
Private Online Lessons (1-on-1)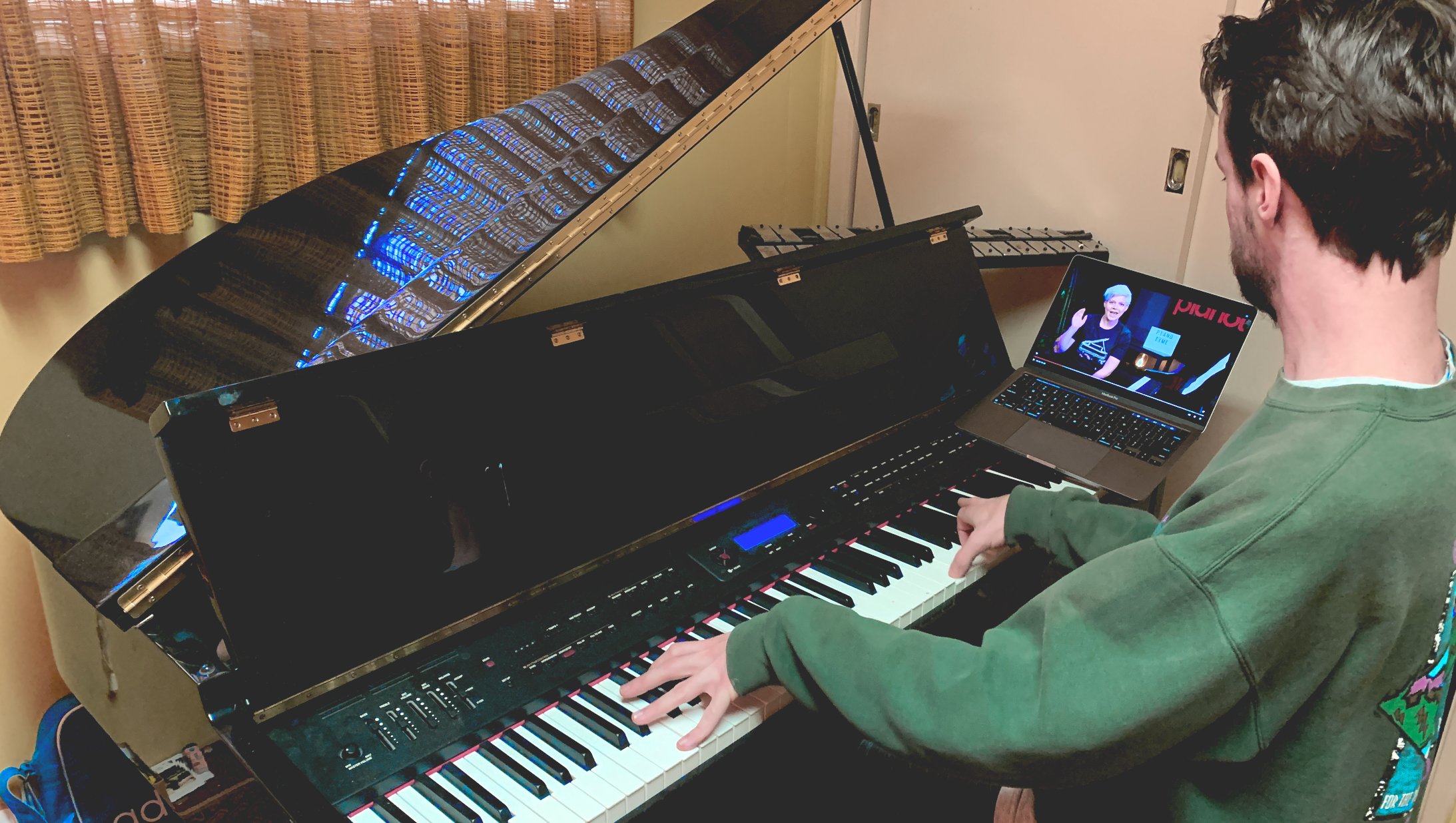 Taking lessons online with a personal piano teacher can be a great way to learn the piano. You get the 1-on-1 time, and you get the personalized feedback that can be awesome. The biggest hurdle is likely going to be the price. Private lessons are expensive (especially compared to the price of online curriculums), but the advantages of more personalized lesson plans and instant feedback are worth considering. The downside is that you can be very limited in the time you spend together– an hour once a week might be easy to make time for, but it could keep you from moving forward at your own pace.
The most important thing is that you are very specific about the piano teacher you choose. You want someone that's respectful of your time and is in line with the goals you have set for yourself as a player. There are lots of different teaching styles out there and you want to find someone that you connect with.
The other aspect to consider, in my experience, is the general clumsiness of a 1-on-1 online experience. It can be difficult to line up the camera, change angles to show different techniques, or focus on actually practicing rather than the technical aspects of your connection and the limited window between student and teacher.
Membership Models


Finally, we've got the 'membership models'. These resources are more 'a la carte', where you can pick and choose the lessons that are right for you, and you're not stuck to a very specific regiment or lesson plan. There are still a lot of ways a program like this could guide you, but you have the option to decide what's best for your personal style of learning.
These lessons are hosted online and they are not necessarily app-based, but some of them include extras like a 'practice-along' feature or looper functionality so you can narrow things down to your trouble spots and really work out the kinks. They might include options like song playback, play speed, and allow you to listen with different piano sounds. While they don't include an 'instant feedback' feature, programs like Pianote give you the means to submit your practices and performances for review to real teachers that can give you the proper feedback and support you need.
The best part about these models is the community that can surround them. Growing up with private lessons, I didn't know many other piano players and I didn't have that community of people to encourage me or to discuss things with.
There is also a wide variety of styles and lessons available with courses like these. You can choose to learn songs you like or work on techniques that are giving you trouble.
Review
There are a lot of advantages of learning piano online, but one of the biggest is the availability of the lessons anytime, anywhere. Plus, the community is going to be a huge part of your experience and one of the best resources you'll have for learning and creating a sense of meaning around what you're doing.
What's right for you? Maybe this rundown has shed some light on the positives and the negatives of each side of the equation: there are lots of reasons you could appreciate any one of these excellent services, but the most important part is making progress on the piano in a way that's fun and exciting for you.
Related articles: