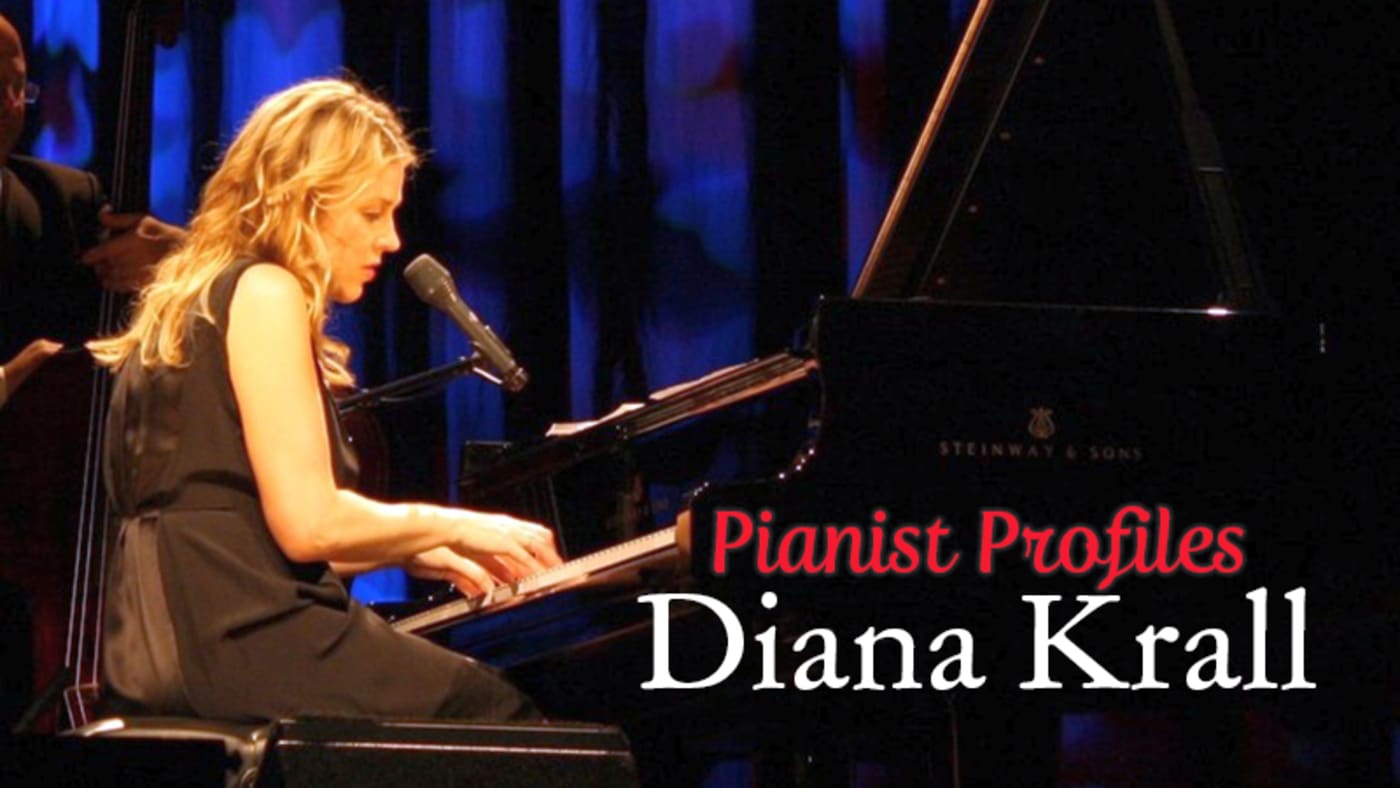 Diana Krall is a Canadian jazz pianist and singer who rocketed to fame in the 90s. Known for her playful mastery of the ivories along with a sultry, deep voice, her birthday is today, November 16. Happy birthday, Diana!
Jazz has a reputation for being a complex and sometimes inaccessible genre of music. But it's a fascinating one, and if you play piano, it helps to know at least a little about the genre because the piano is such a central instrument to jazz. For beginners, Diana Krall's music is relatively accessible.
So, scroll down to listen to some Diana Krall songs or keep reading to learn more about appreciating jazz.
How to Listen to Jazz
#1. Know your jazz standards.
Knowing a few jazz standards can help you appreciate what individual artists bring. No two people play "Autumn Leaves" the same way. And no two performances of "Autumn Leaves" are the same either. Here are some jazz standards you'll run into:
Autumn Leaves
Summertime
The Girl From Ipanema
Body and Soul
In a Sentimental Mood
Take the "A" Train
Georgia on My Mind
Over the Rainbow
Fly Me to the Moon
All the Things You Are
Take Five
Giant Steps
#2. Listen for common jazz elements.
Conversation. Many jazz performances follow a call and response pattern. See if you can pick this out.
Style and emotion. Jazz is very technical, but it's also a way for musicians to express themselves. Jazz players tend to bring their unique personalities to standard songs. Musicians also take bits and pieces of inspiration from others and put their own spin on it. All interesting elements to listen for!
#3. Appreciate the history of jazz.
Jazz has become a respected form of music renowned for its sophistication and complexity. But this was not always the case. The original creators of jazz were some of the most marginalized people in America. For example, call and response comes from work songs sung by enslaved people.
Understanding jazz's humble roots is an important part of appreciating it, especially since the Black community doesn't always get the credit it deserves in founding jazz.
I think music speaks for itself. And I'm not a writer, I was not born to be a songwriter. I was born to improvise, to play jazz piano.

Diana Krall on rarely having liner notes
#4. Keep an open mind.
With any new genre of art, it's important to keep an open mind.
Before you write off jazz, listen to a wide scope of the stuff. There is a diversity of styles out there, with bits and pieces borrowed around and re-imagined. And while it helps to listen to jazz analytically (appreciating what goes into creating jazz), it's also important to listen creatively. That is: enjoy it!
🎹🍁 OSCAR PETERSON – ANOTHER GREAT JAZZ CANADIAN: If you're a pianist, a jazz enthusiast, a Canadian, or any of the above, check out Oscar Peterson. "The man with four hands" is one of the greatest jazz pianists of all time — scratch that, he's one of the greatest pianists of all time.
5 Diana Krall Songs for Jazz Beginners
1. Autumn in New York
"Autumn in New York" is accompanied by a gorgeous black and white music video filmed by Davis McCutcheon and directed by Mark Seliger. Perfect to lie back, listen to, and watch to get into jazz mode. This tune is a jazz standard originally composed by Vernon Duke and made famous by Frank Sinatra.
Fun fact: "Autumn in New York" was composed in Westport, Connecticut and not NYC!
2. Wallflower
Diana Krall's rendition of "Wallflower" is an easy listening experience with less syncopation and more of a pop ballad feel. The live version with a full string section even has a country twang to it.
Fun fact: "Wallflower" is written by Bob Dylan and Diana first heard it on a bootleg series.
3. California Dreamin'
If you're unfamiliar with jazz, it may help to get an entry point through a non-jazz song you already know. "California Dreamin'" is a famous hit that isn't a jazz standard. So, it's interesting to hear it jazzified by an ensemble that includes a rigorous string section. I especially like Diana's solo in this performance, which departs quite a bit from the song's melancholic feel.
Fun fact: the flute player in the original Mamas and Papas track is Bud Shank, a key figure of the Cool Jazz movement. He is said to have recorded the solo in one take.
4. There Ain't No Sweet Man Worth the Salt of My Tears
Jazz can get a little too smooth sometimes, but this performance of "There Ain't No Sweet Man Worth the Salt of My Tears" is fun and uppity. Diana Krall shows off her mastery of the keys during those intro licks, and watching the piano and guitar stay tight during some intense syncopation is also fascinating.
Fun fact: This song made its original debut on Peggy Lee's 1963 album I'm a Woman and was written by Fred Fisher.
I don't really have to proof my authenticity. All I have to do is sit my ass on that piano and play. I don't have to say a word about authenticity. Of course it's important to me. But also important for me is having fun, doing something different, trying something new, and giving up control.

Diana Krall
5. Frim Fram Sauce
"Frim Fram Sauce" is another fun little track. Originally written by Redd Evans and Joe Ricardel, it was made famous by Nat King Cole. And yes, people have obsessed over what "frim fram sauce" is. Apparently, its slang lineage goes all the way back to 1546. And with other curious lyrics like "ussin-fay" and "side of shafafa," the meaning has been surmised as "oleaginous goo of deceit poured over some unsuspecting dupe."
Fun fact: Diana's trio, like Nat King Cole's, also lacks a percussionist on the recording.
Who to Listen to Next
If you enjoyed these Diana Krall songs, we hope you get inspired and listen to more jazz piano. On the piano front, Oscar Peterson is an absolute legend (here's a profile we did of the "man with four hands" to get you started). If you're up for a more experimental sound, Chick Corea's music may need some getting used to but is fascinating once you get the hang of it.
And if you're itching for even more Diana Krall, watch this video of her full set where she also answers audience questions.
More Jazz Stuff
Special thanks to Sam Veseley for helping me out with this article. He's our jazz expert in residence, and if you want to learn more jazz stuff, check out Sam's lessons:
Cover image by Bojin, CC BY-SA 3.0.