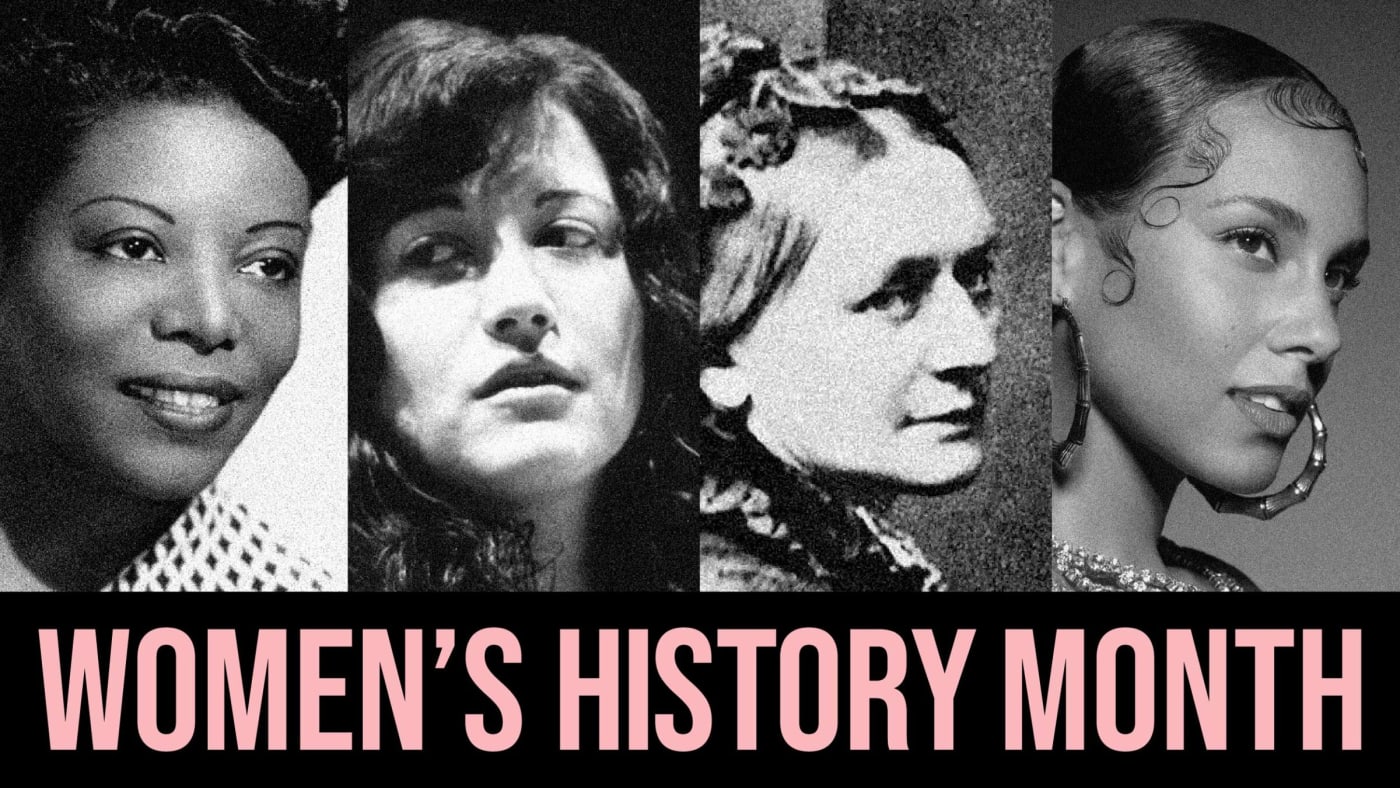 March is Women's History Month! This month, celebrate the contributions of female pianists by learning about women who have made history in the piano world.
Female Pianists Throughout History
Women weren't always a big part of the music industry. And many of the world's top piano players (from Elton John to Lang Lang) are men.
For example, Wolfgang Amadeus Mozart's sister Nannerl was a brilliant pianist who may have composed music of her own. But when she became an adult, it was no longer socially acceptable for her to perform in public. So she retreated from public life, married, and became a teacher.
Today, some of the most respected pianists in the world are women. Still, most of the piano music we play are composed by men. So, in this listicle of women pianists, we won't just include performers but creators as well. And we'll cross through many genres!
🎹 Boost Your Piano Knowledge 🧠
Enjoying this article? Sign up for free lessons, interviews, tips, and other interesting content that will make you a better pianist. Unsubscribe anytime.
Classical Pianists
1. Martha Argerich
The musician some claim as the greatest living pianist in the world right now is a woman: Martha Argerich.
The Argentine-born pianist is eighty years old at the time of this post and still performing with the charisma she had when she debuted in the 60s. Argerich exhibited musical talent early and was pushed into studies as a result. An early teacher once remarked that she was six years old with the soul of a forty-year-old.
While her technical virtuosity may suggest a disciplined lifestyle, Argerich has a reputation as a somewhat chaotic artist. She is known to cancel concerts at the last minute, but that hasn't stopped loyal fans from flocking to her shows.
We recommend watching the documentary Bloody Daughter (made by Argerich's youngest daughter) to learn more about this fascinating pianist.
2. Yuja Wang
Yuja Wang is one of the biggest piano names today. The piano was a wedding gift to her parents, Wang started playing on it one day, and the rest is history.
Wang recalls attending Swan Lake performances with her ballet dancer mother as a formative musical experience. She has since been associated with the Russian masters like Rachmaninov and Prokofiev.
All those Russian pieces, they have a way [of bringing] out all the emotions and all the longings, nostalgic feelings in us so we feel really human. But at the same time it's like something larger than life, larger than humans, something we're all connected to. So there's like a collective maestoso, glorious feeling about it. That we are part of something bigger than us.

Yuja Wang: Interview with LISTEN Magazine
Today, Wang is both a formidable performer and a style icon, instantly recognizable by her asymmetrical hairstyles, striking outfits, and, of course, fearless playing.
3. Clara Schumann
For most of history, women composers were frowned upon. Still, Clara Schumann (wife of Robert Schumann) spawned a legacy not just in piano but in music as a whole.
Schumann learned how to play piano from her father, Friedrich Wieck. Then, a young Robert Schumann moved in and took piano lessons from Wieck. He eventually fell in love with the teenage Clara. The two married against the wishes of Clara's father, and their relationship, while lopsided at times, was one where they largely supported each other's careers.
While she only published 23 compositions, mostly for solo piano, Clara Schumann is credited with building what we know today as the "recital." While it was Liszt who coined the word, Schumann made an art out of forming a programme people would enjoy, interspersing popular pieces with lesser-known ones. She especially championed Beethoven's music, nurturing an interest that lasts to the present day.
Jazz Pianists
4. Mary Lou Williams
Mary Lou Williams may not be a household name for everyone, but she was the force behind some of jazz's biggest history makers. In fact, she mentored students like Miles Davis, Thelonius Monk, Dizzy Gillespie, and more.
A prolific composer and arranger, Williams began arranging for Andy Kirk and His Clouds of Joy at age 19. She then wrote over 350 compositions during her career. She was especially respected for her music notation skills, as swing rhythms and occasional dissonance (common in jazz) are notoriously difficult to write down.
Williams helped usher in the new genre of be-bop. She also took a three-year break from music at one point, converted to Roman Catholicism, and then penned religious music. Because she had difficulty getting a record deal herself, she founded her own record company, Mary Records, as well as a publishing company, Cecilia Music Co.
5. Diana Krall
Diana Krall's combination of sultry vocals and classy piano has made her a jazz icon. Raised in a musical family, Krall studied at the Berklee School of Music and first rocketed to fame in the 90s.
People will say, 'All you're doing is cocktail piano.' I don't obsess about that. Things that sound simple . . . it's not the easiest thing.

Diana Krall: Interview with Jazz Times
As for singing, for a long time the only place Krall sang was after school with her maternal grandma. She tried to sing as little as possible, but soon learned that adding vocals to her performance significantly advanced her career.
For folks new to jazz, Krall's music is an accessible yet sophisticated introduction. Here's a list of songs by Diana Krall to try out first, including a list of jazz standards to familiarize yourself with if you plan to explore the genre.
Pop Pianists
6. Alicia Keys
It's right in her name! Alicia Keys has become a contemporary pop piano icon with hits like "Fallin'," "If I Ain't Got You," and "Empire State of Mind" ruling the early 2000s. She started playing piano at an early age because it allowed her to focus and create.
Raised by a single mother in a rough area of New York City, Keys' career has been driven by hard work, occasionally escaping from the spotlight, and plenty of self-awareness. Themes like ambition and hope are present in a lot of her music, as is the city of New York.
I've always been an advocate, like somebody who understands the fight of defying the odds. I think that drives me a lot with what I sing about, and what I write about really talks about kind of this idea of potential and possibility because I as well, at one time, there was nothing but a potential or possibility.

Alicia Keys: NPR
7. Lady Gaga
Lady Gaga is best known as a pop icon and for her dark, powerful vocals. So it may surprise you to learn that she was accepted into Julliard at age eleven to study piano!
Raised in New York, Gaga's childhood was filled with art. She took singing lessons with Christina Aguilera's vocal coach and had full-day acting lessons on Saturdays. She also studied classical piano and credits her pop song writing skills to understanding how classical music works. "It's all tension and release."
Gaga's parents bought her a Boston grand piano when she turned 13, after she proved that she was serious about pursuing music. Years later, on that same piano, Gaga and her dad composed "Edge of Glory" while drinking tequila. It was the evening before her grandfather died and the song was written in celebration of his life.
---
Women's History Month was first declared official by the U.S. Congress in 1987. Women have contributed generously to the evolution of music, but we may not know the full extent of their contributions because theirs were not always recorded.
We hope this list of female pianists will inspire you to discover more woman musicians. And the next time you notice that women seem to be missing from a particular art form, pause and ask yourself why. Then, take to the internet and see if it's really true. Chances are, plenty of women are creating awesome things!