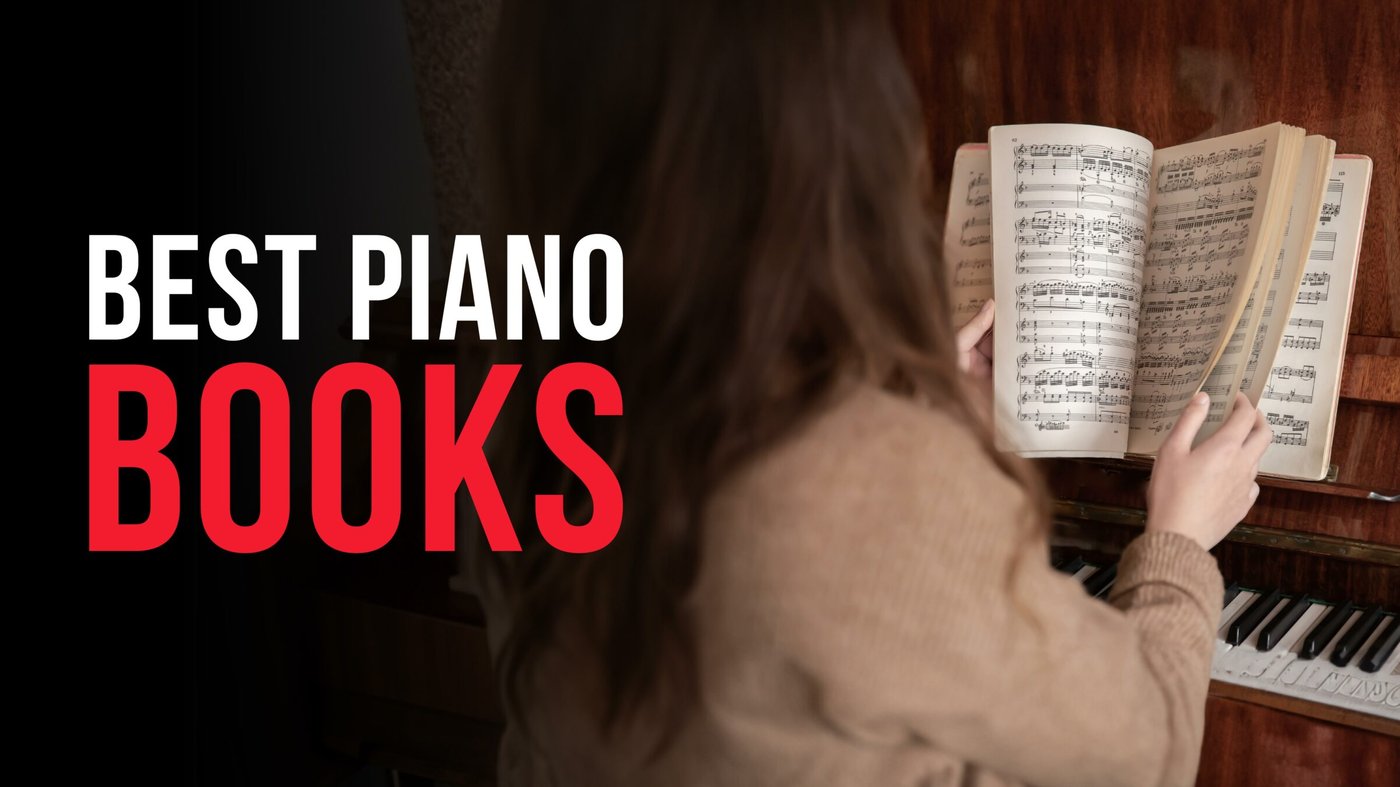 Want to learn how to play piano? A piano method book can help! In this post, I'll review the best piano books for beginners for adult learners who want to learn how to play piano.
I've chosen the most well-known names like Faber, Bastien, and John Thompson. These method books have been used in piano teaching for years and can be found at most music retailers and Amazon.
For best results, we recommend using a piano method book combined with a teacher, course, or online program like Pianote.
🎹 Your Go-To Place for All Things Piano
Subscribe to The Note for exclusive interviews, fascinating articles, and inspiring lessons delivered straight to your inbox. Unsubscribe at any time.
*This article contains affiliate links, which means we might earn a small commission from the product seller if you make a purchase. For more info, check out our privacy page.
Why use a piano method book?
Today, there are tons of ways to learn piano. But despite our love for all things digital, books remain popular. Some advantages of books include:
Flexibility. Learn at your own pace. Spend more time on topics that interest you. Read your book between lessons or use it as a supplement to your Pianote+ Membership!
Affordability. Books are way cheaper than hiring a teacher, and you can even get them for free from the library.
Palpablility. While YouTube tutorials, eBooks, and iPad sheet music are all the rage these days, there's something nice about being able to hold and flip through a physical book.
---
BEST PIANO BOOKS FOR BEGINNERS: METHOD BOOKS
Faber: Adult Piano Adventures All-In-One Course Book 1
Authors: Randall Faber and Nancy Faber
List Price: US$19.99
Multimedia: QR codes link you to play-along and instructional videos. There's also a Piano Adventures app and the website has tons of resources.
Best For: Adult beginners who want an in-depth and well-rounded introduction to piano, ideally with a teacher or mentor.
BUY NOW ON AMAZON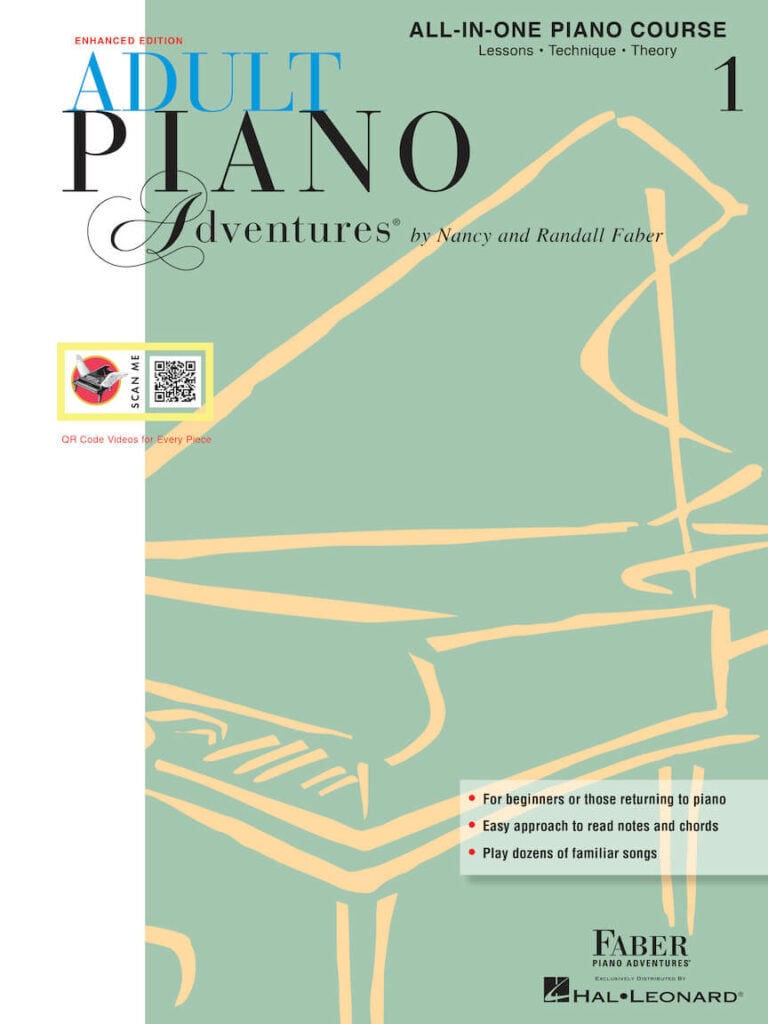 Pros
Cons

All-encompassing modern method: you'll learn technique, theory, intervals, scales, and chords.
Encourages improvisation.
Beautifully designed and spiral-bound.
Lots of supplemental digital resources.
Very detailed and gradual approach to concepts.

Best to do with a teacher or mentor. I couldn't find an answer key for the worksheets and there are teacher accompaniment parts.
Song selection isn't the best.
Amount of information can be overwhelming. Gradual approach may feel too slow for some students.
Let's start with one of the most popular method book series: the Faber Piano Adventures. Written by a husband-and-wife team, this is a well-written and beautifully designed book divided into 16 units. Each unit has a technique exercise and a theory quiz.
The Faber is detailed and comprehensive. Topics include posture, how a piano works, chords, and scales. This is perfect for those who aren't in a rush and want to build a solid foundation. (And if you find it too slow, you can check out the Faber Accelerated series for teens.)
This is a modern method and you'll even learn how to read and play with lead sheets! However, I was a little disappointed with the song selection—arrangements don't start sounding good until around Unit 11. I also find that the Bastien book (which is a similar length) progresses to a higher level by the end.
---
Bastien: Piano for Adults – Book 1
Authors: Jane Smisor Bastien, Lisa Bastien, Lori Bastien
List Price: US$19.99
Multimedia: You can download an Interactive Practice Studio that lets you play along with Jane Bastien, set the tempo, loop, and record. There's also a version with a CD.
Best For: Ambitious learners who enjoy challenge and being quizzed.
BUY NOW ON AMAZON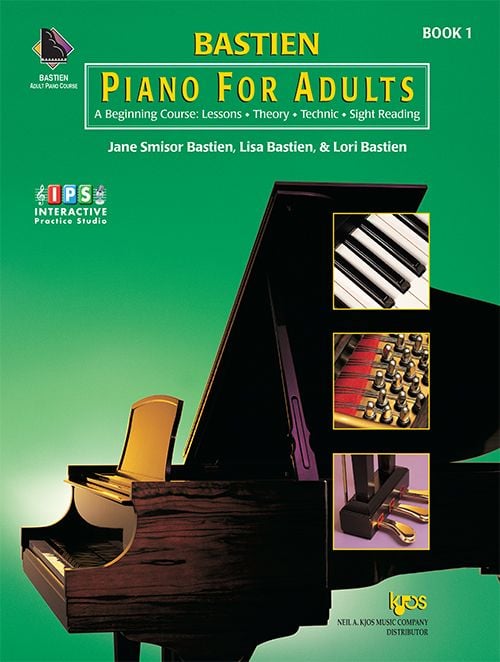 Pros
Cons

Bold text and spiral binding make it convenient for music stands.
Activities and review assignments are integrated seamlessly into the book.
You'll learn both standard notation and chord symbols.
Challenging technical exercises.
Decent music.

Written exercises may not be everyone's cup of tea.
Lack of blues, jazz, and pop until semitones are introduced on p. 109.
Initially, can be a lot of information for beginners at once.
According to science, the best way to remember what you learn is to test yourself. This is what Bastien's method book does. There are reviews, exercises, and quizzes woven throughout the book. Add to that a "challenge piece" at the end of each chapter and some technical exercises, and this book really wants you to progress.
Reading music is introduced through simplified contour notation (see the Hal Leonard screenshot for an example of what this looks like) and you're encouraged to memorize where notes are.
The best thing about this book, though? The songs sound good! Which is SO important in keeping students motivated. There are beautiful arrangements of "Fantasie Impromptu" (Chopin), Sonata in A Major (Mozart), and even a "Für Elise" excerpt that's almost identical to the first section of the original. Which gives you a good idea of how far you can progress with this book.
---
Alfred's Basic Adult All-in-One Course, Book 1
Authors: Willard A. Palmer, Morton Manus, and Amanda Vick Lethco
List Price: Comb-bound book – US$19.99
Multimedia: Book + DVD costs US$24.99. Comb-bound book + CD costs US$24.99. CD has accompaniment/rhythm in left channel and piano in right channel.
Best For: Those who want the most comprehensive foundation possible, including detailed theory and technique.
BUY NOW ON AMAZON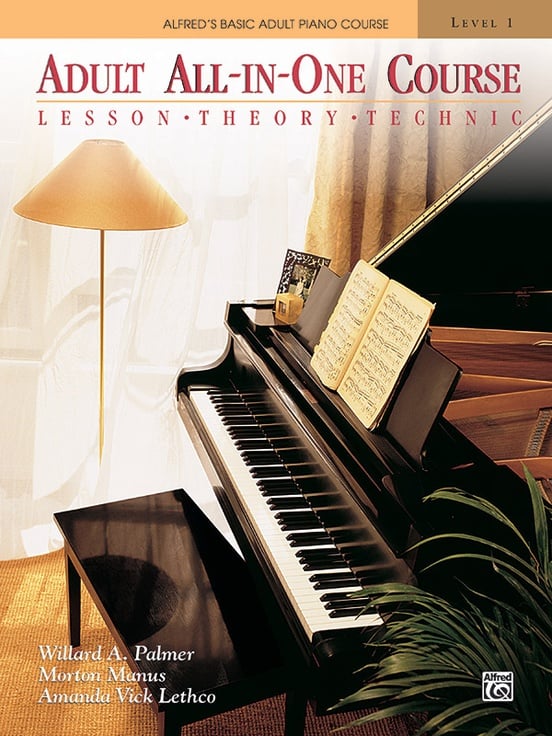 Pros
Cons

Detailed information about hand technique, hand health, and many technical exercises, including Hanon.
Comprehensive information on chording and chord progressions.
Good introduction to blues and jazz.
Lots of theory.

Many written exercises, which may/may not be your preference.
Songs are so-so.
Despite length and depth, introduces basic concepts rather quickly and may be too fast for some.
Well-written and comprehensive, this is a content-packed 143-page book with a lot of emphasis on theory and technique. The book even discusses hand anatomy and introduces Hanon exercises and the Leschetizky Solution, which aims to strengthen the fourth and fifth fingers.
Students will learn how to read music by writing note names and reading note letters inside the notehead. This contrasts with the more intuitive approach that other books use, such as simplified contour notation.
I like that this book covers a good deal of chord theory, including primary chords, chord progressions, and even the 12-bar blues form. There's a decent amount of jazz and blues content. The last unit introduces students to D minor, which is typically out of a level 1 book's scope.
It Takes More Than Reading a Book
Books should be seen as a companion to learning, not the main course.
So what fits as a main course? The 10-step Pianote Method is a good contender! Unlike other online programs, you'll learn with real teachers who can answer your questions and give personalized feedback.
What's more, our method is designed for the modern player in mind. You'll learn all about chords and harmony, which are essential tools to write songs, improvise, and unlock your own creativity. This learning method remains relatively uncommon in traditional method books.
TRY PIANOTE FOR FREE
John Thompson's Adult Piano Course – Book 1
Author: John Thompson
List Price: US$10.99
Multimedia: No
Best For: Those with teachers, or those using a more step-by-step method who want more beginner repertoire.
BUY NOW ON AMAZON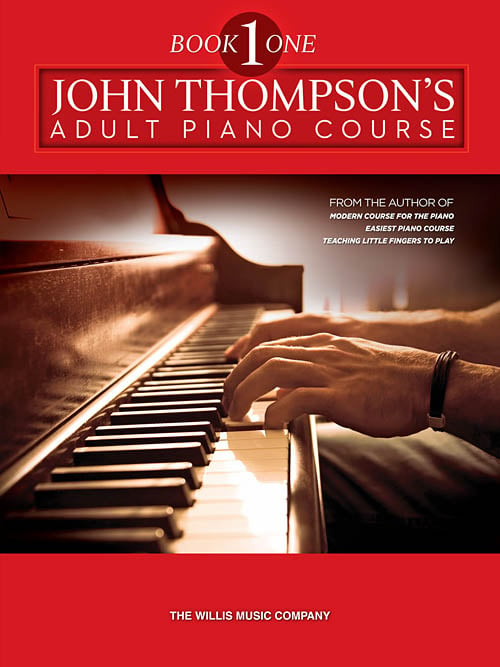 Pros
Cons

Beautiful pieces—probably the best-sounding pieces on this list.
Strong emphasis on developing musicality and artistry.
Cheapest option on this list.
Beautifully designed and written.

Best to have a teacher guide you through the book and play the accompaniments.
No multimedia.
Concepts are introduced rather quickly.
Chords are only briefly mentioned; very little chord theory.
John Thompson books are classics. In fact, I, the author of this list, used his Easiest Piano Course for kids as my first piano book!
Thompson's approach is a little different; it's somewhat old-fashioned in its writing style and takes a "melody first" approach. "Music is a great art and an exact science," writes Thompson. "By using the Melody Approach, the student is led to think of music first as an art."
Phrasing, articulation, and dynamics receive a lot of attention. "In the early examples the wise teacher is not too insistent about technical principles," writes Thompson. "Rather, every effort is made to have the student think and feel musically, even if it is at the expense of ideal playing conditions."
Notation is introduced immediately— the grand staff, note values, and time signature are explained by page 3. So, it's best to use this book with a teacher or more experienced pianist who can explain the concepts and play the accompaniment parts. And there are detailed instructions for teachers, teaching them how to teach!
The strongest aspect of this book? Thompson is a brilliant composer and the pieces are beautiful.
---
Hal Leonard Student Piano Library: Adult Piano Method – Book 1
Authors: Fred Kern, Phillip Keveren, Barbara Kreader, Mona Rejino
List Price: US$17.99
Multimedia: Yes. There's an online library with full orchestral accompaniment! You can loop and set tempo too.
Best For: Those who prefer an intuitive and creative approach.
BUY NOW ON AMAZON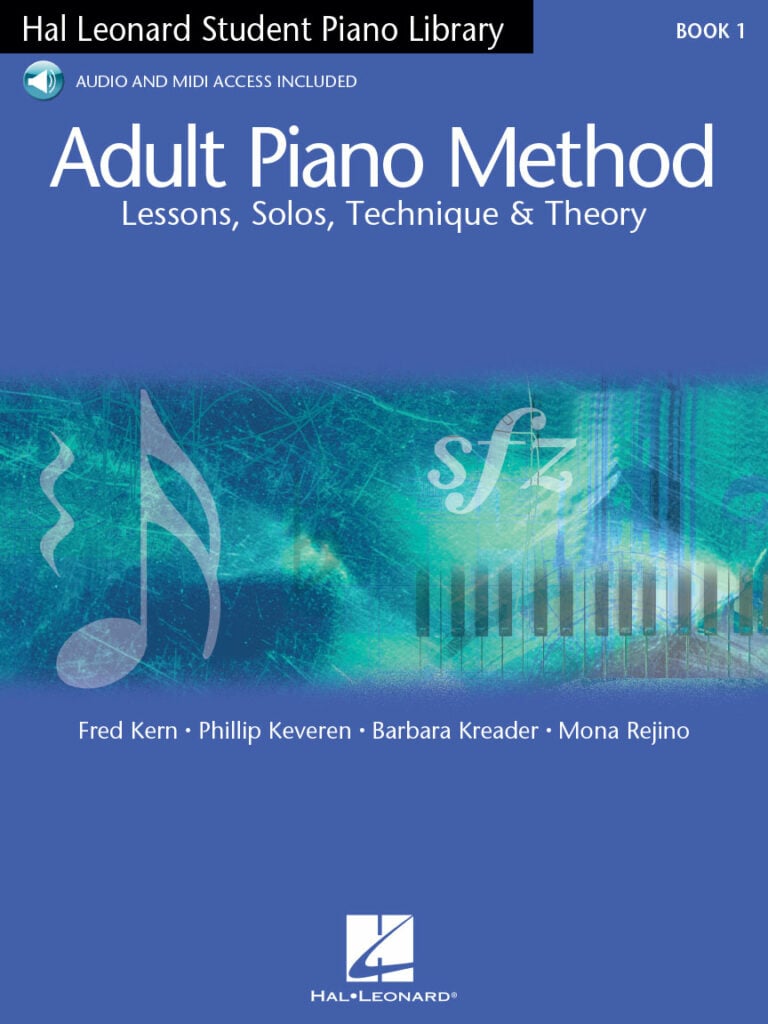 Pros
Cons

Encourages improvisation, exploration, and creativity.
Little-bit-of-everything approach gives a holistic overview without being overwhelming.
Emphasis on keyboard geography and physical comfort before reading music.
Clear and concise writing.

Book design and writing style are more on the bland side.
Best to have someone play accompaniment to get the most out of the book.
Song selections aren't the best-sounding.
Hal Leonard is a megahouse of music education and publishing, so I definitely had to review this book. And it's solid! You'll do cool stuff right off the bat, like ad-libbing with the black keys right after they're introduced. For the entirety of Unit 1, you'll play with notes that are not on the staff but arranged in a general contour of the music. Numbers and a keyboard diagram show you which keys to play.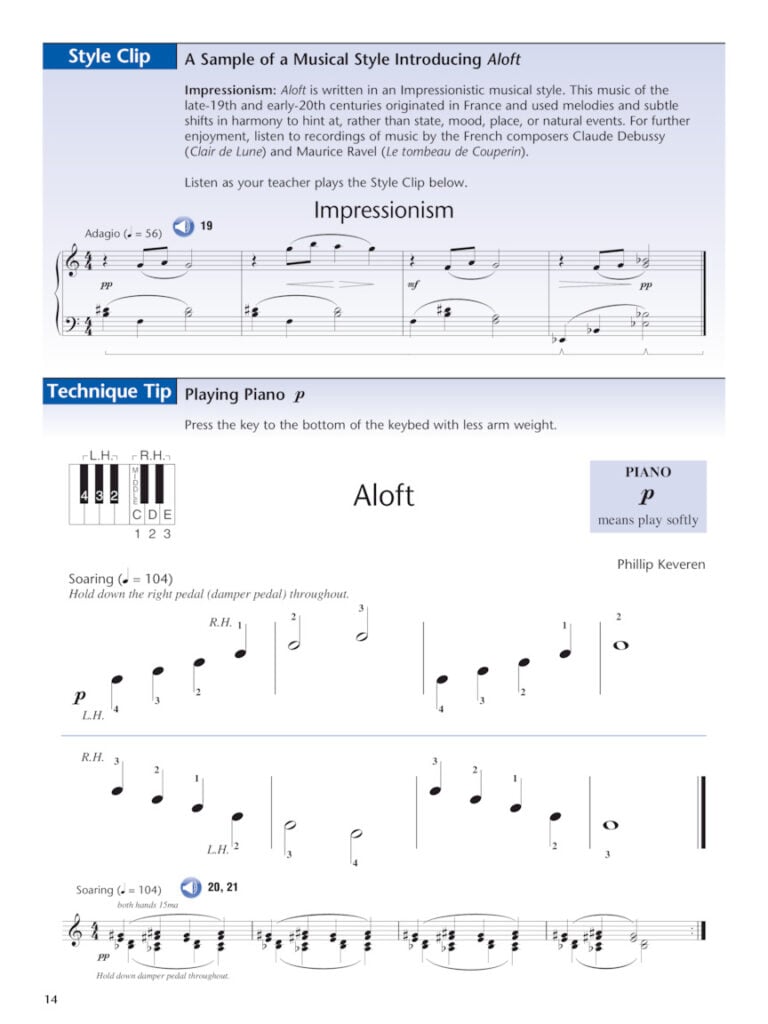 There's a big emphasis on keyboard geography, technique, and physical comfort before you're introduced to standard notation in Unit 2. You'll also learn a little bit of everything including intervals, articulation, and elements of different musical styles. It's a gentle and gradual approach that builds confidence with special attention paid to improvisation that is rare in other books.
Why Do Songs In Method Books Suck?
A common complaint among method book users is that their songs tend to be boring. These songs tend to be folk songs and nursery rhymes, with maybe a few classical melodies. That's because authors are limited to music they are licensed to publish; pop songs are excluded because they're copyrighted.
But learning by playing music you actually like makes a huge difference. We recognize that, which is why the Song Library in the Pianote Members' Area is licensed by Hal Leonard. That means we have transcriptions of your favorite songs, from Bee Gees to Billie Eilish, Inception to The Legend of Zelda. Try a Pianote+ Membership to access Songs today!
TRY PIANOTE FOR FREE
---
The Classical Piano Method – Method Book 1
Author: Hans-Guenter Heumann
List Price: €11.99 (US$16.99 on Amazon.com)
Multimedia: Yes. The attached CD includes professional recordings of all pieces and some play-along tracks.
Best For: Beginners with a particular interest in classical music, who want to learn by playing iconic classical melodies.
BUY NOW ON AMAZON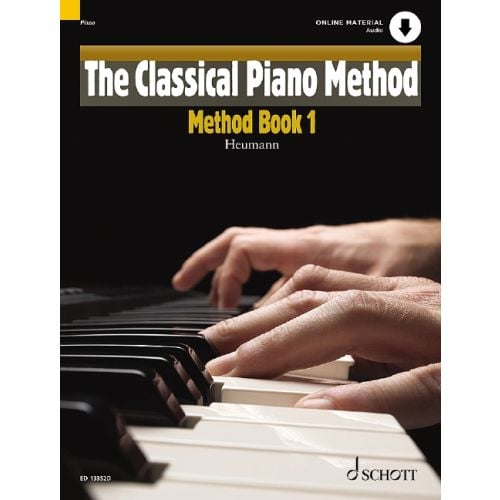 Pros
Cons

Clean and sophisticated design with clearly numbered lessons. Hard cardboard cover makes it easy to lay flat on music stand.
Both British and American terms.
Lots of detailed focus on technique and theory.
Periodic "Theory Check" quizzes that can be delightfully challenging!
Informative bits about music history and composers, including more obscure ones like Rameau and Diabelli.

Only classical music—no jazz or pop.
Very little info on chord theory and improvisation.
Progresses quite quickly—a lot of information in a short amount of time. Last few pieces aren't easy!
Despite focus on classical music, selections are often more obscure pieces and composers. I had expected more iconic pieces.
Not only does The Classical Piano Method teach you how to play piano, it's also a history lesson on composers and musical forms.
Students start with simplified notation, then repetition, steps, skips, and the contour of music before reading the grand staff. There's a lot of focus on technique, such as relaxing your muscles and breathing. There are also regular theory pop quizzes, practical practice tips, and a handy glossary and theory reference guide.
As suggested by the title, this book is aimed at classical music enthusiasts, so there is no jazz or pop at all. The teaching style is also quite traditional. Fingering "should always be followed precisely," and while improvisation is mentioned briefly, we don't learn much in terms of chord theory, which is fundamental to improvisation.
While the song selection should keep classical enthusiasts busy, I was a little surprised that there aren't more iconic pieces. Still, those who love classical music are bound to have fun. There's a lot of information in this book, so take your time with it!
You can find a full preview of this book here.
---
Piano For Dummies (3rd ed.)
Authors: Adam Perlmutter, Hal Leonard Corporation
List Price: US$29.99
Multimedia: Yes. The book occasionally directs you to www.dummies.com/go/piano for audio tracks and video clips.
Best For: Use as a supplementary and more detailed how-to book alongside a more practical method book.
BUY NOW ON AMAZON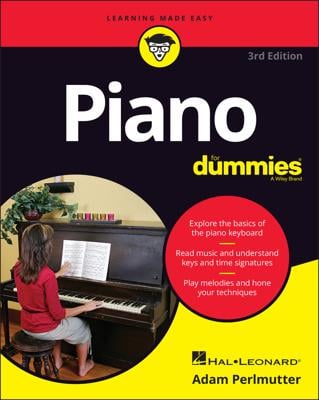 Pros
Cons

Well-written, humorous tone; very enjoyable to read!
Well-organized information hierarchy.
Holistic: covers how to buy a piano and how to find a piano teacher.
More advanced example pieces (especially the blues and R&B ones) sound pretty good.

Long (361 pages); reads more like a textbook.
More intellectual than practical.
Organized by topic, not difficulty, so can be overwhelming for beginners who should learn concepts bit by bit.
Emphasizes traditional notation, which may not be the preference of pop and jazz students.
Piano For Dummies is a little different from the other books we've discussed. It's organized by topic, so, rather than introducing a concept bit-by-bit over the entirety of a book, one chapter on chords will include everything from basic triads to complex 7th chords. This can be overwhelming for a beginner, so I recommend using this book as a companion to another method book.
This book succeeds in how fun it is to read. There are legitimate laugh-out-loud moments! The frequent references to online resources that you must type out on your browser can be a little distracting, however.
---
Verdict
Piano books are subjective. If you're undecided, see if you can borrow several different methods from the library and try them out.
Choosing the right book also depends on your personal goals. In my humble opinion, I believe the following books from the list are best for the following purposes:
If you like classical music, consider John Thompson's Adult Piano Course or The Classical Piano Method.
If you like pop or jazz, Alfred's Basic Adult All-In-One Course provides a good chording foundation while the Hal Leonard Adult Piano Method teaches improvisation and creativity.
If you just want an all-around foundation, the Faber and Bastien books are solid choices.
If you want to go beyond learning how to read music and play songs, immerse yourself in the world of piano with Piano for Dummies.
Remember: you can mix and match methods! If you need a little extra support, consider becoming a Pianote Member. That way, you'll get real advice from real teachers.
Other Great Books for Adult Beginners
Again, method books are just one part of the equation. Songbooks, technical exercises, and reference books can be useful too!
More articles on similar topics:
🎹 Learn Piano With Real Teachers
Get real feedback from real experts…all from the comfort of your own home. Explore our Method and community yourself with a free 7-day trial.
TRY PIANOTE FOR 7 DAYS