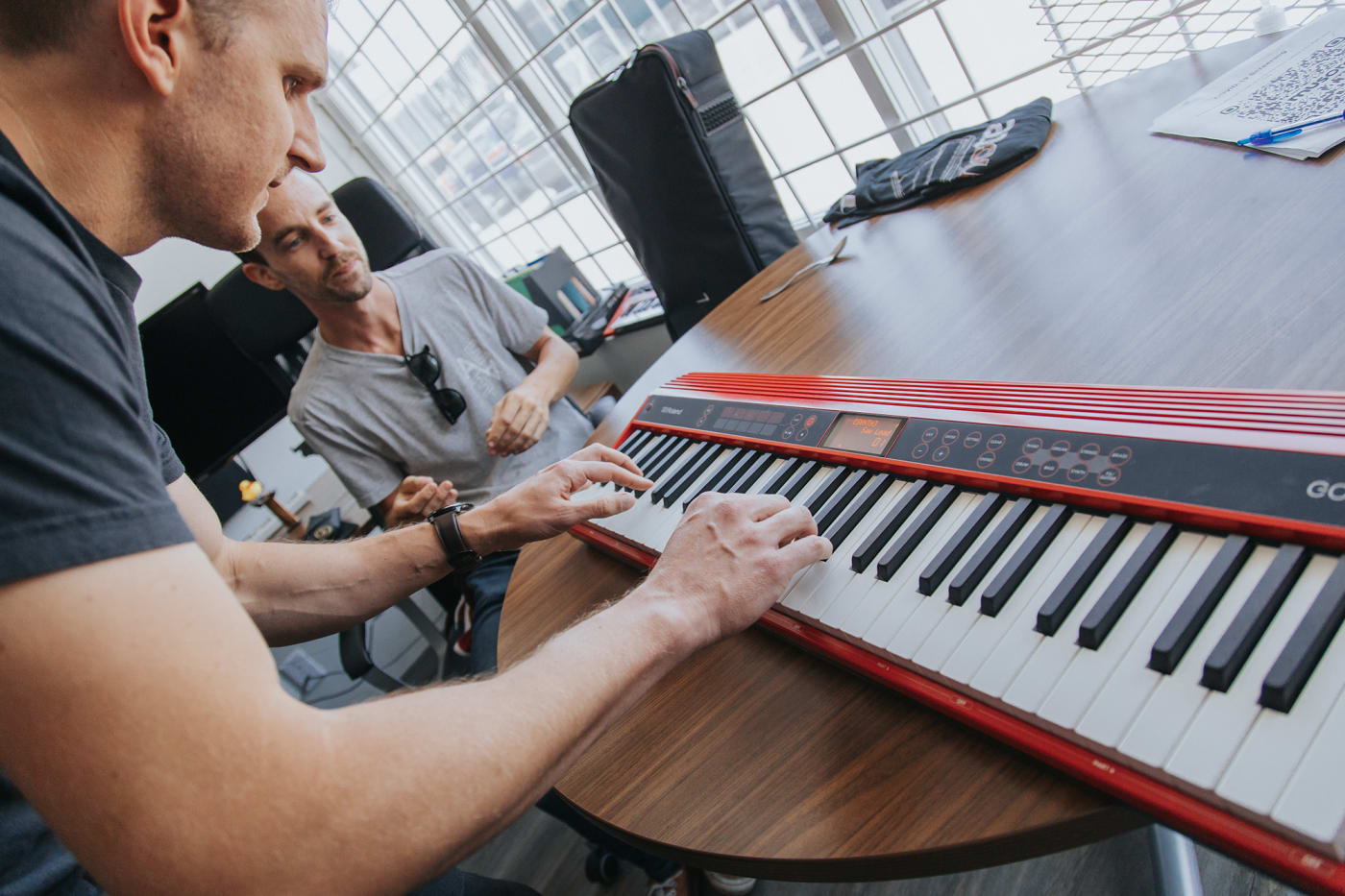 Chord progressions are the foundation for practically every song ever in the Western music canon, from classical and jazz to pop and RnB. The cool thing about chord progressions is that you don't need to know how to read music to use them, and knowing just a few piano chord progressions will unlock hundreds, even thousands of songs at your fingertips.
In this lesson, we'll explain in detail how piano chord progressions work, how to use them, and how to take your progressions to the next level. We'll also introduce you to some of the most popular progressions in music.
Prefer to watch a video? Get a hands-on approach to these concepts with our Piano Bench episode:
🎹 Your Go-To Place for All Things Piano
Subscribe to The Note for exclusive interviews, fascinating articles, and inspiring lessons delivered straight to your inbox. Unsubscribe at any time.
WHAT ARE PIANO CHORD PROGRESSIONS?
What is a chord progression? In short, a chord progression is simply a sequence of chords played one after the other, that sound pleasant together.
Chord progressions drive a song's narrative. Some progressions "lift" up the song by making you feel like you're going somewhere. Other progressions "resolve" a song by making you feel like you've reached a song's end. In other words, chord progressions tell a song's story.
Of course, songs aren't just chords played one after the other. What often happens is there's a melody that uses notes from a chord progression, with some passing notes sprinkled in between. Here's an example:

Recognize this piece? It's Beethoven's "Für Elise"! One of the most famous pieces for piano begins with a simple i-V-i progression.
The Number System
If you really want to understand chord progressions, it helps to understand the number system we'll be referencing throughout this article.
In the number system, we name chords after the scale degree they're built on. For example, take C major. The first degree of C major is C, the second degree is D, and so on. If we build a chord on C, that's a "1 chord." And if we build a chord on D, that's a "2 chord."
The number system is great for visualizing chord progressions because it doesn't marry you to a specific key.
So what about the Roman numerals? Musicians like to use Roman numerals because the uppercase letters can represent major chords and the lowercase letters can represent minor chords. Interestingly, the ii, iii, and vi chords are minor chords in all major scales!
> Full Lesson: The Nashville Number System for Piano: A Beginner's Guide
9 POPULAR PIANO CHORD PROGRESSIONS
There are several chord progressions that you will run into again and again in music. Reusing these progressions doesn't mean that music isn't creative—some progressions just work super well! Remember, progressions are just a skeleton. There is so much we can do to a progression to make it our own.
The Pop Progression
Progression: I-V-vi-IV
Chords in C Major: C-G-Am-F
The I-V-vi-IV progression is the most common chord progression you'll find. In C major, the chords you'll play are C-G-Am-F. These are the first four chords you should learn as a piano player because just like the I-V-vi-IV progression, they're everywhere in pop music.
Songs that use the I-V-vi-IV progression include:
> Full Lesson: The 1-5-6-4 Chord Progression
Altered Pop Progression
Progression: vi-IV-I-V
Chords in C Major: Am-F-C-G
This is a "sub-progression" of the I-V-vi-IV because it's the same chords, just played in a different order and creating a moodier sound. Songs that use the vi-IV-I-V progression include:
The Jazz Progression
Progression: ii7-V7-I7
Chords in C Major: Dm7-G7-Cmaj7
The ii7-V7-I7 progression is the building block of jazz music. In jazz piano improvisation, this progression are often used as chord substitutions for some quick reharmonizing magic.
Typically in jazz, we play these chords as 7th chords. In C major, that's Dm7-G7-Cmaj7. That's a minor 7th chord, a dominant 7th chord, and a major 7th chord. If you want to become a jazz pianist, it's best to know this progression in all twelve keys. That way, you can add them spontaneously while improvising.
Songs that use the ii7-V7-I7 progression include:
Autumn Leaves
Joseph Kosma
Summertime
George Gershwin
> Full Lesson: The 2-5-1 Chord Progression: Beginner's Guide. Also, check out these three popular jazz progressions.
The Doo-Wop Progression
Progression: I-vi-IV-V
Chords in C Major: C-Am-F-G
The I-vi-IV-V is also called the "50s" progression because it was popular in 50s songs like "Earth Angel" and "Unchained Melody." The Doo-Wop has an uplifting mood thanks to those IV and V chords at the end. Popular songs that use this progression include:
I Will Always Love You
Dolly Parton / Whitney Houston
The Andalusian Cadence
Minor Progression: i-VII-VI-V
Minor Chords in A Minor: Am-G-F-E
Major Progression: i-bVII-bVI-V
Major Chords in C Major: Cm-Bb-Ab-G
The Andalusian Cadence is named after the Andalusia region in Spain, where it was used in flamenco music. In A minor, this dramatic minor progression contains the following chords: Am-G-F-E. Notice that we raise the seventh note (G to G#) on the E chord. This raised seventh adds that distinct Spanish flavor.
We can also frame this progression as i-bVII-bVI-V in a major key. In C major, that would be: Cm-Bb-Ab-G.
Songs that use this progression include:
Hit the Road Jack
Ray Charles
Happy Together
The Turtles
Everybody Wants to Be a Cat
From The Aristocats
The Modal Progression
Progression: I-bVII-IV
Chords in C Major: C-Bb-F
This progression is based on the C Mixolydian mode. We can think of it as "borrowing" F major's key signature, which gives us that bVII chord. This neat-sounding progression creates that big, anthemic sound classic rock is known for. Listen for it in the na-na-na section of "Hey Jude." Songs that use the modal progression include:
The Root Movement Hotline
This chord progression is important to know if you're interested in playing gospel music. Erskine Hawkins calls it the Root Movement Hotline because you can think of it as a phone number you want to keep in your back pocket.
The basic movement is 1-4-7-3-6-2-5-1. However, we can alter each chord like this to sound more "gospel-y":
> Full Lesson: The Gospel Piano Chord Progression You Need to Know
The Pachelbel Progression
If you want a really good example of the power of chord progressions, look no further than 1680, when Johann Pachelbel's "Canon in D" was composed.
This is the Canon's progression:
I – V – vi – iii – IV – I – IV – V
…and it's found everywhere. You can hear the Pachelbel sound in:
Don't Look Back In Anger
Oasis
Here's a classic comedy sketch about the universality of this progression:
> Full Lesson: Pop vs. Classical: You Love Classical Music (You Just Don't Know It)
The Royal Roads Progression
Progression: IV-V-iii-vi
Chords in C Major: F-G-Em-Am
If you've ever wondered why some anime opening themes and video game soundtracks sound so similar, you're on to something. The IV-V-ii-vi chord progression is widely used in Japanese pop music and is called the ōdo shinkō or "Royal Roads" progression. Despite having two minor chords, this progression is quite cheerful and dreamy.
Rick Astley's "Never Gonna Give You Up" is often cited as an example of this progression, but as our friend David Bennett explains here, the IV in the famous rickroll song is actually a ii7. They sound very similar though!
Other songs you might recognize with this progression include:
Yura Yura
Hearts Grow (Naruto)
Lenna's Theme
Nobuo Uematsu (Final Fantasy V)
PROGRESSING TO THE NEXT LEVEL
You'll likely start with practicing piano chord progressions in their most basic root position form, but this can quickly get boring. In this section, we'll introduce some simple techniques to level up your playing.
Altering Chords
An easy way to make things sound more interesting is by slightly altering the sound of chords. We can do this with slash chords, inversions, suspended chords, and by revoicing.
Slash Chords and Inversions
Inverted chords accomplish two things: 1) they make chords sound more interesting without changing their core sound; and 2) they can make transitioning between chords easier. In chord charts, inversions are often notated as slash chords. For example, a C major triad in first inversion is notated as C/E, which can be read as "C over E."
Sus Chords
Another way to alter chords is by replacing them with suspended chords. Sus chords substitute the third of a chord with another note: a sus2 substitutes with a major 2nd while a sus4 substitutes with a perfect 4th. By removing the third, the listener is no longer certain whether a chord is major or minor (because it's neither!). This gives suspended chords an ambiguous, intriguing sound.
Revoicing
Finally, we can simply switch out a major chord for a minor chord. It's as easy as lowering the third of a major triad down a half-step. Even a tiny change can make a big difference!
Passing Chords
Using passing chords is a more advanced technique to make your piano chord progressions sound even more sophisticated. A passing chord is simply a transition chord between two chords of a progression.
Secondary Dominants
This technique is what gives RnB and gospel music their distinct sound and involves temporarily moving out of the current key between two chords. To do this, look at the chord you're moving towards (Am in our example) and find the V7 of that key (A minor). You should get E7. You may see this concept notated as V7/vi. This can be read as "V7 of the vi."
Passing 2-5-1s
Similarly, we can insert whole chord progressions into existing chord progressions! A common way to do this is by tossing in a quick 2-5-1.
Once again, think of the chord you're approaching as the "target" key. Then, find the ii and V chords of that key and play them in the lead-up. Watch a demonstration of this on "Happy Birthday" here.
Original "Happy Birthday" Progression
"Happy Birthday" Progression With Added 2-5-1
SONGWRITING WITH PIANO CHORD PROGRESSIONS
Now let's get to the fun stuff! Here are some quick tips on using chord progressions creatively.
What notes go with what chords?
If you're chording a song in C major, any melody played with notes from the C major scale will sound good with C major chords. It really is that simple!
If improvising feels scary at first, start small. Play a five-finger scale on top of a chord and then slowly branch out to other notes. Then, experiment with different rhythmic patterns and play several notes together. Soon, you'll be able to solo and improvise over any progression!
Mixing Chords to Create Mood
Progressions create narrative, and based on how you order them, the same chords can create different atmospheres. Try these:
"Happy" progression: I-IV-V
"Sad" progression: vi-iii-V-IV
"Hopeful" progression: IV-V-vi-I
"Dramatic" progression: vi-IV-I-V
> Full Lesson: How to Write Sad, Hopeful, and Happy Chord Progressions
Key Takeaway: Experiment!
When it comes to piano chord progressions, there is no right or wrong. Pick a key, identify your diatonic chords, and mix and match them to create a chord progression of your own. Then, toss in some chord alterations and passing chords to spice things up.
And if you're out of ideas…try not to start on the I 🤷
Have fun and happy practicing!
Master the Piano YOUR Way 🔥
As a Pianote Member, you'll get access to our 10-step Method, song library, and growing community of piano players just like you. Plus: get coached by world-class pianists and learn whenever you want, wherever you want, and whatever you want.
TRY PIANOTE FOR 7 DAYS