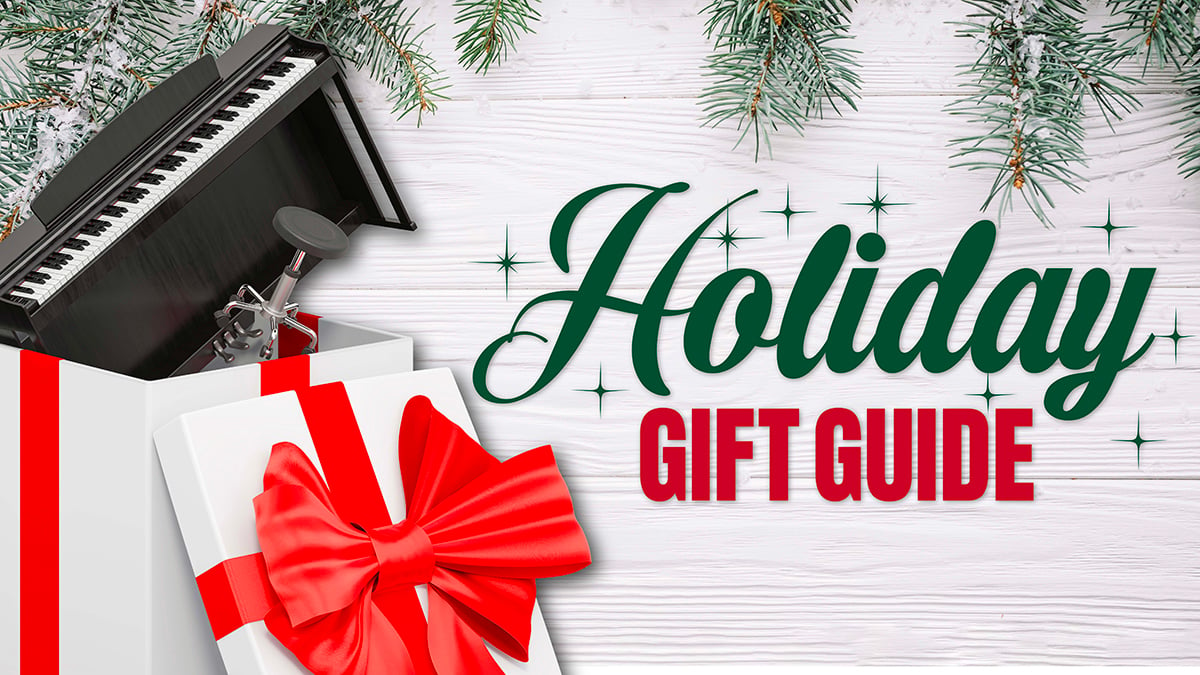 The winter holidays are just around the corner. Now is the time to shop gifts for the piano players in your life!
If you're not a pianist, buying a piano may feel intimidating. And even advanced pianists may not know what to get for a friend who's just starting out. In this guide, we'll take the guesswork out of shopping for you! Don't stress—we'll tell you how to buy piano gifts, what to buy, and for whom.
*Note: This article contains affiliate links, which means we might earn a small commission from the product seller if you make a purchase. For more info, check out our privacy page.
Gifts for Piano Players: How to Buy a Digital Piano
Digital pianos make amazing holiday gifts for piano players of all levels. They're compact, relatively inexpensive, and come in easily gift-wrappable boxes! They're also perfect for beginners.
Now, you may have heard that acoustic pianos are far superior to digital ones. But today's digitals are very sophisticated instruments. It is no longer universally frowned upon to learn piano on a digital keyboard. The trick is to buy a quality digital piano that checks the essential boxes:
✅ Try Before You Buy
If at all possible, try a piano before you buy it. How it feels under the fingers is subjective.
Now, this is more difficult if you intend to surprise someone with a new piano. But we still recommend trying a piano in-person if you can. If it passes your test, it's more likely to pass the test of the person you're buying for.
✅ 88 Keys
Aim to get 88 keys, even for a beginner. This way, the pianist can access the full range of notes a piano has to offer. Even if you or your giftee don't plan on playing complex music, you'll run out of keys quickly if you get fewer than 88 keys.
If you can't get 88 keys, 76 keys are the next best thing.
✅ Weighted Action
The action is how piano keys feel when you play on it.
Acoustic pianos can produce a wide dynamic range because how hard you press a key determines how loud you play. In recent years, digital piano makers have done a phenomenal job of imitating this mechanism.
Key feel can be a personal preference, but at the very least, buy pianos with weighted action. This means the keys will closely resemble that of an acoustic piano.
More Guides to Help You Buy a Piano 🛒
If you want to learn more about buying pianos, including how pianos work, check out the following articles:
How to Buy a Piano: The Ultimate Guide
Keyboard vs. Piano: What's the Difference?
Best Keyboards/Digital Pianos (All Levels) and Synthesizers
Still unsure? We've rounded up some top keyboards across three levels of piano skill: beginner, intermediate, and advanced.
If you know a budding producer, we also have synthesizer recommendations for you!
---
Keyboards/Digital Pianos for Beginners (Least Expensive)
---
🎹 Roland FP701
---
Keyboards/Digital Pianos for Advanced Players (Most Expensive)
🎹 Dexibell VIVO S9
---
Synthesizers for Budding Producers
---
Gifts for Piano Players: Accessories
Piano Equipment for Better Practice
The most important tool in a pianist's arsenal is their piano. But accessories like benches, lighting, music stands, and pedals can really elevate the playing experience.
And if you're comfortable practicing, you'll naturally practice more 😉
---
Stocking Stuffers
Need a quick, inexpensive, but witty gift? Here are some cool piano-themed gifts we found around the web that your beloved piano person will appreciate!
🎹 Novelty Gifts
Roll-up piano. To be clear, we don't recommend using this as your instrument to learn on! But roll-up and collapsible pianos are fun novelties for piano addicts on-the-go who have the itch to hammer out a tune between flights or in hotel rooms.
---
Pianote Merch
Pianote merch aren't reserved for fans of Pianote. We hope piano enthusiasts of all stripes will find joy with these products designed by people who love music.
We hope this guide has helped you narrow down gifts for the piano players in your life! Happy holidays!