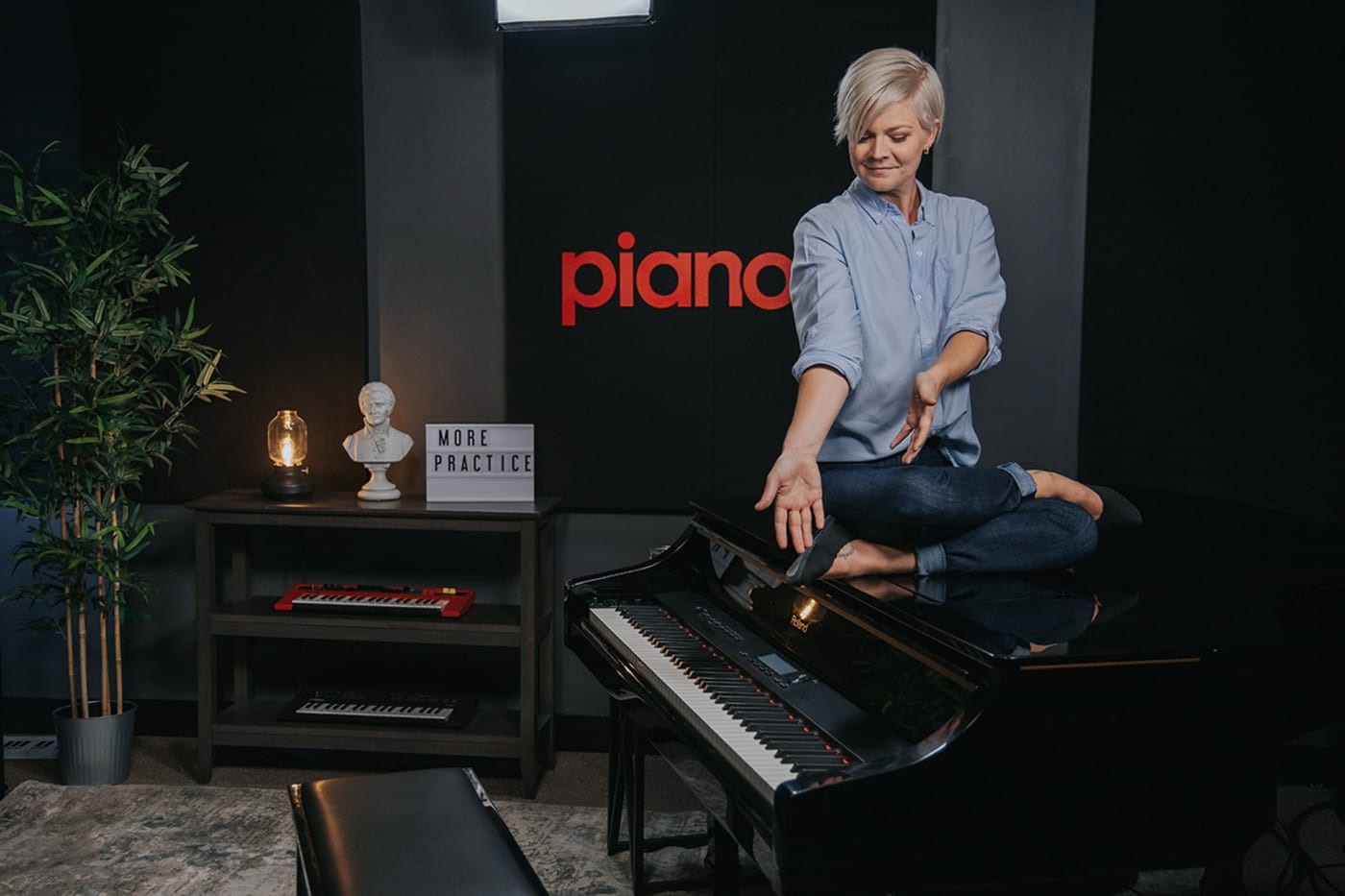 September is National Piano Month! That's right — we pianists are lucky enough to get an entire month to celebrate our favorite instrument. If you don't love your piano (and playing it) enough, here are ten creative ways to get the most of your piano love this month:
---
#1. Learn the history of the piano 📜
The story of the piano is fascinating. It's an instrument that has been around for a long time, so if you're unfamiliar with its origins, now's the time to take a deep dive into the piano's story.
The ancestors of the piano are the harpsichord and the clavichord. Piano engineering took another big leap forward when Bartholomew Cristofori invented the pianoforte in the 1700s. For the first time, a piano could create soft or loud sounds based on how hard you hit the keys. "Pianoforte" literally means "soft-loud" (piano = soft; forte = loud).
This month, find a piano documentary on YouTube or learn how pianos work. You'll discover that the piano is a marvellous feat of engineering, all the more impressive because Cristofori likely invented it all by himself. And while we have very high-tech digital pianos now, the mechanical ingenuity of an acoustic piano with over 12,000 parts is inspiring to say the least.
#2. Listen to a piano artist you've never heard before 🧑‍🎤
If you play piano, people like Billy Joel, Oscar Peterson, and Franz Liszt are probably household names. But this month, why not expand your musical library? Listen to an artist who's more under-the-radar.
If you like heavier stuff, check out Yvette Young and Hiromi or rock pianists like vkgoeswild and Gazmada. If you've always assumed that the piano is a gentle instrument, prepare to get proven wrong!
Want to stick with softer pop? Try Summer Swee-Singh, Alexis Ffrench, RIOPY, and Grandbrothers. Lots of interesting things are happening in the pop piano realm these days.
You can also check out the pianists behind the scenes of your favorite artists…
For example, Erskine Hawkins plays keyboard for Eminem and Rihanna. And Victoria Theodore, a classically-trained pianist, plays for Beyonce, Stevie Wonder, Sting, and more. Our favorite pop artists would likely sound very different without them!
#3. Give your piano a spa day ☺️ 🎹
Your beloved piano can handle a pretty tough beating. If it's been a while since you've cleaned yours, National Piano Month is a perfect time to show it some love!
Digital pianos don't need a lot of maintenance, but acoustic pianos benefit from a tuning every six months or twice a year. A simple dusting should keep your pianos shiny, but for added sparkle, you can buy specially designed piano polish. Just make sure you get the right product for your finish.
More info on tuning and maintaining your piano >>
#4. Learn something in a different genre 📻
The amazing thing about the piano is that it can handle so many different types of music. Practically all Western music genres can work on the piano.
So, if you normally play pop, try jazz. If you're a fan of Bach, try some Debussy or Ravel. In other words, dip your fingers in a piano genre that is not your usual cup of tea. You may be surprised!
And if you're unfamiliar with chord charts, download a few from Ultimate-Guitar.com to try your hand at some pop songs.
For those of you who want to tackle classical music, start with a few easy (yet timeless) pieces.
#5. Try improvising your own song! 🧠
Improvising can feel intimidating for beginners, but it's a skill just like scales and chords. You can learn it and practice it.
And with a few tools, improvising doesn't have to be scary! Start by learning a simple chord progression, then play a scale in the same key on your other hand. These are your "safe" notes.
The awesome thing about improvising is that you can create a song that's entirely, uniquely, your own. And you don't have to start from scratch. Start by mastering a few ingredients — chord progressions, pentatonic scales, riffs and fills — then mix and match those ingredients and see what you can come up with.
And before you know it, you'll be wasting even more time at the piano and having fun!
#6. Support a piano creator on YouTube 📹
Tons of indie creators are making amazing content on YouTube. (And no, we don't mean us — though if you haven't already, subscribe to Pianote and help us hit one million!).
If you're a music nerd like us, you might be fascinated by theory but bored by textbooks meant for college students.
Well, YouTubers like Charles Cornell, Nahre Sol, and Adam Neely have got you covered. They create detailed, curiosity-driven videos on music theory that are educational, easy to understand, and entertaining. Watch a few videos and wow your friends during your next dinner party!
And if comedy is more your thing, channels like Vinteheiro, Seth Everman, and Daniel Thrasher will have you laughing for hours.
If you like the work of a certain YouTuber, see if they have a Patreon you can contribute to. This directly helps independent creators.
#7. Teach someone a simple skill on the piano 🧑‍🏫
Why not share the joy of piano with someone else this month? Lots of people want to play piano, but many are either intimidated by it or had a bad experience with piano lessons.
Teach someone that they don't have to be a virtuoso to have fun at the piano. Just a few tidbits of knowledge, like chords and riffs, can go a long way.
Here's proof that anyone — literally anyone! — can create beautiful music on the piano:
Share these videos with a friend. Or, better yet, sit down with them at the piano and guide them through their first chord progression.
#8. Watch a movie about pianos and/or pianists 🍿
Filmmakers are just as inspired by the piano as us musicians.
If you're into musical movies, here are some you may want to put on your list:
They all have something to do with the piano or a pianist.
#9. Learn about synthesizers (or try one!) 🎛️
If the harpsichord is the grandfather of pianos, then synthesizers are the next generation of pianos.
If you get the chance to visit a music store, try out some synthesizers. The many knobs and buttons can be intimidating, but if you're interested in composing or producing, a synthesizer will be a children's candy store for you.
And by layering a few looping tracks, you can create something original and neat with just a few chords and notes.
🔥🎹 HOT DEAL ALERT! Right now, when you buy any Roland keyboard, you'll get 90 days of Pianote membership for free.
#10. Stage a National Piano Month performance 🎭
Playing piano alone in your room is fun, but music is meant to be shared. So, if you're down for the challenge, consider putting on a performance this month.
Some ideas to get you started:
Perform in front of friends and family. This is a great option for those who are completely new to performing music. Try performing in front of trusted people first.
Busk. Busking can help you gain exposure, make friends, and collect some spare change. Before you go busking, check your city bylaws first.
Volunteer. Places such as senior centres and hospitals may invite volunteer musicians to play background music. This is a great way to give back to the community and practice performing at the same time!
Upload a video to YouTube. The advantage to this is that you can do as many takes as you want. You can also get feedback on your playing from people anywhere in the world.
Upload a video to Reddit (or other piano community). We get it; showcasing yourself on social media is scary. But piano-dedicated communities like r/piano or the Pianote Students Facebook group are more supportive. These communities are full of like-minded people who can give you honest but encouraging feedback.
Performing will feel scary at first, but the more you do it, the more confident you'll feel. If you've been learning piano this year, National Piano Month might be the perfect opportunity to take this big next step!
BONUS! Join the Pianote 90-Day Challenge 🙂 🎹
By the way, did we mention we have a hot offer this month?
This month, join us for the 90-Day Piano Challenge. The Challenge gives you 90 days of access to the Pianote method for just $49 (ordinarily valued at $87).
Find more info about the deal here. And Happy Piano Month!